American announces 'transformational' order but may not end analyst criticism
American Airlines seemed to be answering criticism from analysts that its cornerstone strategy and joint business agreements were not enough for future success with its 460-aircraft order for Boeing and Airbus narrowbody aircraft. Clearly analysts weren't buying it, with one suggesting it was designed to distract from yet another quarter of losses – this time USD268 million, down from the first quarter but up from the near break-even results in 2Q2010.
During the first quarter call, they pleaded with CEO Gerard Arpey to tell them there is more than just the cornerstone strategy and achieving labour parity with peers, which they have discounted as something that would never happen or at least not soon enough to help the ailing Dallas-based company.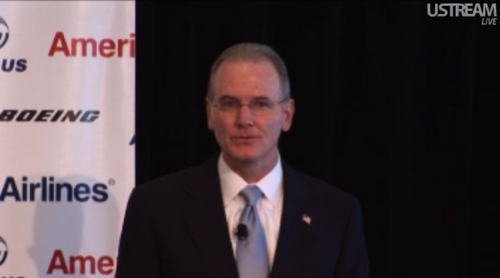 Arpey announces biggest aircraft order in history. Boeing and Airbus call it a bold move
The continued skepticism of analysts is despite the fact the order – operating leases with no risk to the balance sheet – comes with USD13 billion in financing in place for the first 230 which begin delivery in 2013. And despite the fact that it addressed one of its most critical problems, rising fuel costs and the oldest fleet in the US.
While American executives extolled the virtues of the order noting it finances its entire order book through 2017, Dahlman Rose Analyst Helane Becker was not enthusiastic. "The debt associated with those aircraft will be off balance sheet as the aircraft are being financed under operating leases," she wrote in a research note. "In general, we capitalise the off-balance-sheet debt at seven-times first-year rental rates, so we are looking at debt increasing, not decreasing through this order."
She noted current debt now stands at USD17.1 billion, including USD5.2 million in off-balance-sheet debt. Net debt, she said, stands at USD11.9 billion at quarter-end. AMR will have an opportunity to pay down this debt, as it takes delivery of aircraft beginning in 2012. She also noted the company ended the quarter with USD5.6 billion in total cash, of which USD457 million is restricted cash. The current cash balance compares to 2Q2010 total cash of USD5.5 billion, of which USD461 million was restricted.
Mr Arpey noted that order speculation was on whether the carrier would order Boeing and Airbus, adding that it was not that kind of a contest, commending the manufacturers for recognising that neither had everything American needed. "When you think about it the current generation aircraft we are ordering has a 35% fuel savings over what we are flying now," he said. "If you jump out to 2017 when the next generation aircraft will be delivered we'll take another big, 15% bite at fuel efficiency versus today's technology. If you look at the pure replacement economics this was a no brainer, an economic home run from day one." He noted there would also be maintenance and other savings as well.
President Tom Horton chimed in to say: "As we evaluated the proposals, they got better and better as we went along. Each deal was so compelling we wanted to do both."
With financing in place through 2017, American's exposure to fluctuations in the financing market has also been reduced. It assigned a net present value of about USD1.5 billion or about USD3.3 million per aircraft.
"This is really important to making us competitive," said Mr Horton.
Clarity comes to narrowbody market
The order also ends Boeing's dithering on whether it will re-engine its current 737 or provide a clean-sheet aircraft at the end of this decade. A clean-sheet, narrowbody design will now not come until the end of the next decade. Boeing CEO Jim Albaugh, during the press conference, cited the quickening need in the market for more fuel efficiency for its re-engining decision. He also said customers wanted certainty in deliveries, something that it has not been able to delivery with the 787 because of the new technology being offered and supply chain problems.
He said that the new technology represented by the 787 was not ready for prime time when it comes to production. Airbus CEO Tom Enders agreed saying the production for the new technology was not mature yet which also figured in its decision to do the re-engining of the Airbus narrowbody family.
Of course, the press could not resist a jab at Mr Albaugh, reminding him of his comments that there was no compelling case for a re-engined 737 and few people would buy it. However, Boeing tipped to its re-engine plans during the pre-Paris briefing when it showed that a 737-700 re-engined aircraft would be 8% better in cash operating costs than the A320neo. Yesterday, Mr Albaugh said that it can improve on the 737NG by 12-15%.
Boeing narrowbody orders year to 12-Jul-2011
Airbus narrowbody orders year to 30-Jun-2011
Barclays Capital put R&D for the new Boeing bird at between USD2 billion-2.5 billion pegging it at the higher end owing to USD1 billion in costs to bring the 737NG to current FAA standards in addition to USD1.5 billion for the re-engining which will include a great deal of new engineering.
It expects the bulk of the re-engining work to occur in the 2013-2015 time frame. "We've already incorporated most of this up-tick in our estimates, and we suspect R&D numbers across the Street are already higher than needed even with this new programme," it wrote. "We see just above USD2 billion for BCA R&D (still down several hundred million from current levels). Although the 737 RE will require some upfront investment, it will likely perpetuate the production of Boeing's most profitable airplane well into the future. Frankly, we think the re-engining choice was the best possible outcome for Boeing shares, as do-nothing and an all-new plane were both viewed less favourably by the market, in our opinion."
Boeing's decision also finally provides clarity to Embraer who has been waiting for the Chicago-based company to make up its mind. The order is more bad news for Bombardier given Mr Arpey's remarks saying this closes the gap between American Eagle's CRJs and mainline narrowbodies clearly precluding an order for the Bombardier CSeries.
The order will give American the youngest fleet in the US industry within five years and provides the largest flexibility possible for accelerating fleet replacement, or even growing its fleet, while lowering costs and improving the revenue-generating power of its network. The airline did not say which variants it would take within the 737 and A320 families but did mention it would choose between the 737-700, 800, 900 and Airbus A319, 320 and 321. However, it will not announce exactly which until it reaches a decision point in the contracts.
Despite the lateness of the order given the mega narrowbody orders during Paris and the 1000-unit Airbus neo order book, the deal puts American at the front of the queue compared with its US peers. The number of orders now on the books at Boeing and Airbus are already testing production lines which are both set to increase by next year. Without lessors, airline orders – also pending from United and Delta - would go to the back of the queue after the unprecedented showing of lessor ordering at Paris.
The 737 programme currently produces 31.5 aircraft per month and expects to go to 35 per month in early 2012, 38 per month in second quarter 2013 and then to 42 per month in the first half of 2014. Airbus is increasing its rate to 42 A320-family aircraft per month by the end of 2012. No decisions on further rate changes have been made and has moved neo production up to 2015.
The benefit that puts American first is likely to be short lived because Delta is set to announce its narrowbody order later this year and will likely have access to the same leasing companies and off-balance sheet financing. Even so, Mr Arpey made a point both in the order press conference as well as its later conference call that he thought the fact that American has never declared bankruptcy made a difference to the two manufactures.
United's order fell victim to the United/Continental integration. In 2009, the company announced its widebody order which split the order between Boeing and Airbus, marking how such mega-orders will go in the future. It said at the time it would make its narrowbody order the following year but then merged with Continental.
American's place at the front of the line for the 737 re-engined aircraft will likely give it sway in the development of the aircraft but another all-Boeing customer which has been waiting with baited breath for Boeing to finally announce which way it was going - Southwest - will probably get to put in its two cents as well. It will be interesting to see how fast Southwest acts on the news although it, like United/Continental, is in the throws of a merger.
Airbus gets more than half
Split 50/50 between current and next-generation equipment, the orders were for 200 737s plus 100 options in addition to 260 A320 family with 365 options and purchase rights.
Deliveries of the 230 current-generation aircraft begin in 2013. The airline also has 465 options providing it with the ability to speed replacement or - if the economics make sense - grow, something American, which dropped to third place in the past few years, desperately needs to do.
American is seen as a victory for Airbus given the airline's previous exclusivity agreement with Boeing. In addition, it puts the Airbus aircraft in all but one of the top five US airlines, Southwest the exception. American retired its A300s a few years ago and Airbus has been trying to get back in ever since.
But American is also a huge Boeing operator and its 600-plus fleet includes 156 Next-Generation 737-800s delivered to date. The agreement builds on American Airlines' existing backlog of 64 Boeing aircraft consisting of 51 737-800s, seven 777-200ERs and six 777-300ERs. In addition, American Airlines has an existing purchase agreement with Boeing to acquire an initial 42 787-9 Dreamliners, with the right to purchase up to 58 additional 787s.
The Boeing order for the re-engined 737 is pending final aircraft configuration and launch approval by the Boeing board of directors. This commitment for 100, with options for 60 more, is the first of many anticipated for this variant, said Boeing. The aircraft would be powered by CFM International's LEAP-X engine.
The most-favoured-nation relationship, signed in 1996 is still in effect, according to Mr Albaugh, although the 15-year-old agreement gave Boeing exclusivity at American. However, Mr Arpey pointed out a number of times that neither company could deliver all that the airline needed prompting it to choose both deals offered by the manufactures.
The order transitions the company from four to two fleet types replacing the MD-80, the 737-800, 757 and 767-200s. American has the flexibility to convert the new deliveries into variants within the 737 family, including the 737-700, 737-800 and 737-900ER. As part of the Boeing agreement, American will take delivery of 100 aircraft from Boeing's current 737NG family starting in 2013, including three 737-800 options that had been exercised as of July 1, 2011.
American also intends to order 100 of Boeing's expected new evolution of the 737NG, with a new engine that would offer even more significant fuel-efficiency gains over today's models.
Boeing's distractions from the 787 and 747-8 programmes have seemingly kept it from making a decision for at least a year. At Farnborough, the company said it would make a decision by the end of 2010 but that was delayed amid more widebody production disarray. Boeing has continually pushed back the announcement towards the end of this year. All the signals in the interim have been toward a clean-sheet design timed to the end of the decade.
But the prospect of the American order forced its hand and the programme is set for consideration at the company's August board meeting.
Yesterday, during its early morning analyst's call Mr Horton and CFO Bella Goren were unable to dodge American's harshest critic, Morgan Stanley Analyst Bill Greene who once again pointed to American's questionable financial prospects for the future wondering whether there would be a cash infusion component to the Boeing and Airbus deals.
Perhaps for the first time in many years, American executives were able to deflect the baggage-heavy question. "This is all about improving the outlook and the economics," countered Mr Horton. "This allows us to accelerate our efforts to improve the competitive and financial position of the company without putting the balance sheet at risk."
While Mr Horton and Mr Arpey suggested that the company hoped the order would be a catalyst for its five-year struggle for a new pilot agreement, pilots were not so sure. Allied Pilots Association, in mediation with American since 2008, said any deal would have to come within the context of the contract since it won't work outside deals to fly the new aircraft. The union previously announced that it won't negotiate for 777-300ER and 787 rates separately either. Its first 777 comes in late 2012 putting pressure on both sides to reach an agreement.
Analysts say more than aircraft needed
Despite the rapid-fire announcements and press conferences, analysts seem subdued during the earnings call and it was clear they were less than thrilled. Indeed, analysts have been calling for many changes at American even new leadership.
The research notes published yesterday were geared more toward how good this was for Boeing and Airbus rather than weighing in on its impact, with the singular exception of Dahlman Rose.
Avondale analyst Bob McAdoo is among the company's critics saying it would help a lot if American were to concentrate on bringing its losing markets at least to break even which, he suggested, would add USD1 billion in revenue annually. Failing that, the company should just shed these loser markets. He clearly is not a convert to its cornerstone strategy and questions the company's market decisions.
"Its 10 worst markets lose USD450 million per year," he said. "American's problems are clearly fixable, either by this management or by some other."
It should be noted USD450 million is about what it lost in the first quarter. It has lost money in nine of the last 10 quarters and hasn't seen a profit since 2007. While its peers lost money, too, during the recession, they have managed to pull out and become profitable last year and are expected to be profitable this year.
Rodman and Renshaw analyst Dan MacKenzie repeated Mr McAdoo's concerns during the earnings call, clearly not buying CFO Bella Goren's explanation that compared to the industry its capacity was down much further if you look back to 2006. Mr Arpey unsuccessfully tried this explanation during the first quarter call and made similar headway with analysts as a result. Ms Goren's only explanation was the fact it had dropped capacity making the comps harder.
Both he and Deutsche Bank Mike Linenberg noted that the carrier's margin performance versus its peers has deteriorated significantly in the second quarter arresting a convergence trend that had been occurring over the last few quarters.
The company's RASM performance also represented a big gap from its peers and Bank of America/Merrill Lynch analyst Glen Engel expressed skepticism with the answer. Ms Goren said the gap worsened in June citing the weather and earthquake but Mr Engle impatiently noted that only represented a point. She added that American was only now beginning to see the USD500 million benefit it expected to see from the cornerstone strategy and joint business agreements across the Pacific and Atlantic, noting the full run rate would not happen before the end of 2012. She also said the trend was better for the rest of the summer.
"Recent pronouncements raise questions about management's grasp of its situation," Mr McAdoo, recently wrote. "Far more important than silencing the pointed questions from analysts and investors, AMR needs to change the direction of the company. Waiting for the other airlines to sign generous labour contracts does not fix AMR. Hoping your competitor will take a particular action is not a strategy. Although labour costs per ASM are higher than at the other legacies, labor costs are not the big driver of American's weak results."
Mr McAdoo cited such high-profile markets as New York-London, which brings into question its insistence on providing a shuttle service as part of its joint business with British Airways . The top 10 list of worst markets includes New York-California, said Mr McAdoo, along with Chicago international service to Delhi , Beijing , Shanghai as well as Miami -Buenos Aires . New York-Los Angeles loses USD70 million annually with 10 daily flights while USD54 million is lost annually on the five daily departures to San Francisco .
"Since 2000, when American had similar service levels, its average fares in these markets have dropped from USD397 to USD279 as its principal competitors have shifted from United and TWA to JetBlue and Virgin America ," said Mr McAdoo. "United has chopped capacity and maintained its fare levels, but American apparently prefers to maintain market dominance."
The rest of US legacies have switched from a focus on market share to a focus on profitability, clearly something American has yet to do. American is also in the midst of fare wars with both JetBlue and Southwest .
He criticised the fact it rolls out far too much capacity in its markets limiting its ability to raise revenues on constrained capacity as its peers have already done. Mr McAdoo compared Chicago-Heathrow noting American has almost twice as many seats in the market as United, resulting in RASM of 8.7 cents to United's 10.9 cents. He also noted that American undercuts its own non-stop London fares at Dallas and Los Angeles by routing passengers to the Chicago-Heathrow flight.
Mr Horton jumped in to say that the company was in the process of pulling down markets in which it is not strong. He said adjustments in the schedule were positive. Instead of abandoning markets, American is adjusting capacity out of weaker travel days such as Tuesday, Wednesday and Saturday which will allow for improvement in unit revenue and profit margins. Indeed, in the Autumn American will be canceling 270 departures on those days.
Analysts were also concerned about the risk from American's global distribution system (GDSs)fight which Ms Goren said was not to blame.
"There is no secret there is enormous revenue at risk and enormous stakes in the outcome of these discussions with GDSs," added Mr Arpey. "That is why it has ended up in the courts but we are trying to break some of these monopolistic practices so there is a tremendous amount at stake."
American net income, profit, loss (system)