American Airlines loses USD300 million: if things are getting better, you can't see them from here
Analysis
American Airlines is the first of the majors to report its 2Q09 results. If the market's response is similar for its competitor airlines, they will be feeling relieved – despite losing USD 390 million in the second quarter (usually one of the best), American's stocks gained 4.3% on the day. Excluding special items, the company recorded a loss of USD319 million, or USD1.14 per share.
This has to be one of the most favourable responses to an ugly result, even in these unusual times. With yields down, capacity pared to the bone and load factors still slipping, it is hard to put a favourable spin on this loss, even if the carrier's stock was already down more than 50% this year – and a pale shadow of its levels of early 2008.

American Airlines share price growth: Jan-2008 to Jul-2009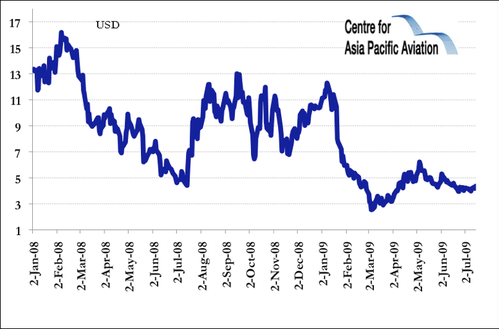 To put 2Q08's loss of USD1.45 billion in perspective, that included more than a USD1 billion write down in aircraft values. More significantly, fuel costs were also around USD1 billion higher last year, with prices less than half this year. This reduced costs by 12.8% year on year.
American Airlines operating income/loss 1Q08 to 2Q09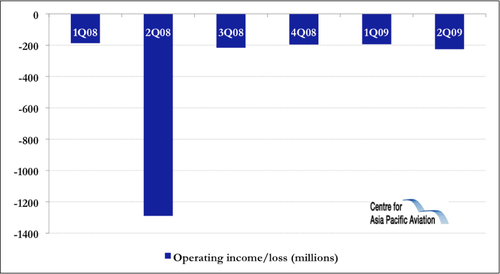 And only a quantum leap in ancillary revenues (consisting mainly of new baggage charges, as fuel surcharges were removed), accounting for a 7.4% increase, helped make the loss from looking even less challenging.
Chairman and CEO, Gerard Arpey was restrained in his assessment at the results announcement yesterday: "The challenges for our industry and company have continued throughout 2009. With ongoing global economic weakness and the resulting effect on travel demand, revenues are down sharply from a year ago. The spot price of oil, while much lower than this time last year, has risen since early this year and remains volatile." There is not much jollity in the outlook to be had there.
American Airlines operating revenue (USD millions) and operating revenue growth: 1Q08 to 2Q09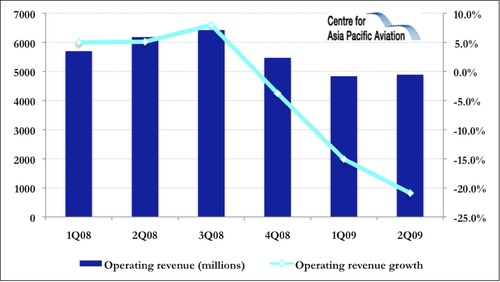 Burning the furniture
The Group ended the quarter with USD3.3 billion in cash and short-term investments, but American cannot go on burning cash indefinitely. Analysts recently have been suggesting that the carrier is going to run into headwinds soon unless there is a marked improvement in performance.
And market size is slipping
All this time, the main response to losses is – like many of its competitors – to contract. As passenger numbers decline, with capacity, the might of the once market leader declines too. RPMs were down 8.1% in Jun-2009. Perhaps here is the only sign of comfort, as there may be some indication that numbers are trending slightly upwards.
But that equation is affected significantly by heavy discounting in what is traditionally a strong demand season, so not too much should be read into that just yet. The continuing steep decline in operating revenues in the graph above gives a clear pointer in that respect. Even if traffic declines have been arrested, it has been at a price.
American Airlines revenue passenger numbers (RPM) and RPM growth: 12 months to Jun-2009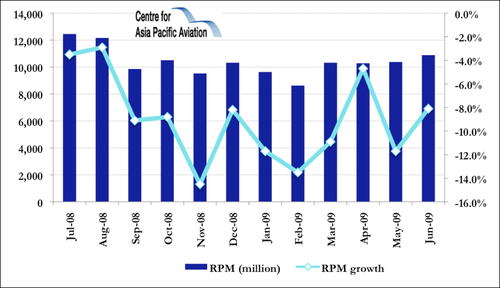 This is not just a local issue: SIA slumps
Hot on the heels of American's report, Asia Pacific market leader, Singapore Airlines today also reported some horror numbers. (See also: Singapore Airlines' passenger traffic remains very soft, pressure on yields). For the month of Jun-2009, systemwide RPKs were down by 18.2% year on year, outstripping heavy cutbacks on capacity, for a load factor reduction of 3.5ppts, to 75.7%.
SIA's passenger numbers were down a massive 19.9% year on year and, with yields well down – certainly in double digit percentage points, the impact on these carriers' bottom lines is becoming frightening.
Even if the market has "bottomed", as some observers (and politicians) are hoping, this bottom implies markets which have had stripped from them as much as 30% of last year's revenues.
Reporting season continues
The airline industry may not be totally reliable as an economic indicator, but it is certainly very close to the pulse of the nation's economic heart. As the other carriers roll out their reports over the next few days, the view over the horizon will become clearer.
As each reporting season washes through, so we get a more detailed picture of directions. At this stage there doesn't seem to be much cause for enthusiasm.