American Airlines, Japan Airlines oneworld joint business to launch in April; to yield USD150m
Analysis
Only months after gaining anti-trust immunity, American Airlines and Japan Airlines will launch their trans-Pacific joint business on 01-Apr-2011, the expected revenue sharing start date. The deal is expected to yield USD156 million (JPY13 billion) in combined annual incremental benefits for the two airlines, according to JAL President and COO Masaru Onishi.
Even so, estimates are expected to rise exponentially as the joint business matures. The airlines, who have been working on the deal for 18 months, according to American Airlines President Tom Horton, will begin with the ten leading Japan-North American routes, in a demonstration of solidarity to show their trans-Pacific competitors that they mean business.
Applicable trans-Pacific core routes affected by the partnership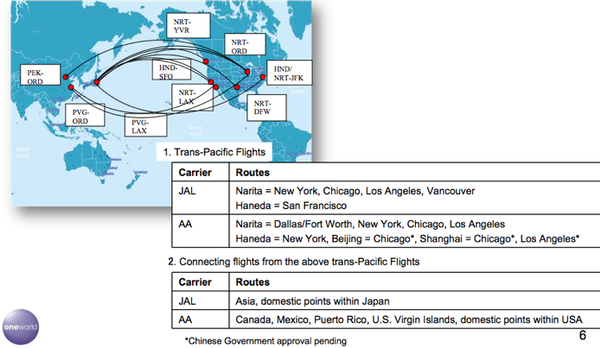 Top US Gateways by Population
The joint business is a direct outcome of the newly forged US-Japan Open Skies agreement, which allowed the US DoT to grant anti-trust immunity to the partnership. American will be able to sell more destinations within and beyond Japan than before Open Skies and the joint business with Japan Airlines. Conversely, Japan Airlines will be able to sell more destinations in North America. The two have set up a new website on the joint business at www.aa.com/moreasia
Open Skies also paved the way for the All Nippon Airlines/United-Continental Holdings deal that is expected to increase revenues for the two Star Alliance partners by USD60 million (JPY5 billion). Delta meanwhile, already a major operator in the Japan market in its own right, has no equivalent SkyTeam partner - although the alliance is now established in both China Eastern and China Southern.
Comprehensive changes
The table below shows the schedule tweaking that will be implemented between Tokyo and New York in order to optimise re-timed connecting banks at each end. The schedule also cuts, albeit minimally, the aircraft ground times in Japan for AA.
Schedule adjustments at Tokyo Narita (N), Haneda (H) and New York JFK
New York-Tokyo

Tokyo-New York

Current

New

Current

New

AA 11.35 N

AA 11.45 N

AA 06.40 H

AA 06.40 H

JL 12.10 N

JL 13.15 N

JL 11.10 N

JL 11.10 N

AA 18.10 H

AA 19.05 H

AA 19.20 N

AA 18.00 N
Like the oneworld announcement on combined European operations LINK, there was also mention of the integration of other partners' services: Cathay Pacific, British Airways, Qantas and Finnair, though the major focus was the expanded cooperation between American and JAL.
"Commemorative" fares - and monopoly routings still carry a premium
The release also noted that there will be a "jointly-formulated commemorative trans-Pacific economy-class airfare for sale in Japan from today for travel between 01-Feb-2011 and 31-March-2011." Sample fares, substantially lower than previous standards, are shown in the table. In the two cases where fares are common-rated, the longer distance (LAX, NYC) was used.
The fare levels offer an interesting insight into revenue strategies likely to be applied in the alliances. Only on the DFW route is oneworld the sole nonstop operator - and here an obvious premium is extracted for that service.
Special "commemorative" joint fares
| Route | Fare (JPY) | Mileage | Yield/mile |
| --- | --- | --- | --- |
| Tokyo-SFO/LAX | 69000 | 5468 | 12.62 |
| Tokyo-CHI/NYC | 77000 | 6733 | 11.44 |
| Tokyo-DFW | 89400 | 6455 | 13.85 |
"Working more closely together"
Also in the offing is relocation of sales offices in both New York and Tokyo, to allow employees to "work more closely together." This expanded cooperation will be reflected in changes to corporate agreements that will allow mixing and matching of carriers within the scope of the agreement, as "metal neutral" operations become the norm. There will also be coordinated pricing programmes available across distribution outlets.
Given American's current disputes with GDS providers (which has included withdrawing American's inventory from online travel agent Orbitz), the flights are available for booking on Orbitz in April, but only under the JAL code. This suggests the expanded relationship may help, in some cases, to circumvent the carrier's online absence.
Other changes include new access for AA passengers to JAL's premium economy product at jointly agreed pricing, creating a "travel option that did not previously exist."
The announcement also touts greater integration of services such as through check-in and further alignment of frequent flyer benefits. While new on the Pacific, many of the "changes" have been standard in other markets for some time and a similar announcement will be forthcoming from United and ANA as they have equally benefited from the regulatory changes provided as a result of gaining anti-trust immunity.
Nonetheless, given JAL's struggles over the past year, any boost to its competitive advantage must be seen as a positive development. oneworld, too, is able to now capitalise on its Pacific connections as well, supplementing the new regulatory environment which the alliance now has in place across the Atlantic.
To complement trans-Atlantic joint businesses
Unlike its 14-years-in-the-making joint business with British Airways/Iberia, from which American expects a USD500 million boost, the Dallas-based carrier is not itemising the expected incremental revenue and cost benefits. "It is important to understand that we only received ATI recently and AA/JAL continue to identify opportunities to optimise value through revenue enhancements and cost savings, American Spokesperson Mary Sanderson told CAPA. Clearly too JAL has many issues to handle as it seeks to turn its business around. The post-bankruptcy reconstruction has involved substantial reductions in the carrier's operations and until JAL's business stabilises, cooperation is necessarily complex.
The deal complements American's trans-Atlantic joint business with British Airways and Iberia and, according to Ms Sanderson, serves to make oneworld a stronger competitor in global markets. "To the extent it makes sense where the airlines in both joint businesses operate, there will be synergies and extra customer benefits such as the oneworld transfer centres in New York and Chicago," she added.
No investment in JAL planned by American
The deal will not include investing in the recovering Japanese carrier, despite the fact, according to press reports, that JAL needs another JPY50 billion yen. American President Tom Horton, in response to a question, noted that JAL and the Japanese government have made it clear that they want to handle JAL's fiscal problems internally.
A little over a year ago American and Delta were battling over JAL with Delta trying to woo it away from oneworld into the SkyTeam alliance. All sorts of financial incentives were dangled under JAL's nose, as the alliances sought to secure it as a partner.
JAL is now in the middle of restructuring which will lower its costs base just as bankruptcy has done for more US legacy carriers. But it has a long way to go and the process has not been easy, with continuing staff opposition. Last year proved to be a decisive year for Japanese aviation, with the changes and impact of the JAL bankruptcy expected to continue over the next few years.
See related report: Japan Airlines files reorganisation plan; JAL and ANA LCC subsidiaries under consideration
The bankruptcy, which helped turn JAL's 3Q-2009 loss of JPY96 billion into a 3Q-2010 profit of ¥110 billion, by eliminating approximately a quarter of its debt, 40% of its fleet, 30% of its global workforce, one in eight international routes and a quarter of its domestic routes. Still, Mr Horton spoke of the value of JAL: "Beyond its extensive domestic coverage, JAL has impressive reach throughout Asia, with more than 375 weekly flights to 21 destinations including Australia," he told assembled reporters. "Importantly, that includes 119 flights to five key markets in China -- Beijin, Shanghai, Tianjin, Guangzhou and Dalian. Together we will be stronger and more competitive. For the year ending 30-Sept-2010, American and JAL generated more than USD1.5 billion in revenue on trans-Pacific routes included in the joint business and that doesn't include new routes that American has added or announced."
Global advantages start to emerge, as other oneworld partnerships feed through
Mr Horton noted that next month the airlines will launch JFK-Haneda and in April will add Los Angeles Shanghai. "We expect both routes, which are included in our joint business, will be more successful due to our stronger relationship with JAL," also pointing to JAL's recent launch of new service between Haneda and both San Fransisco and Honolulu.
One point of note: during American's joint business launch with its trans-Atlantic partners British Airways and Iberia, the airline observed that its previous Los Angeles-Shanghai attempts have failed. But the addition of the BA/IB joint venture assured its success. "When we launch our new route to Haneda, on which JAL will codeshare, oneworld will offer more daily frequencies between the US and Haneda than any other alliance."
Sharing practices, culture are fundamental
The two airlines indicated they are adopting each others' practices as part of the new arrangement. Japan Airlines has begun to implement American's business management and profit-forecast procedures - which is expected to enhance JAL's profit forecast capability and provide more time and flexibility for necessary market changes.
Teams from both airlines have also been exchanging best practices in such specialised fields as maintenance, fleet planning, and information technology.
The deal's success rests on improving flight schedules, expanding codesharing, more coordinated services, and greater access to a wider variety of fares, said the two airlines during the press conference. Japan Airlines will also co-locate in American's Terminal 3 at Chicago O'Hare International Airport effective 27-March, at the beginning of JAL's summer schedule.
Market analysis expands route options
After exchanging data and analyzing traffic patterns and consumer demand, the two airlines are aligning summer 2011 schedules for reduced connection and overall travel ties, as well as adding flight choices and increased connection opportunities beyond gateway cities. Codesharing is expanded to 123 routes and is that is expected to grow. The requisite incentives for frequent flyers are also part of the deal. In addition, the two airlines' websites will share content, online booking capability and check-in.
40% of all travel on the carriers involves connecting flights, emphasising the potential value which they can derive from using their respective hubs. This power has been clearly demonstrated in the past to be key to successful partnerships.
Analysis of Trans-Pacific Route Demand
Chicago transfers a key example; schedule adjustments facilitate multiple new routings
American's Chicago transfer capability is a strong case. Part of the schedule adjustments include moving JAL's Narita-Chicago flight to earlier in the day and moving American's flight later. The adjustments will increase the number of connections within three hours of arrival by two to 45 destinations. Similarly, American's domestic flights arriving into Chicago within two hours of the departure time of Japan Airlines' Chicago-Narita flight also grows from 42 to 44. This is an increase of 22 flights and 20 destinations, allowing both airlines to capture greater travel demand. The reduced connection times and the increase in the number of possible connecting flights to 22 flights and 20 destinations is expected to result in more customers transferring to Japan Airlines.
Analysis of Trans-Pacific Route Demand. Importance of Chicago as a key transit point
From Dallas/Fort Worth to Narita, the number of connections within three hours of arrival grows from four to 12 including onward travel to Beijing, Hanoi, Hong Kong, Nagoya (Chubu), Manila, Pusan, Sapporo, Seoul (Incheon), and Taipei. Customers can continue to connect to Osaka, Ho Chi Minh and Bangkok. East Coast customers who historically flew from Dallas/Fort Worth to Singapore via Narita on Japan Airlines will be able to fly from New York to Singapore connecting at Haneda in the future.
And oneworld's hubs are well positioned
For Tokyo-West Coast flights, departure times have been changed to afford more connections within three hours of arrival as well as more connections within two hours of arrival in Tokyo, shortening connections times between one and two hours.
The largest US-Japan market - Tokyo-New York - receives a new early-morning departure from Tokyo's Haneda and a new evening option from New York. These should be attractive to business travellers.
Top Ten Worldwide Premium Revenue Markets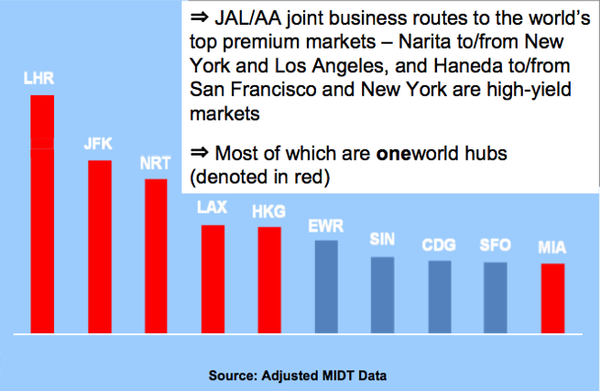 Codesharing will be expanded to new US cities including Salt Lake City and Sacramento. And on 27-Jan-2011, American will begin codesharing on JAL-operated flights between Haneda and Singapore as well as Hong Kong, creating smoother connections with its new Haneda-JFK route when that route begins 18-Feb. American launches LAX-Shanghai on 5-April which will also be included in codesharing. Additionally, American will place its "AA" code on Japan Airlines' flights linking Narita with Vancouver.
In addition to revenue sharing beginning 1-April, the two companies plan to sell JAL's premium economy product which the airlines expect will increase their competitiveness. Japan Airlines and American are also exploring potential opportunities to use each other's online presence around the globe to enhance customer service.
"We are delighted to begin bringing our customers the benefits of our joint business with American Airlines," said Japan Airlines President Masaru Onishi. "With our complementary strengths, the Japan Airlines-American team is well positioned to pursue further service enhancements for our customers and greater synergies for our businesses. Japan Airlines is strongly committed to our corporate revitalisation, and I am confident that this joint business will raise our competitiveness in this vital region, improve our profitability and aid us in achieving our goal."
"We are pleased to partner with Japan Airlines to bring expanded benefits to our customers," said American's Mr Horton. "We firmly believe our joint business will benefit all stakeholders – our customers, our financial partners, and our employees. Japan Airlines has been an excellent partner, and together, we are preparing for the next decade – a decade that is likely to see growth in air travel between North America and Asia."
The open skies agreement opens a new world of operation
The oneworld announcement is only one step in a revitalised US-Japan market, whose ramifications potentially spread well beyond that country pair. As the other main competitors, All Nippon/United and Delta, line up and establish more effective combinations, the wider impact on north Pacific air services will quickly be felt.
For the time being China remains reluctant to move to an open skies regime, but the likely positive outcomes from that regulatory change, combined with anti-trust immunity, should quickly become obvious as schedules over Japan's main hubs - notably Tokyo - are better engineered.