Alaska, Delta, American lead the market up. Babcock Aviation continues surge.
With Wall Street stronger, the outlook for airlines again remains, temporarily at least, positive. This helped most of the major carriers to move up yesterday.
Alaska Airways (+11.4%), Delta (+11.0%) and American (+8.9%) led the way, despite concerns about American's outlook.

With fare sales increasingly being introduced, the outlook for US carriers does still look less than clear. AirTran Airways, for example yesterday launched a sale for travel to all the airline's destinations with fares starting as low as USD39. These special fares are available for purchase through 26-Mar-09 and are good for travel through 30-Oct-09.

As these fares percolate through the market, there is a continuing knock-on effect on all airlines' yields.
North & South America airlines daily share price movements (% change): 17-Mar-09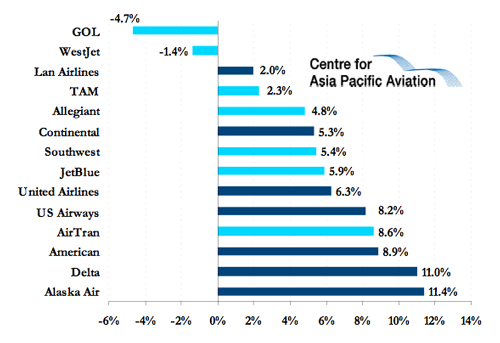 Of suppliers, Babcock and Brown Aviation (+14.1%) continued its steep ascent after yesterday's 20.7% increase. Fellow lessor Aircastle's shares, also performing strongly recently, rose +6.9% on the day.

It is a matter for speculation just how long the leasing market will hold up, as airlines increasingly run into headwinds. But for the time being, the market seems not to be concerned.
Selected Aviation suppliers daily share price movements (% change): 17-Mar-09