Alaska Airlines shares soar on capacity cuts plan; North American airlines share prices
North American airlines had another positive day on the stock market on 03-Dec-08 as the price of oil fell another 17 cents to USD46.79 per barrel - the lowest close in three and a half years. Southwest Airlines' shares retreated, as the plummeting value of its hedging contracts weighs on investors' minds.
Alaska Airlines continued its strong recent run, adding another 6.2% on confirmation of plans to cut capacity by 8% in 2009 and moves to sell up to four Boeing aircraft, as part of its cost-cutting drive. The carrier also disclosed load factors on advance bookings for Dec-08 show a 3 percentage point improvement year-on-year.
North America selected airlines daily share price movements (% change): 03-Dec-08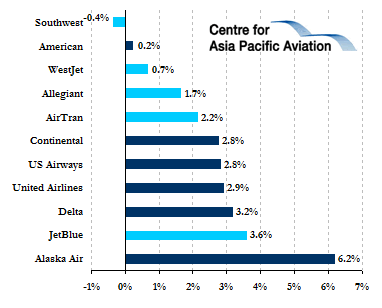 Alaska's share price has been rising steadily since oil prices reached their peak in Jul-08. Other influences on the stock have been the Sep-08 announcement of plans to cut capacity by 8% this Winter and slash up to 1,000 jobs. Last month, the carrier signed an expanded marketing alliance with Delta Air Lines that will help support Delta's new international routes.
Alaska Airlines share price: 01-Jan-08 to 03-Dec-08