Airports of Thailand reports LCC PAX increase of 38.5%; Vienna Airport reports funding concerns
Analysis
Airports of Thailand (+3.4%) shares gained the most on Wedneday (24-Nov-2010). On the same day AoT announced passengers travelling on low-cost carriers between Jan-Sep-2010 increased 38.5% year-on-year to 14 million, while LCC aircraft movements increased 25% to 108,123.
AoT added low-cost carriers have a 27.9% market share in Thailand. Thai LCCs include One-Two-GO Airlines (Orient Thai Airlines), Thai AirAsia and Nok Airlines.
Flughafen Wien AG shares fell 1.2% to EUR46.51 after Der Standard reported funding concerns over the Skylink expansion at Vienna International Airport.
Selected airport operators/investors daily share price movements (% change): 24-Nov-2010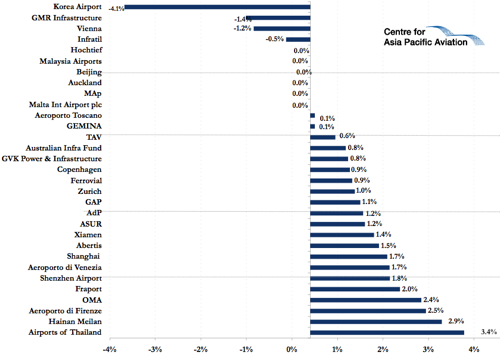 Stefanel shares dropped by 5.7% on Wednesday (24-Nov-2010) while MISR rose by 5.4%.
Selected airport suppliers daily share price movements (% change): 24-Nov-2010