Airports of Thailand reports 5.5% pax increase; DUFRY shares up 3.8%
Analysis
Passenger numbers: 5.1 million, +5.5%;
Aircraft movements: 33,870, 9.4%;
Air cargo: 124,112 tonnes, +14.3%;
See related CAPA profile: Traffic - Airports
China's Beijing Capital International Airport (+0.2%) announced (16-Nov-2010) the release of information on the subscription of new domestic shares and proposed amendments to articles of association.
Aeroporto di Firenze (-4.1%) shares lost the most ground on Monday (15-Nov-2010) while Aeroporto Toscano (+4.6%) shares gained the most.
Selected airport operators/investors daily share price movements (% change): 15-Nov-2010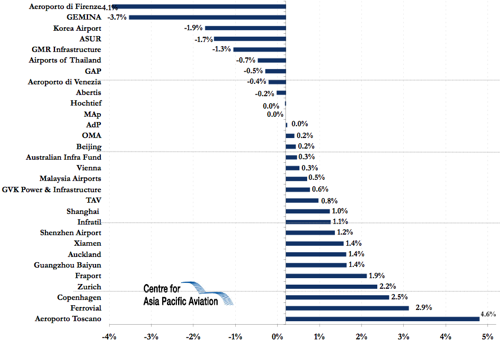 Dufry shares gained 3.8% on Monday ahead of the release of its "Nine Months 2010" report on 16-Nov-2010.
Selected airport suppliers daily share price movements (% change): 15-Nov-2010