Airport traffic outlook remains bleak, recovery will be a "long time coming" - ACI
Airports Council International (ACI) reports passenger numbers at the world's airports declined again in October. The airports body reports that while the downward spiral for passenger traffic eased, with international traffic "down by a milder 1.4% relative to October 2007", global traffic remained depressed at -3.4%. ACI attributed the performance to poor domestic results, which fell 5% on average worldwide.
Global freight growth results were also poor, providing further evidence of a likely extended period of global economic weakness. Total freight handled worldwide in Oct-08 declined by 7% year-on-year, with international freight falling by 8% and domestic tonnage dropping by 5%.
ACI passenger traffic growth (% year-on-year): Nov-07 to Oct-08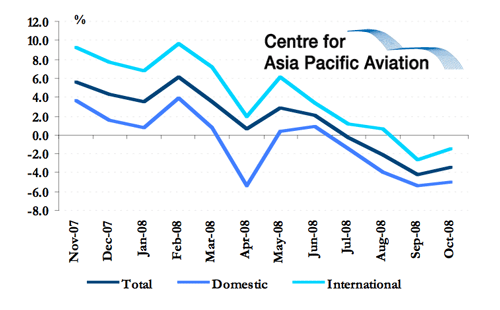 ACI passenger traffic growth (% year-on-year):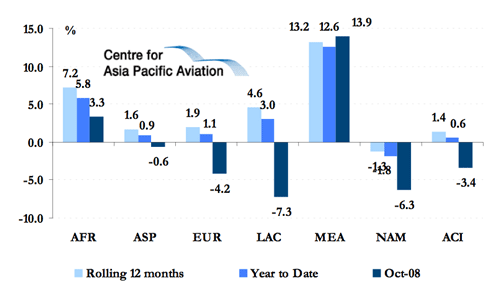 ACI Director of Economics Andreas Schimm stated, "the outlook for the immediate future remains bleak". He added, the few positive international results are "likely to be compromised in the next months by the tragic events in Mumbai and the siege of the airports in Bangkok, dragging down the Asia Pacific region's performance".

Unlike ICAO, which predicts airlines could post profits next year with a full recovery in 2010, ACI is less upbeat. The airports body stated the world's major economies have gone into recession with repercussions on the economies of emerging countries, trade and employment. "Against this complex background, signs of a sustainable recovery will be a long time coming", according to ACI.

Pessimism returned to sharemarkets this week, with some heavy selling among airport stocks, led by the Mexican airport operators GAP and ASUR. Several major European airport operators were also marked down heavily.
Selected airports daily share price movements (% change): 01-Dec-08