Airport passenger traffic back in positive territory in all categories - ACI
Worldwide airport passenger demand returned to positive territory in Nov-2009 for the first time since the onset of the global financial crisis. Airports Council International (ACI) reports member airports registered a 4% year-on-year increase in passenger movements, including a 3% rise in international passenger traffic and a 5% jump in domestic traffic.
The first eleven months of 2009 showed world passenger traffic decreasing by 3%, with international traffic declining by 5% and domestic traffic falling 2%.
ACI total passenger number growth: Nov-2008 to Nov-2009
Latin America and the Middle East led the increases, with total passenger increases in Nov-2009 of 14.9% and 11.5%, respectively. The Asia Pacific also bounced back strongly, reporting a 9.5% increase against a year-to-date rise of 2.4%. Europe and North America showed positive growth of 0.6% and 1%, respectively, although year-to-date traffic remains deeply negative.
ACI total passenger number growth by region: YTD Nov-2009 vs Nov-2009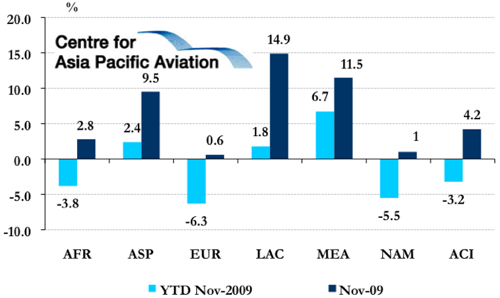 International freight "robust" in November
International freight growth outpaced domestic freight for the first time in 2009 in November, with total freight handled worldwide registering "strong growth", according to ACI, jumping 11% year-on-year. The lead up to the end of year holiday period and associated retailing rise, saw international freight (which is dominated by Asian exports) increasing by 14% and domestic freight growing by 7%.
The first 11 months of 2009, total freight declined by 12%, with international freight dropping by a massive 15% and domestic freight falling by 6%.
ACI total cargo volume growth: Nov-2008 to Nov-2009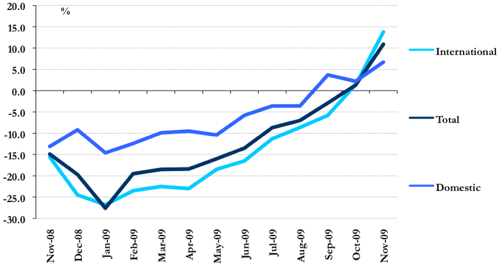 The Asia Pacific region led the way, with freight volumes surging 20.5% in Nov-2009 off the previous year's lower base. There were also healthy gains in the Middle East (+16.4%) and Latin America (+14.6%), while European volumes rose 5.5% and North America 4%.
ACI total cargo volume growth: YTD Nov-2009 vs Nov-2009