Airlines offering far too many Business seats - aircraft configurations in focus
Analysis
The worst economic downturn in 70 years and the arrival of the first global flu pandemic in over 40 years is prompting a major re-think within airlines over the seating configurations in their aircraft. Whereas the mix of travel has changed dramatically over the past six months, airlines can only slowly change their seating plans - and many have only recently completed (or are in the process of completing) multi-million dollar cabin upgrade programmes designed to win premium travelers. But as economic conditions have swiftly changed, airlines have been caught out.
In the first quarter of last year, IATA estimates premium travellers accounted for just 9% of total passenger numbers on international markets, but provided 30% of passenger revenues. At the end of the first quarter of 2009, premium numbers had fallen to 8% of the passenger total, but even larger fare cuts reduced premium revenues to 27% of the total. IATA added, "the incremental impact has been even greater, with almost 40% of the decline in total passenger revenue over the past year being due to the loss of premium revenue".
Qantas CEO, Alan Joyce, told The Australian newspaper last week the airline is considering reducing the size of its A380 Business class (currently 72 seats), stating, "the configuration is not right for us in the current environment". He added, "ideally, with the amount of aircraft we have coming, we would like less Business class seats and more Premium Economy." Rival Emirates has 76 Business seats in its A380s, while Singapore Airlines, which reported further deep reductions in traffic last month, has 60 Business seats in its A380s.
A380 seating layouts: Competing carriers
| Carrier | First | Business | Premium economy | Economy | Total |
| --- | --- | --- | --- | --- | --- |
| | 14 | 76 | - | 399 | 489 |
| | 12 | 60 | | 399 | 471 |
| | 14 | 72 | 32 | 332 | 450 |
Thai Airways is reportedly considering cancelling its order for six A380s. Chairman, Wallop Bhukkanasut, told the Bangkok Post, the A380 is a "special mission airplane and can currently operate through eight airports around the world, meaning you can't put the aircraft on routes as you may wish".
ILFC CEO, Steven Udvar-Hazy, stated at the IATA AGM that the leasing company is still considering its order for ten A380s, noting a "general structural change in the industry and in the way that airlines think about the A380.
See related article: Airbus A380 rewrites the mass market rules. Airbus now marketing seriously low cost aircraft
Worldwide premium demand continues falling in April - down 22%
IATA reports worldwide premium travellers on international services fell 22% in Apr-2009 following a 19.2% decline during the first quarter. IATA stated the extra holiday days in many countries this April due to Easter, which fell in March last year, will have depressed Business travel by around 5% and boosted leisure and travel to visit friends and family by around 1%.
IATA total premium traffic growth: Feb-07 to Apr-09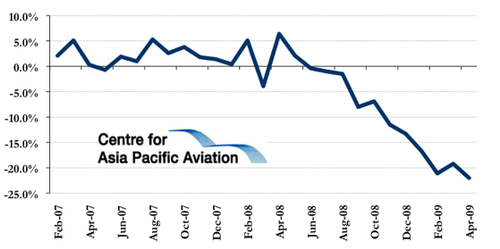 IATA stated, "adjusting for Easter then suggests an improvement but given the previous two months were also severely distorted it is extremely hard at the moment to identify whether we have reached a solid turning point for air travel. Moreover, anecdotal reports for May suggest renewed weakness in some markets".
But premium revenues down a massive 44%
IATA estimates average premium fares have fallen by over 20% year-on-year, with revenues from premium travel plunging by around 44% in Apr-2009.
Premium ticket volume and revenue growth: Apr-2007 to Apr-2009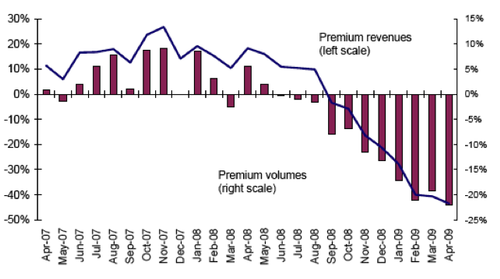 Middle East continues to perform better
The Middle East continues to show signs of relative strength. After first quarter rises of 1.1% on Economy travel between Europe and the Middle East, a 9.8% rise on Middle-Far East markets and a 3.4% rise between the Southwest Pacific and the Middle East, there were further increases in April of 15%, 13.4% and 18.2%, respectively, according to IATA. The airline body also noted, "long-haul Economy travel on flight segments to the Middle East have been holding up for some time and that continues in April".
Middle East premium traffic is also holding up better than most regions. Europe-Middle East premium volumes were down 8.1% in Apr-2009 year-on-year, while intra-Middle East volumes fell 9.7%. Middle East-Asia and Middle East-Southwest Pacific (ie Australia and New Zealand) were hit harder, falling 14% and 19.5%, respectively, though below the overall worldwide average 22% reduction.
As a result, the Middle East region is holding onto gains made in its share of total premium revenues and traffic since the onset of the global economic crisis, though losses by the region's carriers are growing as fares come under pressure.
IATA Middle East premium revenue share vs premium traffic share: Feb-08 to Apr-09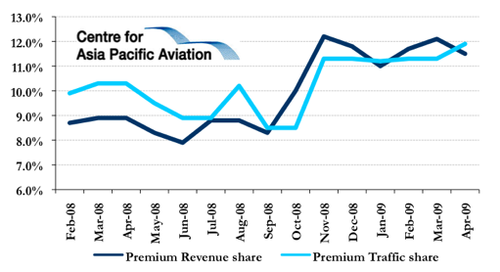 Of the major premium travel markets, within-Europe overtook the within-Far East as the weakest region in April, according to IATA, "partly because of the larger impact on business travel of the Easter vacation days". Within-Europe premium travel was down 33.6%, compared to a 24.2% decline in the first quarter. Within the Far East premium travel declines moderated a little from a fall of 26.6% in the first quarter to 25.7% in April.
IATA premium traffic growth (% change year-on-year) by region: Apr-2009
Europe to Far East deteriorated from a 20.4% first quarter reduction to a 26.4% decline in Apr2009.
Across the North Atlantic, the deterioration was -18.4% in Apr-2009 compared to 17.8% contraction in the first quarter, while across the Pacific, the deterioration moderated from -27.2% in the first quarter to -25.7% in April, according to the industry body.
Year-to-April premium traffic show weakness in most markets.
IATA premium traffic growth (% change year-on-year) by region: Four months to 30-Apr-09
Outlook: No stabilisation yet
IATA stated that will need "another month or two" of travel data to be sure of whether a turning point has been reached. The industry body added while there are a number of reasons for thinking that we are close to a bottom for travel volumes, "unfortunately, fares and yields are falling at an increasing rate, so even if traffic volumes are stabilising, revenues are not".
Airlines now face the difficult question of how to adapt to the changed environment with their seating plans. Not much can be done about the aircraft scheduled for delivery in the near term, but aircraft deferred due to the global economic slump could eventually deliver with significantly more Economy and Premium economy seats.