Airlines in "survival mode" – IATA
Analysis
Airline revenues continue to deteriorate, according to IATA, while yields are under severe pressure". IATA's worldwide international traffic results for May-2009 show a 9.3% decline in passenger demand (RPKs), while freight demand was down by 17.4%. The industry body noted, "after a 20% fall in international passenger revenue in the first quarter, we estimate that the drop accelerated to as much as -30% in May - this crisis is the worst we have ever seen".
IATA stated demand in the past two months has been "slightly stronger" than the 11.1% decline reached in March, even after adjusting for the distortions caused by the timing of Easter. It added, "this indicates that a floor may now have been reached". IATA estimates the global impact of swine flu on global travel patterns in May was a 1% drop in passenger traffic.
The industry capacity adjustment of -5.0% in May-2009 however did not keep pace with the fall in demand, leading to a 3.3 ppts fall in load factors to 71.2%, down from 74.5% in May 2008.
Middle East airlines buck the downward trend
Middle Eastern carriers bucked the declining trend again, with 9.5% growth in demand and a 14.5% expansion of capacity.
IATA airlines RPK growth by region: Jun-08 to May-09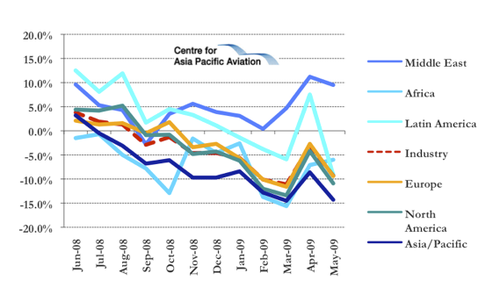 Asia Pacific carriers recorded a 14.3% fall in demand last month. IATA noted that while capacity adjustments by the region's carriers were the most severe (-9.3%), they did not keep pace with the fall in demand driven by weak economies and the impact of swine flu on the region "with the most vivid memories of the SARS crisis".
IATA airlines ASK growth by region: Jun-08 to May-09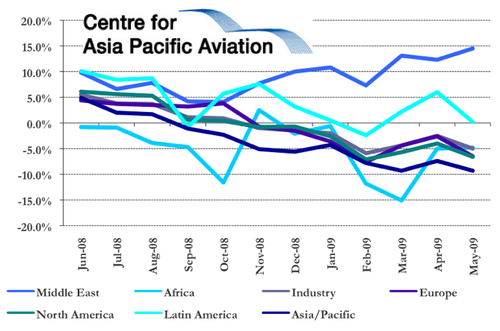 North American carriers recorded a 10.9% fall in passenger demand, considerably worse than the 4.2% fall in April. This was the result of weak demand to Latin American destinations affected by swine flu, "along with significant recession-driven drops in both trans-Atlantic and trans-Pacific markets", according to the airline body.
European carriers, in additional to weak long-haul markets, saw some loss of market share to European LCCs, whose traffic grew by 2.1%, while the network carriers reported a 9.4% decline.
IATA airlines passenger load factor growth by region: Jun-08 to May-09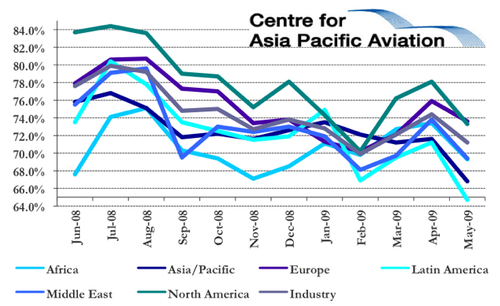 "Relative improvement" in freight markets
IATA stated the 17.4% decline in international freight demand (FTKs) is a "relative improvement", compared to the 21.7% reduction in April, which is "one of the first physical signs of the economic recovery being anticipated in equity markets".
The airline body noted freight volumes last month rose by around 3% above April levels, as manufacturers began to add to their product inventories in anticipation of an economic recovery. However, inventories remain 10-15% higher than normal in relation to sales levels, according to IATA, "indicating that a significant recovery is not expected in the near term".
IATA added, "surveys of purchasing managers indicate we could experience a further improvement in air freight demand during June and July to levels that are 12-15% below last year's levels".
Most regions were relatively aligned in the severity of the freight declines. Latin American carriers were the worst performers with a 21.0% fall, followed by Africa (-20.0%), Europe (-19.2%), North America (-18.8%), and Asia Pacific (-18.1%). Middle East carriers were the exception with a 3.7% fall. Capacity adjustments in freight markets have been catching up to demand declines. Freight load factors are 3.6 percentage points lower than a year ago.
IATA airlines FTK growth by region: Jun-08 to May-09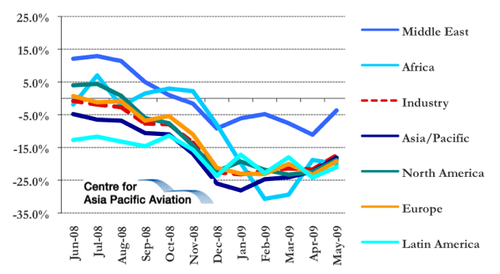 Outlook: Strong headwinds, airlines in "survival mode"
IATA Director General and CEO, Giovanni Bisignani, stated, "we may have hit bottom, but we are a long way from recovery". He noted that while the impact of the recession appears to be stabilising, "strong headwinds from debt and low asset prices are expected to weaken and delay any significant recovery". Mr Bisignani concluded, "airlines are in survival mode. Cutting costs and conserving cash are the priorities."
Qantas today announced plans to defer the delivery of 15 B787-8s for three years, in what is becoming a familiar pattern by airlines to cut back on capital spending on their fleets to defend shrinking cash balances.
IATA warned, "even if we look beyond the crisis, it is difficult to see a return to business as usual. This crisis is re-shaping the industry. The burden cannot be placed on airlines alone".