Aircraft Interiors – industry development summary: Jan/Feb-2023
Analysis
This regular CAPA report provides a summary of major developments in the aircraft interiors sector, supported by data from the CAPA Aircraft Interiors Database and CAPA News.
This Jan/Feb-2023 issue features:
The rise of 'Made in China' interior products
The continuous surge of Premium Economy
Delta Air Lines delivers on its free WiFi promise
+ regional news updates from Asia Pacific, EMEA and the Americas

The rise of 'Made in China' interior products
In early 2023 Xiamen Airlines, a Chinese airline long known for operating an all-Boeing fleet, took delivery of its first Airbus aircraft – an A321neo.
While Airbus' victory in winning Xiamen Airlines itself is major, it is equally noteworthy how widely present Chinese-developed interiors are, from nose to tail.
AVIC Hubei Ali-Jiatai Aircraft Equipment provided all the passenger seats, including eight JT220B seats in business class and 200 JT220E seats in economy class.
Xiamen Airlines is the second Chinese airline, after China Eastern Airlines, to adopt these models on Western-made aircraft.
As for inflight entertainment (IFE), Xiamen Airlines became the launch customer of CETCA's iWO system by installing it across all current and upcoming Airbus aircraft.
AVIC Hubei Ali-Jiatai Aircraft Equipment, a division of state owned Aviation Industry Corporation of China (AVIC), has been designing and manufacturing interior products for both aircraft and trains since its founding in 2010.
AVIC seats first appeared on China Southern Airlines' Boeing 777-200ERs and Shanghai Airlines' 767s around 2013. The installations were likely intended to test the waters as both fleet types were scheduled to retire shortly after receiving AVIC seats.
AVIC then started line-fitting seats for Chengdu Airlines' Comac ARJ21s, followed by aircraft from smaller Chinese airlines – for instance China Express Airlines, 9 Air, China United Airlines, Air Travel, and Okay Airways.
China Eastern Airlines and Sichuan Airlines became the first of the major Chinese airlines to line-fit 'Made in China' seats on Western aircraft. Since 2021, both airlines have started receiving A320neos with AVIC seats.
Xiamen Airlines is the latest major player to follow suit.
Count of current fleet with AVIC Hubei Ali-Jiatai seats in economy class, since Mar-2014 (2014-2024)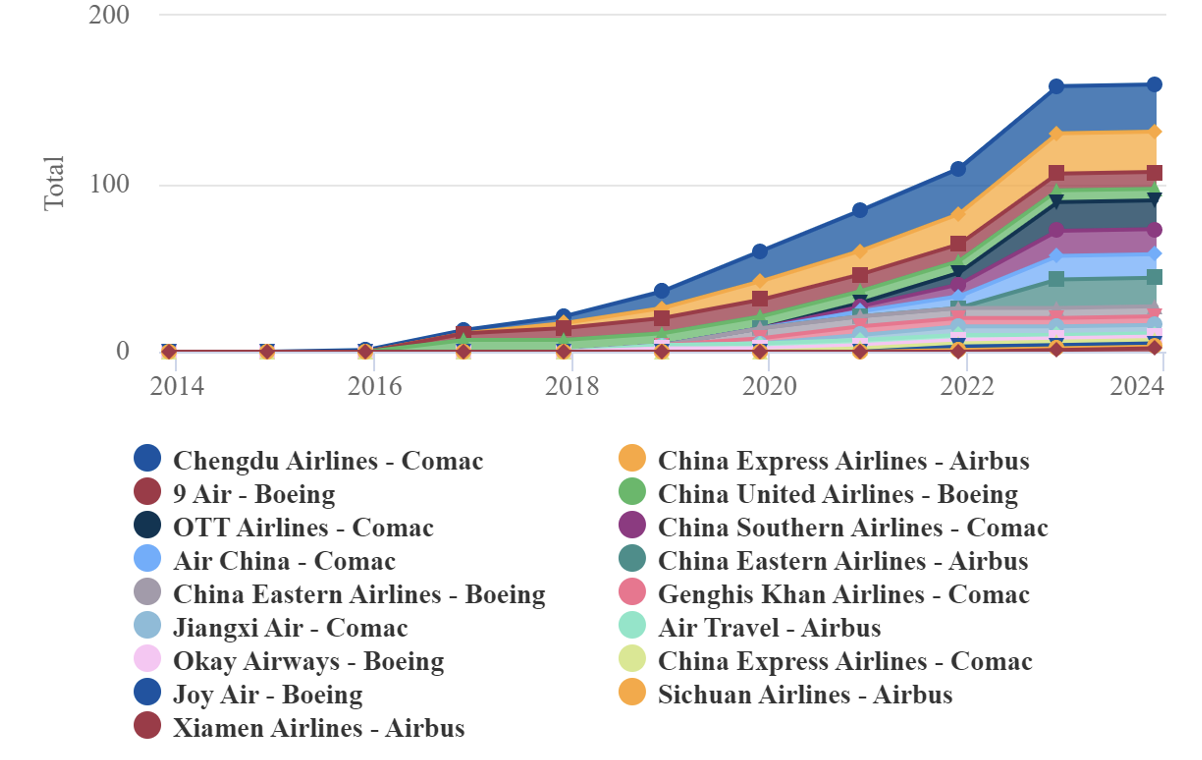 Inflight connectivity (IFC) is another area in which Chinese suppliers are eager to make inroads.
Shandong Airlines is in partnership with STAECO to install IFC (in-flight connectivity) on its 737-800s. The solution was jointly developed by STAECO, Space Star Technology, Chengdu Global-way Communication Technology, and Donica Aviation Engineering.
The first aircraft to receive the modification was completed in Jan-2023.
It will be interesting to see whether major airlines such as Sichuan Airlines, which has been rapidly installing Viasat equipment, will eventually pivot to solutions developed in China. From seats to inflight entertainment & connectivity (IFEC) there has been a clear rise in Chinese-made aircraft interior products.
Although still in its infancy, the Chinese interiors sector has tremendous potential by calling the second largest airline market its 'home'. Not to mention that the Chinese government is likely to take a proactive stance in convincing state-owned airlines to abandon Western solutions and make use of Chinese ones.
Xiamen Airlines' A321neo featuring 100% Chinese-made seats and IFE may have marked the start of a seismic shift.
The continuous surge of Premium Economy
The past decade has seen continuing strength in premium economy class growth. The share of the widebody passenger fleet in service that has premium economy installed has quadrupled, to 40%, between 2013 and 2023.
Some major airlines remain holdouts, however many airlines have started to join the trend.
After becoming the first airline in the Middle East to introduce premium economy in late 2021, Emirates recently completed its first premium economy retrofit. Until recently, the cabin had only been featured on the six newest A380s.
The airline is expected to install premium economy across its entire fleet within the next few years.
In Europe, KLM Royal Dutch Airlines and SWISS are continuing to make progress in installing premium economy on their long haul fleets.
Since 2023 KLM has started turning its installation focus from the 787-10 to the 787-9.
SWISS, part of the Lufthansa Group, has started operating its A340-300s with premium economy after completing a rollout on the 777-300ERs.
Lufthansa Group, the biggest European airline group, introduced its premium economy product in 2014. Lufthansa's 747-8s were the first to receive the new seats in 4Q2014, followed by Austrian Airlines, Brussels Airlines, and Eurowings Discover.
SWISS was the last in the group to unveil a premium economy cabin (debuted on the 777-300ER in 2022).
Although it was the last airline to unveil a premium economy cabin, SWISS was the first to install Lufthansa Group's new Allegris premium economy seat. The majority of the current and future Lufthansa Group premium economy products are manufactured by the German seat supplier ZIM Aircraft Seating.
Count of Lufthansa Group current fleet with premium economy installed for the past decade, Mar-2013 to Mar-2023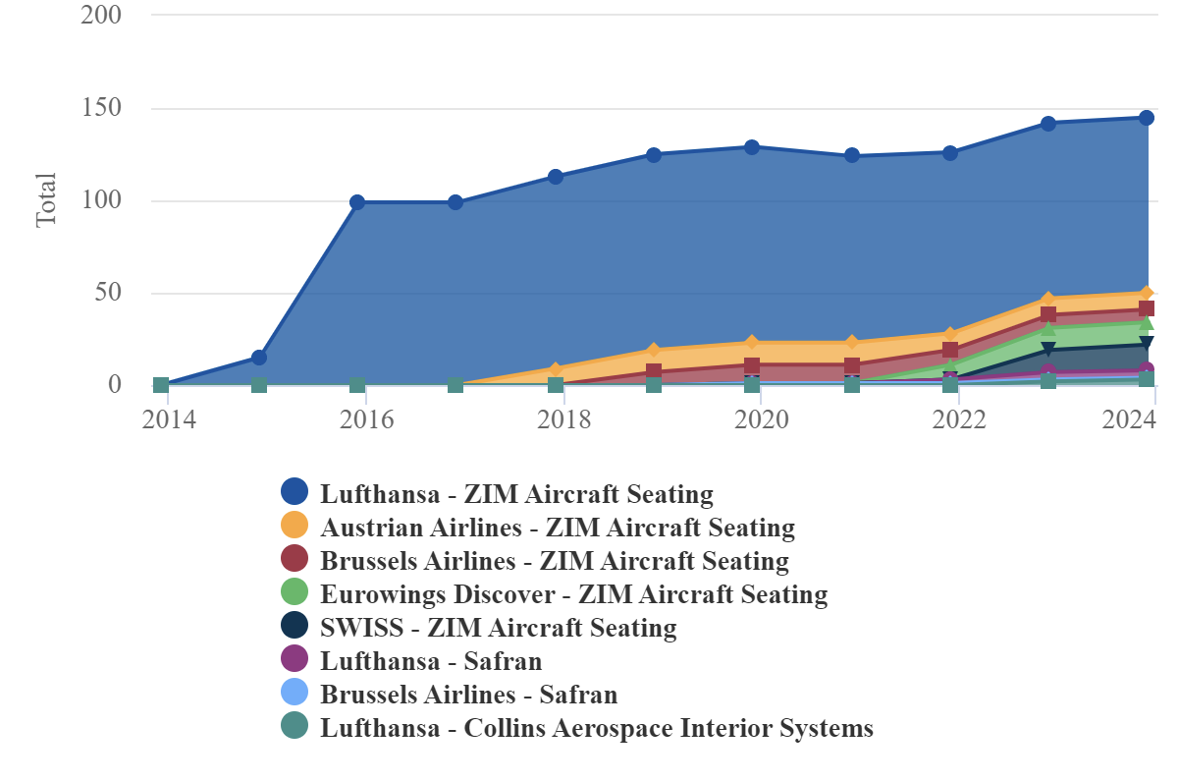 Across the Atlantic, major American airlines are also pursuing the premium economy concept.
The president of Delta Air Lines, Glen Hauenstein, reported that 55% of the airline's revenue in 2022 was generated by premium products. Delta is close to completing installation of premium economy across its entire widebody fleet, with A330s and 767s being the last remaining incomplete fleets.
American Airlines stressed the importance of premium economy seats when it announced the interiors for its upcoming 787-9 and A321XLR deliveries. The airline also plans on adding 16 premium economy seats to its 777-300ERs as part of an upcoming retrofit programme. That retrofit will mean that American retires first class cabins across its fleet, making way for more business and premium economy class seats, as this is "what our customers most want and are willing to pay for", according to American's CCO Vasu Raja.
Premium seating across American's long haul fleet is set to grow by more than 45% by 2026.
Delta delivers on its free WiFi promise
Since 2018 Delta has been touting its ambition to provide free inflight WiFi for all.
In Feb-2023 the airline finally delivered on phase 1 of this promise, making WiFi free (albeit requiring a SkyMiles account) on all Viasat-equipped aircraft. With this development, Delta becomes the first of the 'Big Three' in the US to offer free WiFi regardless of travel class.
This is made possible by Delta's decision to part with its long-time IFC provider Intelsat (which acquired Gogo) and to go with Viasat in early 2021. The switchover has occurred at a dramatic pace: in less than two years more than 500 narrowbodies had 2Ku systems removed.
Viasat-equipped aircraft now operate most of Delta's domestic mainline flights.
As Viasat installation inches closer to completion across Delta's narrowbodies, the next major phase is Delta's widebody fleet. After years of speculation, Delta confirmed earlier this year that its Viasat commitment is fleet-wide. This means that the remaining Intelsat-equipped aircraft, including the A330s, A350s, and 767s, will also switch to Viasat.
Percentage share of IFC model within the current fleet of Delta over the past five years: Mar-2018 and Mar-2023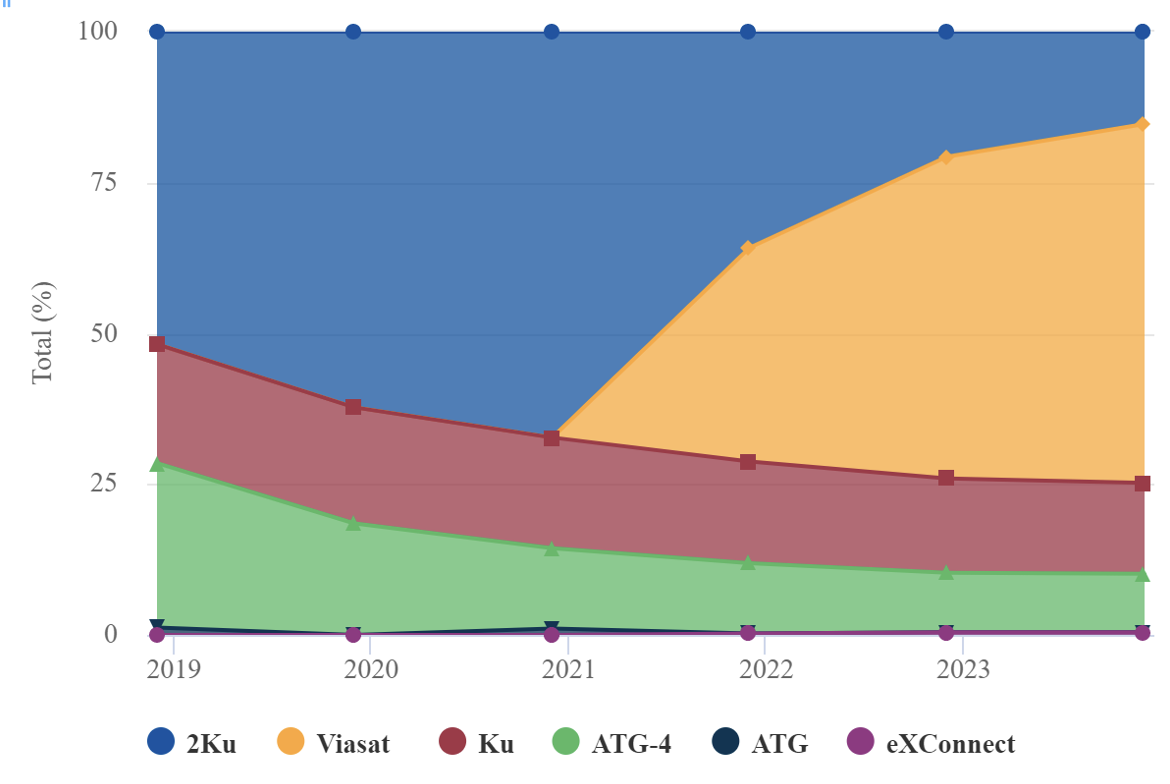 Delta is among an increasing number of airlines aiming to make WiFi free.
In Feb-2023 Singapore Airlines expanded its unlimited free WiFi service to all business class passengers and elites.
Meanwhile, all Krisflyer members who travel in premium economy and economy can now enjoy free WiFi for three hours and two hours, respectively.
This trend has been supported not only by airlines but also by IFC providers, including John Wade, vice president Connectivity Business Unit from Panasonic Avionics Corporation: commenting on Delta's free WiFi scheme, Mr Wade stated, "I think that by the end of this decade, Delta's vision of 'Wi-Fi for everybody' will be true for all of aviation […] Panasonic Avionics is in a 'very strong position' to support the free inflight Wi-Fi model".

Latest global interior updates
Americas:
Alaska Airlines to become launch customer of Intelsat's electronically steered array (ESA) solution, with flexible access to LEO and GEO satellites;
First Breeze Airways A220 fitted with Viasat inflight connectivity system enters service.
Geven's SuperEco seat debuts on the A320s of the Malaysian start-up MyAirline;
Qantas Airways introduced first and business class cabins on its upcoming "Project Sunrise" A350-1000s, which will operate nonstop services to London and New York from Perth and Sydney. The airline also confirmed that it would finally start offering WiFi on international services;
ZIPAIR signs up to SpaceX's Starlink IFC solution.