Airbus defers industrial ramp-up
Airbus, with some 3,800 aircraft on backlog, is clearly nervous the global financial crisis could cause more aircraft deferments and cancellations. The manufacturer has shelved its plans to increase aircraft production rates, which will result in 48 fewer narrowbodies and 12 fewer widebodies rolling off the production floor after 2010. The manufacturer is also keen to protect aircraft values - and appears to have listened to lessor pleas to "go slow". With Boeing workers enjoying an extended Summer break, a slowdown in production is a good development for the industry - but enormously frustrating for some airlines keen to take advantage of market opportunities and competitor weakness as storm conditions intensify.
Oil down 50% from peak - but airlines locked in higher rates
Oil prices plunged another USD4 per barrel overnight to USD74.54 in New York, as equity markets in the US and Europe sank. Share markets have almost wiped out gains made at the start of the week, on heightened concerns about a painful recession in most of the Western world.
Falling oil prices are a bad sign for airlines, as they reflect a slowing in global economies that will affect air travel demand, particularly high-yielding business traffic. But many of the world's leading airlines have also locked in significantly higher rates under their hedging programmes, for varying proportions of their total jet fuel requirements. Air China, which yesterday joined China Eastern in issuing a profit warning for the nine months to Sep-08, stated the recent dramatic fall in crude oil prices in the international market has led to a "negative valuation on the fair value of the Company's fuel hedging contracts as on 30 September 2008". Fuel surcharges are starting to come off, but not as quickly as they were applied, reflecting the fact airlines are locked into higher prices and seeking to raise as much cash as possible as the cycle enters a dark new chapter.
Singapore Airlines has reported its first year-on-year reduction in passenger numbers for three years in Sep-08, as demand dipped 1.6% to 1.51 million. RPKs rose 1.3%, but capacity rose 6.8%, leading to a 4.1 ppts reduction in passenger load factor to 76.9%. The cargo segment was even more worrying, with FTKs falling 7.3% against a 4.2% reduction in capacity, resulting in a 2.1 ppts decline in cargo load factor to 61.1%. The airline's overall load factor (passengers and freight) fell to 67.4% - one of the lowest levels in recent years - and edging closer to its break-even load factor (which in the three months ended 30-Jun-08 was 62.7%). Falling fuel prices are providing some relief, but falling demand means the airline is taking a close look at capacity deployment "in light of the changing economic conditions globally".
Singapore Airlines passenger numbers growth and cargo volume growth: Oct-07 to Sep-08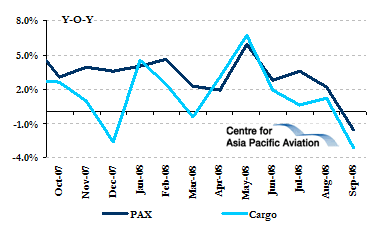 Meanwhile, embattled Thai Airways has launched a major sales campaign (rare in the midst of the high season), to stem a downturn in traffic in 4Q08. The carrier slashed its fuel surcharges yesterday, as part of concerted efforts to raise flagging load factors. VP, Pridi Boonsue, observed, "this is a period of crisis for airlines, but a period of opportunity for consumers."