AirAsia not experiencing reduction in demand; MAS expects slump in premium demand to continue
According to AirAsia Regional Head of Commercial, Kathleen Tan, "because of the economic downturn, people are downgrading but corporate travellers still want to fly. AirAsia offered alternative solutions to get people to fly…Because of our low cost model, the fares are affordable".
The outlook is slightly different at Malaysia Airlines (shares up 0.3% yesterday), which stated it expects the slump in premium demand to continue into 2010.
According to CEO and Managing Director, Tengku Azmil Zahruddin, the slump "will continue to be tough for the rest of this year and probably well into 2010. Perhaps towards the second half of 2010 we hope to start seeing some recovery"
Asia Pacific selected airlines daily share price movements (% change): 29-Sep-09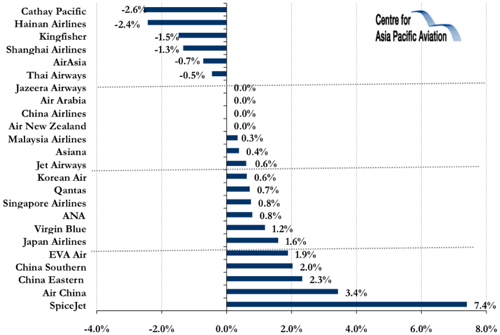 Air India pilot backlash continues for fourth day
In the Indian market, SpiceJet shares gained 7.4% yesterday, as Air India's woes continue.
After Jet Airways' damaging pilots action earlier this month, Air India has now been impacted by a fourth day of agitation by its Executive Pilots. 48% of the carrier's 29 international services were cancelled yesterday, with the carrier only operating 51% of its scheduled domestic services.
Air India also stated it is targeting cost cuts of up to USD270 million in 2HFY2009/10, of which USD83 million is expected to arise from savings in staff costs and the remaining USD187 million from reductions in aircraft material costs (USD62 million), fuel (USD21 million), airport handling contracts (USD42 million), among others.
In China, Hainan Airlines and Shanghai Airlines shares were weaker (-2.4% and -1.3%, respectively), while China Southern, China Eastern and Air China were stronger (up 2.0%, 2.3% and 3.4%, respectively), ahead of the weeklong National Day Holiday.