Air NZ warns of further bankruptcies and consolidation; Former Qantas CEO sees long recovery time
Asian airline shares were mixed on Tuesday (04-Aug-09), reflecting conditions on the Asian equity markets. Leading the gainers yesterday was Jazeera Airways, up 4.4%, followed by Air New Zealand (+3.6%) and Cathay Pacific (+2.9%).
Japan Airlines and Qantas rose 1.3% and 1.0%, respectively. Both Jazeera Airways and AirArabia (-1.0%) were rated "buy" in new coverage by Nomura Holdings.
Air NZ and former Qantas CEO see big changes ahead
Air New Zealand CFO, Robert McDonald, yesterday warned of further airline bankruptcies and consolidation, as a potential stabilisation in global aviation demand is offset by rising fuel prices and funding challenges. Mr McDonald's comments echo those made by former Qantas CEO, Geoff Dixon, who predicted further consolidation in the US and Europe, and stated airlines outside Asia would see Asian airline as attractive future partners. Mr Dixon added that the current global alliance model could be superseded in the next five years.
Mr Dixon also warned that it could take until 2013 before the global aviation industry sees a return to 2008 revenue levels, with profitability unlikely to be restored until the end of 2011. Mr Dixon added that while the Asia Pacific region would likely be hardest hit by the economic downturn, the region is expected to lead the recovery.
However, in positive news for Qantas, Australian Transport Department Secretary, Mike Mrdak, stated the Australian Government could lift some investment constraints on Qantas. Mr Mrdak stated that while the Federal Government's Green Paper will not change the 49% limit on foreign investment in airlines, it would consider lifting the 25% limit on individual foreign companies and 35% overall cap on foreign airlines. Mr Mrdak also stated the government considered a comprehensive open skies agreement with the EU as its highest international aviation priority.
Leading the decliners on Tuesday was AirAsia, slumping 5.8% (as it gets closer to issuing new shares next month - see below), with SpiceJet and Virgin Blue also weaker, down 3.4% and 3.2%, respectively.
Asia Pacific selected airlines daily share price movements (% change): 04-Aug-09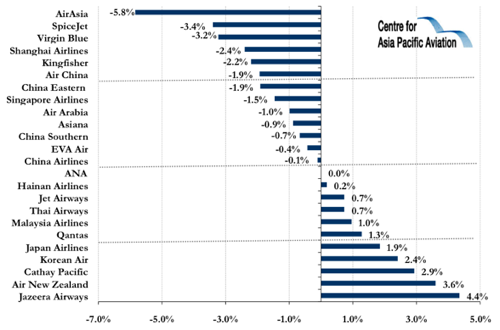 AirAsia discount priced in
AirAsia's share price weakness coincided with news that the carrier is seeing strong demand from both foreign and local institutional funds for its USD172 million share issuance, which will be used to reduce its debt levels. The airline plans to place up to 481.1 million shares, representing a 20% stake in the carrier, to as yet unidentified buyers.
CEO, Tony Fernandes, stated the new shares would be priced at a 5-10% discount to the market price of AirAsia shares at the time of issue, hence yesterday's 5.8% fall.
AirAsia share price growth: Jan-2009 to Aug-2009