Air Nigeria re-establishes long-haul routes
Analysis
Air Nigeria is resuming long-haul operations after a nearly three-year hiatus, with A340-300 flights to London Gatwick commencing in Sep-2011. The carrier is also aiming to use its newly acquired A340-300 fleet to resume flights to Johannesburg and launch Washington Dulles with the latter designed to supplement its new codeshare service via Delta Air Lines to Atlanta and New York.
The Air Nigeria-Delta codeshare, which commenced last month, is an important step to ensure the continued growth of trade and travel between the US and Nigeria. Delta is now carrying Air Nigeria's code on the New York-Accra-Abuja route and on its non-stop service to Lagos from Atlanta.
Continuing its international reach, Air Nigeria will re-launch service to London, which was dropped in 2009. This time the carrier will operate to London Gatwick rather than London Heathrow as it no longer has access to Virgin slots.
Air Nigeria was first established in 2004 under the name Virgin Nigeria after Nigeria's government and Virgin Atlantic Airways signed a Memorandum of Mutual Understanding to create the carrier. Virgin Nigeria operated to London Heathrow and Johannesburg as its two flagship, long-haul destinations. In Jan-2009, while still operating as Virgin Nigeria, these routes were suspended due to high competition on the route.
On a quest to reinstate long-haul service
In Apr-2010 the carrier was acquired by Barrister Jimoh Ibrahim of the NICON Group and has since been on a quest to reinstate the services and make Lagos a major hub in the sub-Saharan region. This includes a restructuring project with a focus on increasing presence in western and central Africa.
Air Nigeria is embarking on long-haul expansion now that it has completed the first phase of its turnaround strategy, which included the resolution of its debts with financial institutions. Air Nigeria CEO Kinfe Kahssaye told CAPA last month that the carrier has agreed to lease three A340-300s for delivery in 2H2011, including one from ILFC. He says in addition to the Gatwick route, Air Nigeria is looking to use the A340-300s to launch Johannesburg and Washington Dulles services in 4Q2011.
Virgin Nigeria operated a fleet of 20 aircraft at its peak, including two A340s and three B767. The B767s were acquired by Gabon Airlines and Latvian charter airline SmartLynx in 2009, while Virgin Nigeria's A340s went back to Virgin Atlantic Airways in 2007. Virgin Nigeria retained some of its B737s with the airline initially being renamed Nigerian Eagle Airlines before later becoming Air Nigeria. The carrier now operates seven B737s along with two E190s to eight domestic destinations and seven regional destinations within Africa.
On Lagos-London, Air Nigeria will compete against former partner Virgin Atlantic Airways as well as British Airways and Nigerian rival Arik Air. London, which has a huge Nigerian population, is currently the second largest international market out of Lagos. There are already more than 6000 seats per week between Lagos and London (in each direction). Only Accra in Ghana has more weekly seats.
The Lagos-London market has significant leisure and business traffic. Air Nigeria aims to cater to both segments. Nigeria is the UK's 2nd largest African market and 33rd largest overseas market for goods. The new daily service by Air Nigeria will significantly increase Gatwick's international capacity to central/western Africa, which currently consists of just 928 seats per week. By contrast, London Heathrow has more than 23,000 seats per week to central/western Africa.
Lagos-Johannesburg is a lucrative under-served market
The Lagos-Johannesburg is market is served by Nigeria's Arik Air as well South African Airways (SAA). It is Lagos' fourth largest international market with about 3000 seats per week in each direction. Lagos-Johannesburg has traditionally been a highly profitable route with high average fares because capacity is limited due to bilateral restrictions.
Washington-Lagos is served by United Airlines, which operates five weekly flights with a stop in Accra. Washington has a large Nigerian population and has been selected as Air Nigeria's first US gateway because the carrier has already gained access to New York through its new partnership with Delta. Mr Kahssaye says Air Nigeria plans to time its Dulles and Johannesburg flights to ensure they connect in Lagos, providing a competitive one-stop service in the US-South Africa market. SAA currently serves Dulles from Johannesburg with a stop in Accra.
Lagos and Abuja are two of Delta's six destinations in Africa. Delta is now the largest carrier in the Africa-North America market. If Air Nigeria launches Washington Dulles as envisioned, it would become the second Nigerian carrier and seventh African carrier to serve the US. Arik Air serves its only US route, Lagos-New York, with three weekly A340-500 frequencies.
Carriers operating non-stop Africa to North America, seats per week, one way
| Carrier Airline Name | Total Number of Seats | Percentage |
| --- | --- | --- |
| | 5,671 | 26.2% |
| | 5,511 | 25.4% |
| | 4,246 | 19.6% |
| EqyptAir | 2,422 | 11.2% |
| | 1,315 | 6.1% |
| | 1,220 | 5.6% |
| | 711 | 3.3% |
| Tacv Cabo Verde Airlines | 555 | 2.6 |
Delta and Air Nigeria have also implemented a reciprocal frequent flyer arrangement but for now Delta is not putting its code on Air Nigeria's domestic or regional African flights. Air Nigeria's codeshare with Delta exposes it to the global airline alliance SkyTeam. Air Nigeria also codeshares with Kenya Airways, a SkyTeam affiliate, and Ethiopian Airlines, a future Star Alliance member.
Relations between Nigeria and US are strengthening and the two countries share a growing trade partnership. Since the restoration of democracy in Nigeria in 1999, the US and Nigeria have cooperated on a number of key issues. In Apr-2010, US Secretary of State Hillary Clinton and Nigerian Secretary to the Government of Federal Yayale Ahmed signed the US-Nigeria Bi-national Commission. This is a formalised commitment to hold talks on issues such as governance, energy and investment, regional security and agriculture.
Nigeria is the US' largest trading partner in sub-Saharan Africa and its 50th largest partner in the world. The US is the largest foreign investor in Nigeria. In Apr-2011, Nigeria was the fifth largest supplier of crude oil for the US, supplying 8% of the US' oil imports. Two-way trade in 2010 was valued at USD34.6 billion, a 52% increase from 2009 (WTO Trade Policy Review of Nigeria, 28-Jun-2011). Because Nigeria's dependence on oil became somewhat unhealthy after the 1970s oil boom, the US is now focusing on helping Nigeria develop other resources and sectors.
The potential launch of Air Nigeria services to Washington Dulles and the already firmed up launch of United services on the Houston-Lagos route will significantly increase capacity in the Nigeria-US market. The new United flight from Houston, which is a big oil industry destination and a hub for Continental, will operate daily starting Nov-2011. Continental first announced last year Lagos as a destination for its new B787 fleet but delays in B787 deliveries has forced the new United to initially operate the route using B777s.
US to Nigeria seats per week, one way, 30-May-2011 to 25-Dec-2011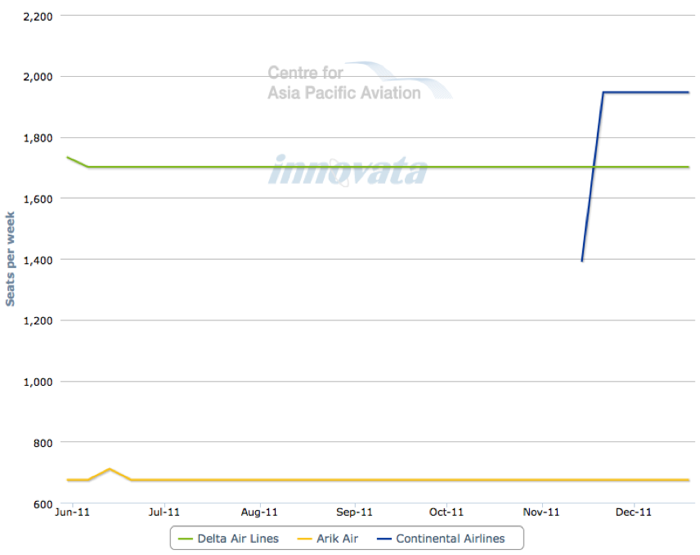 An estimated 1 million Nigerians have migrated to the US since 1970 while more than 25,000 Americans currently live and work in Nigeria. Based on 2001 data, 13.7% of Nigerian emigrants live in the US and 8.6% live in the UK. The number of Nigerian emigrants has been growing steadily since the 1960s, with a recorded 1,127,700 Nigerians emigrating in 2010.
Nigerian emigrants by country of residence (percent of total), 2000-2001
| Country | Percentage | Region |
| --- | --- | --- |
| | 23.8 | |
| | 13.7 | |
| | 8.6 | |
| | 8.4 | West Africa |
| | 5.1 | West Africa |
| | 4.0 | West Africa |
| | 2.9 | |
| | 2.9 | West Africa |
| | 2.6 | West Africa |
| | 2.5 | West Africa |
| | 2.5 | |
| | 2.2 | |
| | 1.8 | West Africa |
| | 1.4 | West Africa |
| | 1.4 | |
| | 1.2 | |
| | 1.1 | |
| | 1.0 | |
| | 1.0 | Indian Sub Continent |
| | 0.9 | |
| | 0.9 | |
| | 0.9 | |
| Cote D'Ivoire | 0.9 | West Africa |
| Other | 8.5 | Other |
In addition to the three A340-300s, Air Nigeria has commitments for eight additional E190s. The carrier has been deploying the E190s, which were ordered in 2007, on regional routes within western Africa. The expansion of the E190 fleet will help Air Nigeria achieve its goal of serving all major cities in western Africa. The E190s are also used on some domestic routes.
Air Nigeria fleet data
Air Nigeria has a relatively weak intra-Africa route network and only serves cities in the central and western regions of the continent. Other Nigerian carriers are in the same situation with the largest Nigerian carrier, Arik Air, currently being the only operator with a long-haul network. Arik Air and a third Nigerian carrier, Aero both offer more destinations in Nigeria than Air Nigeria.
Air Nigeria, Arik Air and Aero current destinations
Third place at its base
Air Nigeria is now the third largest carrier at its base of Lagos Murtala Mohammed International Airport. Arik Air is the dominant carrier, followed by Aero. This is reflected in Arik's larger overall network and Aero's larger domestic operation. No Nigerian carrier currently has services to the Middle East or Asia, which represents major growth markets for the west African region.
Lagos Murtala Mohammed International Airport capacity (seats per week, to/from) by carrier (04-Jul-2011 to 10-Jul-2011)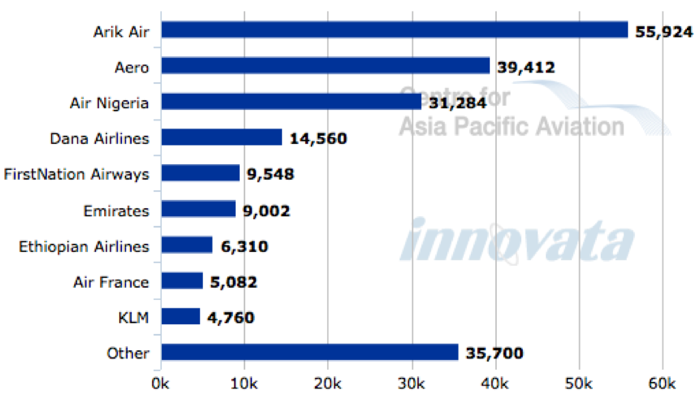 Background information
Air Nigeria route map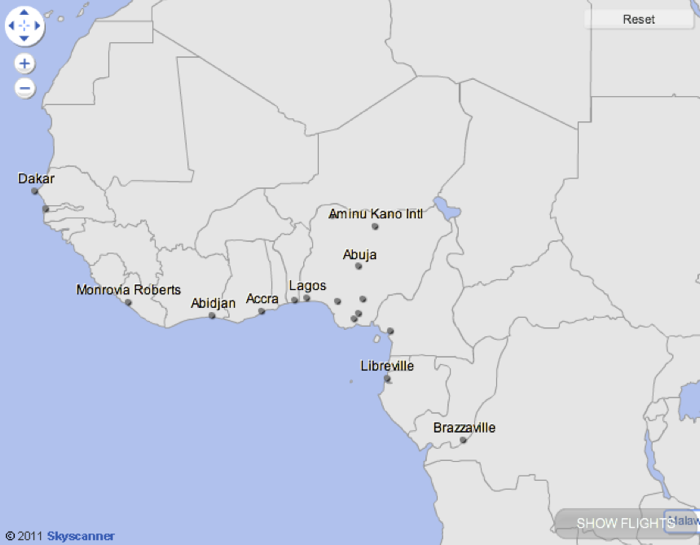 Arik Air route map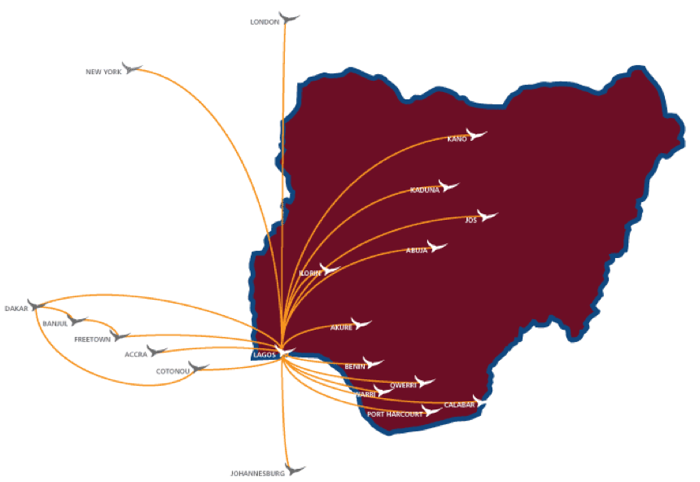 Aero route map