Air New Zealand's yields continue to slide, more capacity cutbacks coming
Analysis
Air New Zealand's yields continued to deteriorate last month, despite a hefty reduction in capacity. According to The Centre's estimates, Air New Zealand's group yields (excluding exchange rate influences) slumped 5.3% in May-2009, even as group capacity was slashed by 13.9%. Including exchange, group yields rose 1.1% year-on-year - down from +11.7% as recently as Jan-2009. Group load factors rose 2.2 ppts in May-2009.
Air New Zealand Group yields (% change year-on-year): Jul-08 to Apr-09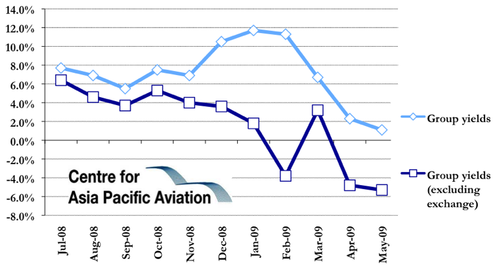 The Centre estimates Air New Zealand's short-haul yields fell 4.5% last month - the third consecutive month of declines - while long-haul yields rose 7.2% - well down on the 20%+ increases in Jan/Feb-2009, as the New Zealand dollar jumps around.
Air New Zealand short- vs long-haul yields (% change year-on-year): Jul-08 to Apr-09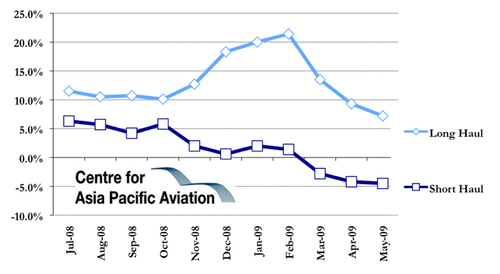 Higher load factors at the expense of market share
Not only are Air New Zealand's average fares suffering on short-haul routes, it is ceding significant amounts of market share to Pacific Blue and Jetstar, which are aggressively growing their capacities across the Tasman to/from Australia and domestically in New Zealand. This loss of share - should it continue - could impair the airline's future ability to influence prices, as well as relinquishing connecting customers.
Air New Zealand's short-haul passenger numbers fell 9.3% year-on-year, but load factors rose 3.4 ppts through "proactive capacity management". Air New Zealand's domestic load factor increased by 0.5 ppts and the Tasman/Pacific load factor increased by 5.0 ppts.
In long-haul markets, the majority government-owned airline is slashing capacity faster than demand, to boost its load factors and defend its profitability - a move that is unlikely to be welcomed by the local tourism industry. Air New Zealand's long-haul passenger numbers decreased by 13.7% and capacity was reduced by 14.6%. On North America/UK routes, passenger numbers fell by 10.0% and on Asia/Japan/UK routes by 18.5%.
Outlook: When the going gets tough...
Reviewing the demand outlook, Air NZ CEO, Rob Fyfe, said at the IATA AGM last week, "I think it's probably going to get worse. We're not expecting any pickup in demand through the coming 12 months". He told Bloomberg, "capacity is down, demand is down, and yields are softening", adding that forward bookings were down "by about 10% across the board".
Last week, Air New Zealand announced its second round of capacity cuts in six months, reducing London-Hong Kong frequency from daily to five times weekly for the upcoming Northern Winter schedule. Overall capacity will fall by 3% in the year commencing 01-Jul-2009.
Air New Zealand faces a difficult outlook as the global economic downturn lengthens and swine flu spreads. An extended period of weak conditions is expected and the airline faces little option but to continue to contract in size, to defend ever shrinking profits.
But meanwhile, the carrier's strong suit remains its ability to maintain higher yields in the domestic market - which it still dominates. If this advantage is seriously challenged, the writing will be on the wall. But for the time being, the tough little fighter is hanging in there.