Air New Zealand cuts 200 jobs as outlook worsens
Air New Zealand announced it will "disestablish" up to 200 full-time jobs affecting its long-haul cabin crew, recruitment, airline operations and technical operations planning and management. The airline has been reducing capacity to match customer demand over the past few months and faces an intense competitive environment in most of its key markets.
Air New Zealand's shares are down 52% so far this year.
Air New Zealand passenger capacity (ASK) growth: Oct-07 to Sep-08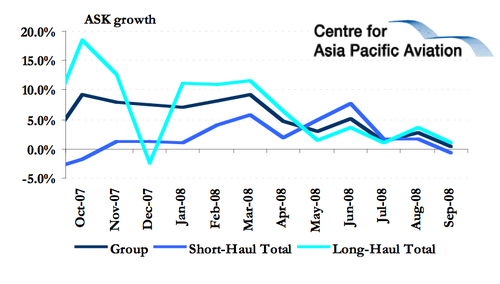 But passenger numbers have been falling faster, as the economy weakens and as competitors offer discounts to promote new capacity in the several key markets.
Air New Zealand passenger numbers growth: Oct-07 to Sep-08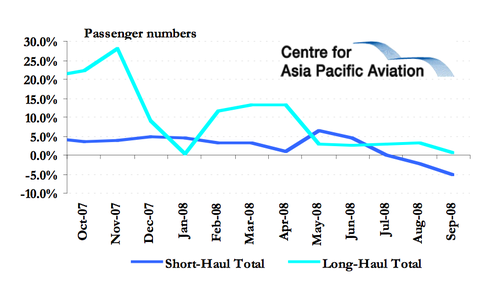 Load factors have been falling as a result.
Air New Zealand passenger load factor growth: Oct-07 to Sep-08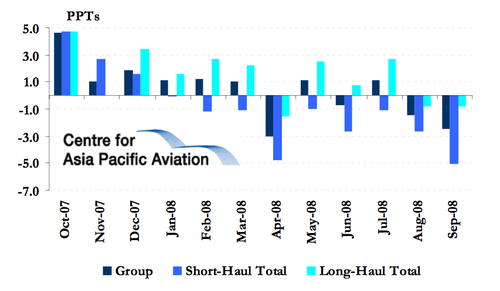 CEO, Rob Fyfe, stated, "we have been working hard on a series of initiatives to minimise the need for redundancies. However, it has become clear that these measures will not fully address the excess staff levels we now have as a result of these capacity reductions, especially in the long-haul business where capacity is being reduced by 8% when compared with the last financial year".
Mr Fyfe stated that annualised savings from the redundancies and a current review of all spending should be in excess of NZD20 million (USD11 million). It is expected that the majority of the redundancies will be achieved on a voluntary basis.