Air India still in Star Alliance holding pattern. Future uncertain
Analysis
Star Alliance yesterday announced that its members had decided to "put Air India's alliance membership application on hold". The beleaguered carrier had been given until 31-Jul-2011 to demonstrate its suitability for membership.
Unsurprisingly, the member airlines of the Star Alliance network and Air India yesterday "jointly concluded that the integration of Air India into the global airline alliance will be suspended". The Alliance had been holding out to give the Indian flag carrier as long as possible to comply with the basic requirements of membership and to allow all members time to consider in full whether admission was acceptable. Affected regional Star members must be unanimous in their support for a new member. However, announced Star, "Air India has not met the minimum joining conditions that were contractually agreed in December 2007".
Star, keen to establish a foothold in the fast growing Indian market, has been courting Air India for some three years, hoping – with some encouragement from the Indian government - that the carrier would graduate to achieving the necessary stature, but said the release, "following a recent review of the status of Air India's application at a meeting held between the Indian Ministry for Civil Aviation, Star Alliance CEO, Jaan Albrecht and the Air India CMD, Arvind Jadhav, the decision to suspend has received subsequent confirmation by the Star Alliance Chief Executive Board".
Air India previously estimated that joining the Star Alliance could add USD335,000 to USD450,000 in revenue per day for the carrier.
Air India's management last month suggested to its owner, the Indian government, that up to INR432.6 billion (USD9.6 billion) in government support would be needed to keep the heavily-indebted airline flying for the remainder of the decade. Out of this, INR83.7 billion (USD1.9 billion) is required in 2011-12. Of this, INR66.0 billion (USD1.5 billion) is required to meet immediate requirements and INR17.7 billion (USD395 million) is required to pay back guaranteed aircraft loans until 2012. Meanwhile, India's Finance Minister has reportedly recommended almost USD100 million be contributed annually to Air India to support the airline's so-called VVIP services.
And competitive pressures continue to mount on Air India, which is now reportedly planning to launch a domestic LCC under its Alliance Air brand. The carrier's board reportedly provided in-principle approval to transfer 14 A320s to the subsidiary as part of efforts to compete more effectively with SpiceJet, IndiGo and GoAir, each of which has large new order books. Air India is the only carrier not to operate a domestic low-cost operation, while main full service competitor, Jet Airways operates around 70% of its capacity through its low-cost subsidiaries.
Star Alliance's diplomatically worded announcement was opaque on exactly what the "on hold" implications were, but CEO, Jaan Albrecht said: "With the collective decision to put the integration efforts on hold today we aim to contribute to Air India's flexibility to concentrate on its ongoing strategic reorientation. In this process our member carriers will continue to provide assistance to Air India wherever required," adding that the decision "leaves room to discuss a potential Alliance membership at a future stage, if deemed appropriate by both parties."
Meanwhile Jet Airways, also with its own considerable debt problems, remains a keen contender to join the Alliance. First though, the government, keen to ensure the survival of its flag carrier, would have to be convinced.
India is a considerable opportunity for the global alliances, where currently almost 92% of total weekly seats is unaligned to a major global grouping.
India capacity (seats) share by alliance (01-Aug-2011 to 07-Aug-2011)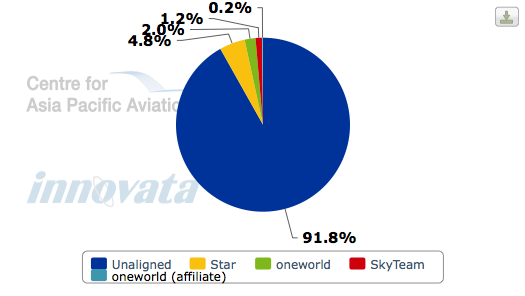 Source: Centre for Asia Pacific Aviation and Innovata