Air France-KLM's operating profit margin halved, vague outlook punished
Air France-KLM reported a 44% reduction in operating profit to EUR405 million in the three months ended 30-Sep-08 (its fiscal second quarter). The airline's share price was hit hard yesterday on a lack of clarity about the carrier's outlook. Air France-KLM stated it now aims to report a "clearly positive" operating profit for the full year (barring worsening conditions) after it last month stated it would be unable to meet its previously targeted EUR1 billion operating profit.
In a highly volatile and fear-filled market, vague statements about the outlook are punished. Air France-KLM's shares dived 5.3% yesterday.
European selected airlines daily share price movements (% change): 20-Nov-08
Air France-KLM's second quarter is usually its strongest, but operating margin slipped from 12% last year to a still creditable 6.8% this year.
Air France-KLM operating profit margin (adjusted) (%): Q1FY08 to 2QFY09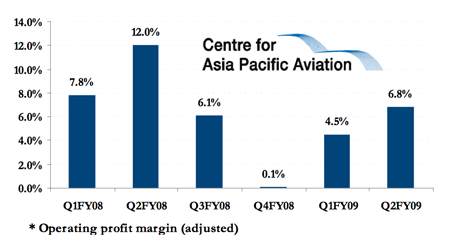 COO, Pierre-Henri Gourgeon, stated that the strength of its two main bases in Paris and Amsterdam meant Air France-KLM "resisted better than the competition". In this context it is interesting that Air France-KLM is still pursuing Alitalia.

Net profit plunged 96% in the third quarter, due to a charge based on the value of its currency and fuel options.
In the second quarter, the group increased capacity by 3.6%, but traffic rose by only 1.7%, resulting in a 1.6 ppts decrease in passenger load factor to 83%. Revenue growth continued to outstrip passenger growth, but the margin is narrowing.
Air France-KLM revenue growth and passenger numbers growth: Q1FY08 to 2QFY09
The reason for this is that yields have stopped growing - which would be of concern to Air France-KLM management.
Air France-KLM yield growth and passenger numbers growth: Q1FY08 to 2QFY09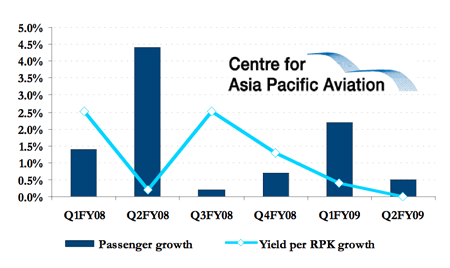 Unit cost growth is also becoming uncomfortable and the airline has decided to defer investment in new capacity, to help maintain its strong cash balances. The carrier confirmed plans to cut its capacity this Winter and unveiled plans to stagger its mid-term fleet investment programme.
Air France-KLM yield growth and unit cost growth: Q1FY08 to 2QFY09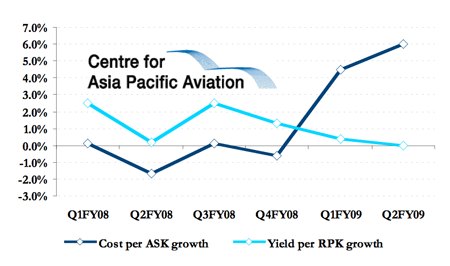 Air France-KLM looks likely to outperform its major European rivals this Winter, but it will be a very challenging period for all players.