13-May-2009 12:17 PM
Air France-KLM weaker after April traffic report, Austrian weighs down Lufthansa – Share Wrap
Air France-KLM's shares eased 0.7% yesterday as the Group recorded a 3.4% reduction in capacity and a 2.8% decline in traffic (RPKs) last month. The airline stated, "this improvement in activity was not, however, accompanied by any recovery in unit revenues". Investors seem to be refocusing on the fundamentals – and the picture is not pretty.
Lufthansa (shares -0.8% yesterday) was weighed down by confirmation its bid for Austrian Airlines had achieved the necessary 75% acceptance threshold. Austrian's shares galloped along 11.5%. Lufthansa's offer to buy Austrian for EUR4.49 per share was accepted by more than 85% of Austrian shareholders, whose eyes are glued to the exit sign.
Lufthansa also reported that weak demand from the first quarter persisted into April. Group capacity, after additional adjustments, was 1.0% below last year's. At the Group level, sales (-4.5%) and passenger numbers (-4.6%) declined similarly. The passenger load factor sank as a result by 2.8 percentage points to 75.6%. Lufthansa stated that weak demand was "mostly clearly felt in the Americas traffic region, which registered a fall of 10.7% in sales.
For daily updates on American aviation stock prices and a complete wrap of the day's breaking news, sign up now for a complimentary subscription to America Airline Daily.
Europe selected airlines daily share price movements (% change): 12-May-09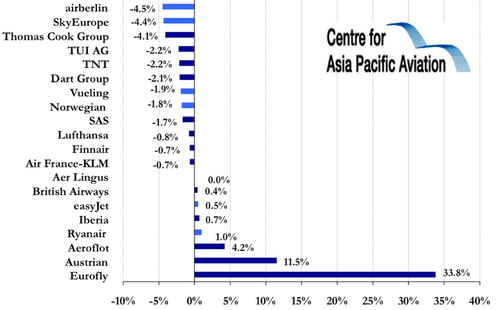 Lufthansa press release, re Austrian Airlines takeover, 12-May-2009
On expiry of the acceptance term for the public takeover offer to the free-float shareholders of Austrian Airlines AG on 11 May 2009, Deutsche Lufthansa AG has through ÖLH Österreichische Luftverkehrs-Holding-GmbH received acceptance declarations for an expected equivalent of over 85 per cent of the share capital of Austrian Airlines AG (not included in this figure are the shares held by Austrian Airlines AG). The actual acceptance quota can not be published until Thursday. That amount includes the 41.56 per-cent stake currently still held by the ÖIAG. Also included is the syndicate of Austrian core shareholders, consisting of LVBG Luftverkehrsbeteiligungs GmbH, Raiffeisen-Invest-Gesellschaft mbH and Wiener Städtische Versicherung AG Vienna Insurance Group.

Lufthansa made a public offer to purchase the stock held by all free-float shareholders of Austrian Airlines AG on 27 February 2009. Up to the expiry of the acceptance period on 11 May 2009, an estimated 85 per cent and more of the shares of Austrian Airlines had been offered for sale, so that the minimum acceptance threshold in the takeover bid was reached. The public offer is still subject to the suspensive conditions of anti-trust immunity and approval by the European Commission of 500 million euros in restructuring aid to be granted to Austrian Airlines by the Republic of Austria.
All shareholders, who have accepted the purchase offer by 11 May, will receive the offer price of 4.49 per share, not later than ten trading days after fulfillment of the suspensive conditions. For all shareholders of Austrian Airlines, who had not accepted the offer within the acceptance period ending 11 May 2009, the acceptance term will, as legally prescribed, be extended by three months from the day the acceptance quota of the Lufthansa public offer is officially communicated in the Wiener Zeitung – probably on 14 May 2009.