Air France-KLM restructuring to continue as 3Q earnings fall sharply
Analysis
Air France-KLM plans to expedite and intensify restructuring efforts as the group, Europe's second-largest airline by revenue, struggles under its debt burden and misses earnings targets. The group, the worst performing of Europe's big three network carriers, reported a steep slide in profitability in the seasonally-strong fiscal second quarter (three months to 30-Sep-2011), as passenger numbers and revenue growth failed to keep up with cost gains.
As expected, Air France-KLM's disappointing second quarter result was accompanied by a downbeat outlook for the remainder of the year, with an operating loss expected in the current fiscal third quarter and for calendar 2011.
The Franco-Dutch carrier was unable to match cost gains with similar gains in revenue in the third quarter, as fuel costs continued to rise in an increasingly uncertain macroeconomic outlook for the global economy, which weakened demand. The group's third quarter operating (EBIT) profit of EUR397 million is a 31% year-on-year fall, while net income fell to just EUR14 million, a 95% decline. Both results came in below the group's and the investment community's expectations. The quarter will be the only one in which Air France-KLM finishes in the black, as the result is bolstered by seasonally stronger traffic flows and pricing conditions.
Outside the summer season, however, Air France-KLM has struggled to deliver positive returns and the group's underperformance relative to peers in recent years has become the focal point of its ongoing turnaround programme. The group's relative underperformance was once again evident in the three months to 30-Sep-2011.
Air France-KLM, IAG and Lufthansa Group total revenue, EBIT and EBIT margin (EUR millions):
Three months to 30-Sep-2011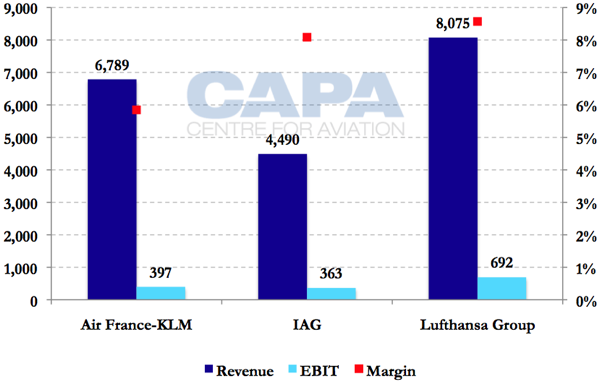 'Not yet disastrous'
Structural changes have so far failed to stem Air France-KLM's underperformance which, as group chairman and CEO Jean-Cyril Spinetta noted "shows [the group] needs to go further" in its cost reduction and, importantly, revenue generation activities. Air France-KLM continues to substantially underperform both IAG and Lufthansa in terms of income (EBIT) per passenger and reported sharper falls in yield in the three months to 30-Sep. The CEO noted that macroeconomic headwinds, which intensified in the third quarter, have also buffeted cost reduction and reconstruction efforts. "This context requires the new management to focus on three priorities," Mr Spinetta stated. "The first is the re-establishment of the group's competitiveness, implying additional cost savings. The second is the restructuring of our short and medium-haul activity. The third is a rapid reduction in our debt." Current net debt levels are around EUR6.5 billion, while the market values the company at just EUR1.5 billion.
Following the recent management shake-up, which saw the resignation of Air France and Air France-KLM CEO Pierre-Henri Gourgeon and the appointment of Mr Spinetta to once again be group CEO and Alexander de Juniac as Air France CEO, the company will announce further details of its cost reduction programme in 1Q2012. Air France-KLM will change its financial year to the calendar year from 01-Jan-2012.
The group revised down its earnings guidance for the full year, saying it expects to report an operating loss in its fiscal third quarter, as well as for the 12 months through 31-Dec-2011, compared with previous guidance of a higher operating profit. The group reported an operating loss of EUR151 million in the first nine months of 2011. While the current financial situation is far from optimum, Mr Spinetta said, "it's not yet disastrous."
Revenue, passengers up, but costs eat into earnings
Total revenue rose 2.1% to EUR6.79 billion on the back of a 6.3% increase in passenger numbers to 20.95 million. The slight revenue gain, relative to the gain in passenger numbers, reflects the ongoing pricing weakness the group is suffering as a result of intense competition and declining consumer and business confidence across Europe. Load factors gained 1.3 ppts to 86.1% in the fiscal second quarter, however, yield (passenger revenue per RPK) fell 4.6% to EUR 8.3 cents.
The group's RASK was 3.2% lower in 2Q2011 at EUR 7.14 cents while CASK was only 0.9% lower at EUR 6.56 cents, which squeezed the airline's margin in the period and led to a sharp fall in earnings.
Air France-KLM RASK, CASK and margin: 1Q2009 to 2Q2012, all in euro cents
Group passenger numbers are trending in the right direction, with traffic up 6.3% in the three month period to 20.95 million.
Air France-KLM passenger numbers: 2009 to 2011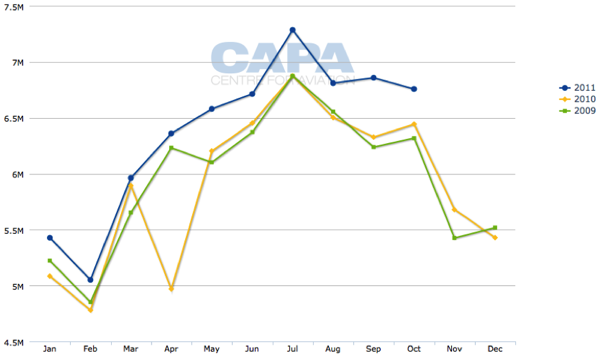 Higher passenger numbers and revenues, however, have not led to stronger earnings growth due to cost blowouts in the quarter.
Total operating costs increased 5.3%, the airline said, to EUR4.1 billion. Expenses were led higher by fuel, which increased 14%, or EUR214 million, to EUR1.7 billion and accounted for 42% of total costs, up from 39% a year ago. Other significant cost gains were recorded in aircraft chartering costs (up 14%, or EUR30 million) and personnel costs (up 2%, or EUR37 million). Currency hedges, which fall under the 'other income and expenses' category, went from a EUR52 million profit in 2Q2011 (three months to 30-Sep-2010) to a loss of EUR5 million in 2Q2012. Cost reductions were recorded in commercial and distribution costs, which fell 11.7%, or EUR30 million, to EUR227 million.
Ex-fuel costs increased by 2.3%, slower than the 6.3% capacity (ASK) expansion, but a trend management is seeking to reverse. Air France-KLM reported its "Challenge 12" cost-savings programme delivered EUR106 million in savings.
CFO Philippe Calavia expects the airline's total fuel costs for the full year to be around EUR9 billion, with the bill likely to rise by 10% in 2012.
Turnaround new management's major focus
Turning Air France-KLM around and improving profitability, particularly at the troubled Air France unit, is the immediate task facing the group's new management team. Air France-KLM has the majority of its operations based in a country where cost reduction is notoriously difficult, and, unsurprisingly, is struggling more than others to bring down its cost base. The shares have nosedived in recent months. While 2011 has been a poor year for airline shareholders, Air France-KLM shares have lost 64% of their value over the past 12 months, valuing the group at just EUR1.5 billion. The group is Europe's worst performing listed airline in 2011.
Air France-KLM (dark orange), IAG (green) and Lufthansa (light orange) share price performance: Year-to-date 2011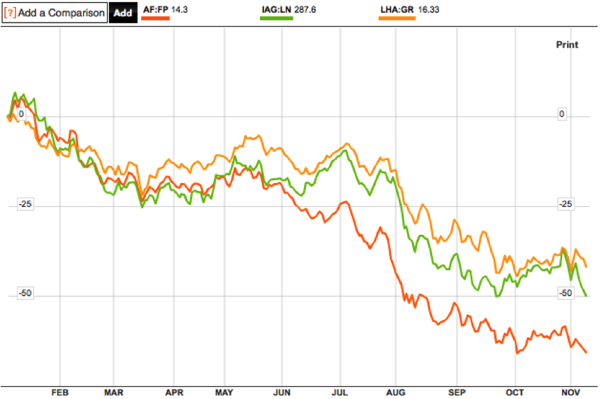 The group has devised various strategies to ward off and better compete with low-cost carriers, now being lured to the French market by the progressive liberalisation of the market, which is one of the world's largest leisure destinations, low LCC penetration and the ongoing struggles of the incumbent major. Countering the LCC presence and reorganising its short- and medium-haul operations has been a major strategic step for the group. Mr Spinetta reiterated that a further reorganisation of the loss-making short-haul network would be one of the three strategic "priorities" to be addressed in 1Q2012. The "commercial offensive", as former CEO Pierre-Henri Gourgeon described the short-haul reorganisation, actually commenced in early Oct-2011 in Marseille. While it is still too early to judge its success, LCCs have been undeterred by Air France's move, and have been ramping up capacity regardless.
See related article: easyJet pushes further into France, throwing down the gauntlet to Air France
A key part of Air France-KLM's strategy overhaul will be "rapid" debt reduction, Mr Spinetta says, which has been a major concern of investors this year. The CEO's plan to quickly bring down debt levels will be an interesting area to watch.
There is no end in sight to the European sovereign debt crisis, the major cause of renewed global economic instability, which paints an unpleasant picture for European economic growth and has made recession a real possibility. Compounding this issue, economic growth in France, Air France-KLM's major market, will inevitably suffer as the Government embarks on new and more aggressive rounds of austerity measures. Flat revenue growth appears unavoidable for Air France-KLM, which makes debt reduction difficult. Debt reduction is therefore only likely to come from further cost cuts. This, however, raises the prospect of renewed conflict with French unions, despite Mr Spinetta's statements that restructures will not affect staff numbers.
Alitalia, whose former continuous losses became infamous, could outperform the Air France-KLM group this year, as Bloomberg first noted. Air France-KLM picked up a 25% stake in the Italian flag when it was reborn in 2009. Alitalia, whose credibility is restored, Mr Spinetta said, should break even in 2011. As Air France ratchets down for what will inevitably be a difficult winter season, the group must emerge from the period with a clearer vision and stronger leadership, else it risks becoming Europe's next basket case.