Air China will continue its double digit growth despite 1H2014's weaker yields and load factor
Air China's yields and load factors decreased in almost every market in 1H2014, but its operating result improved as costs, mainly fuel, grew more slowly than revenue increases. Total revenue was also helped by increased government subsidies while the net profit was dragged down by foreign exchange losses.
Higher fuel prices could quickly have soured the lower yields and load factor. Other airlines might not walk this fine line for fear of volatility, but Air China has strategic goals it needs to meet for the government, including aircraft induction that produces growth. Air China will continue growing with a planned 10% increase in the domestic market and 15-16% in the international market.
Air China's international growth has been strong in North America, and in the slower northern winter 2014/2015 season Air China will selectively reduce frequencies, one of the first series of cuts in the over-capacity Trans-Pacific market.
To learn more about China's airlines and to meet all of Asia's key aviation players, sign up now to be part of CAPA's three day Asia Aviation Summit and LCC Congress, plus a full day of corporate travel at Singapore's Capella Sentosa 13-15 October, 2014: https://centreforaviation.com/events/upcoming/
Government subsidies and lower fuel costs lift Air China's operating profit
Air China increased its operating result from a 3.1% margin to a 4.6% margin due to revenue growing faster than costs. Total revenue grew 8.5% while costs grew 6.7%. Fuel grew at slower 4.9%. Staff costs continued to grow above average with an 11.7% increase.
Air China financial summary: 1H2014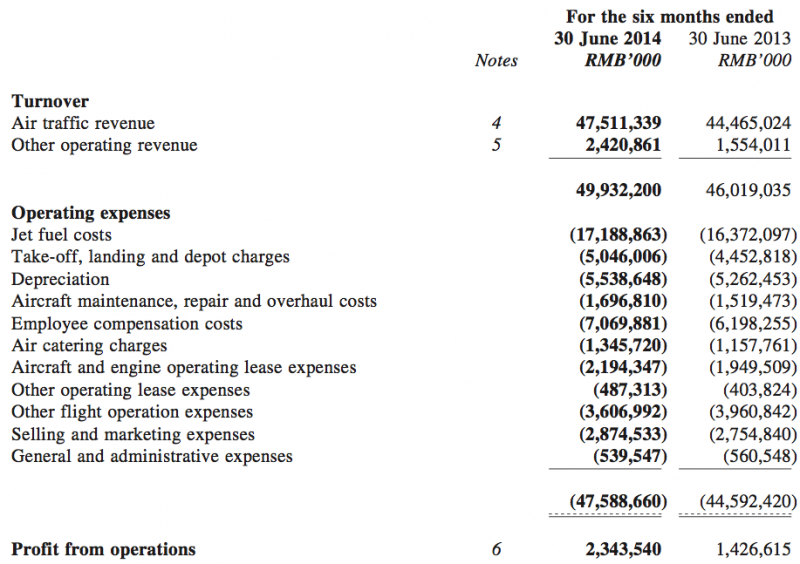 Revenue's 8.5% growth included slower 6.9% air traffic revenue (slightly above the 6.7% increase in costs) and significant 56% increase in "other revenue". This category includes incremental gains in ground services and ticket fees, but the large contribution is government subsidies more than doubling from RMB236 million (USD38 million) to RMB818 million (USD133 million).
China Southern also reported an increase in government subsidies, but unlike China Southern, Air China would still have been operationally profitable without the subsidies.
See related report: China Southern Airlines, now with 600 aircraft, has a weak 1H2014 and faces new challenges
Air China other operating revenue summary: 1H2014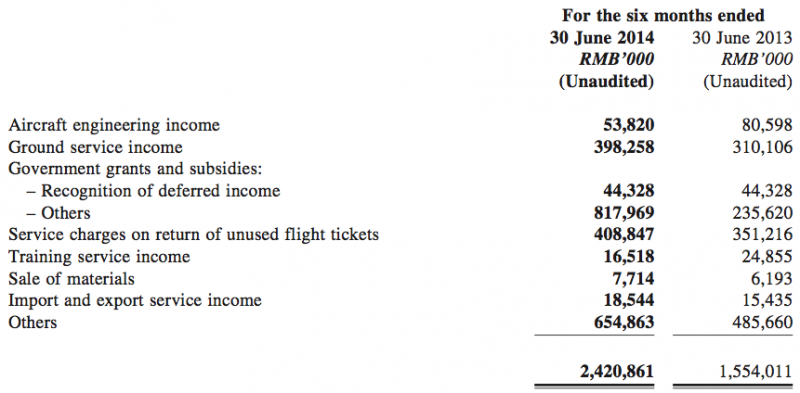 Growth is high at Air China, Shenzhen Airlines and Air Macau, but yields and load factors are under pressure
The Air China group includes primarily Air China, Shenzhen Airlines and Air Macau. Air China mainline revenue was 63% of group revenue, so its performance significantly impacts the group. The group saw an 11.2% increase in ASKs but slower 10.5% increase in RPKs, leading to a 0.5ppt drop in load factor to 80.6%.
Air China mainline saw similar trends with a 10.6% increase in ASKs being faster than a 9.7% increase in RPKs. Load factor declined 0.7ppt to 80.5%. Yield fell 3.1%. Shenzhen Airlines' ASKs grew 11.3%, only slightly faster than an 11.1% increase in RPKs, while load factor essentially held flat with a 0.1ppt decrease to 82.2%. Yields declined at a slightly faster 3.4%.
Shenzhen Airlines primarily operates in the domestic market.
Shenzhen Airlines domestic/international ASKs: 1-Sep-2014 to 7-Sep-2014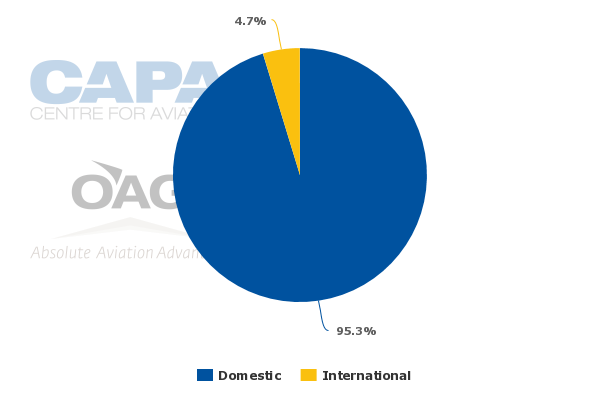 Air Macau, primarily operating into mainland China from the SAR of Macau, saw fast growth (but from a smaller base) of 19.5% ASK growth, with RPKs increase faster at 21.4%. The load factor improved 1ppt but to a still weak 68.0%. The burden came in yields with an 11.7% drop.
Air Macau seat capacity by country: 1-Sep-2014 to 7-Sep-2014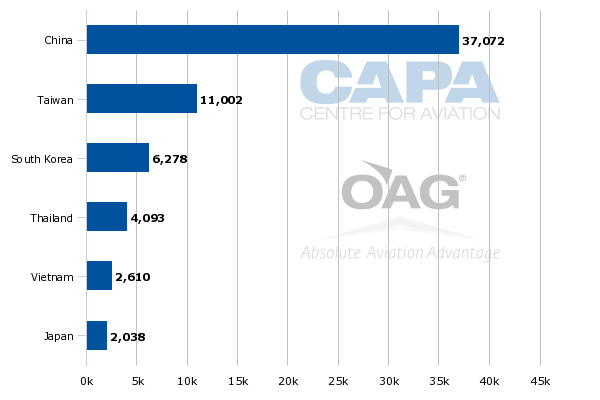 As gambling is illegal in mainland China, Macau has become the gambling hotspot, with other regional locations like Singapore only distant contenders. However, mainland visitors to Macau are slowing, likely due to China's anti-corruption drive. Visits to Macau (and Singapore) could raise red flags about ililict wealth, or merely undue . Others with legitimate wealth are seeking a lower profile.
Yields and load factors were disappointing across Air China's network
Air China is China's largest international carrier, focused mainly on the domestic market. Domestic revenue comprised 61% of total revenue while domestic RPKs were 56% of total RPKs; the difference is a result of the domestic market generating higher yields than international markets. Regional yields (primarily driven by Cross-Strait traffic to Taiwan) are the richest, but capacity there is small.
The domestic market managed 4.6% growth in ASKs, slightly higher than a 4.2% increase in RPKs, leading to 0.3ppt decrease in load factor to 81.8%. Yields fell 0.5%.
At Air China's major hubs, ASKs at Beijing increased 9.9%, at Chengdu 10.1% and at Shanghai 6.7%. Growth is also occurring in the Northeast and Central/Western regions, where slots are more readily available. Domestic revenue in 1H2014 accounted for 64.1% of Air China's revenue, down 1ppt from 65.1% in 1H2013.
International ASKs grew a significant 19.6%, but faster than the 17.7% increase in RPKs, leading to a 1.3ppt drop in load factor to 78.9%. Yields suffered, with a 6% decrease, likely driven by sharper reductions in North American routes. Yields to Europe improved, in line with other signs across Asia of slight improvements to Europe.
There has been long-haul growth to Europe and especially North America, where Air China is leveraging its Beijing geography to become a hub for North America-Asia traffic. Beijing's northern location makes it ideal for connections elsewhere in China, but also further into Asia. Air China is the second-largest carrier between China and North America after United.
China to North America (seats per week, one way): 19-Sep-2011 to 1-Mar-2015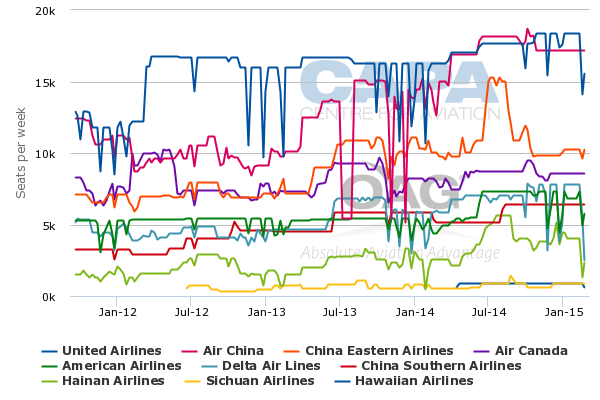 Short-haul international markets are shifting as Southeast Asia loses some attraction, while Korea grows rapidly - although Air China is the smallest of the big three Chinese carriers in Korea. The three have increased their capacity in mid-2014 and should achieve the benefits of extra Korean capacity during the busy northern summer travelling period, which occurs in the second half of the year.
China to South Korea (seats per week, one way): 19-Sep-2011 to 1-Mar-2015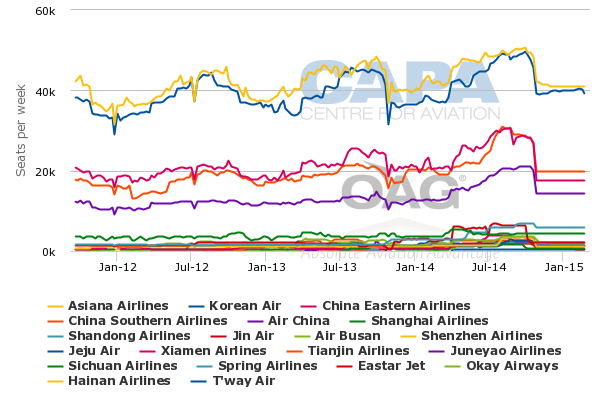 Air China's largest international destinations by seats are to Japan and then South Korea.
Air China top 10 international seat capacity by country: 1-Sep-2014 to 7-Sep-2014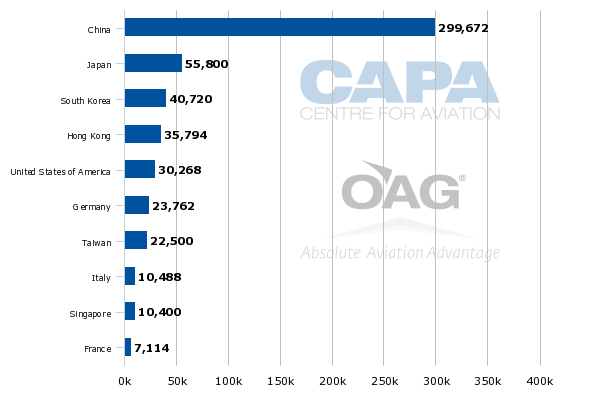 Regional markets (Hong Kong, Macau and Taiwan) managed a similar performance to international, although this less contested sector is overall smaller and the yields far richer (70% higher).
ASKs grew 12.6%, faster than a 15.3% increase in RPKs, leading to a 1.9ppt increase in load factor to 78.7%. However yields fell 4.8%. With Cross-Strait flights still limited, demand exceeds supply. As growth continues, yields will also likely continue to decrease.
Air China's hub role is proportionately increasing
Air China is developing its hub role at rates similar to the other majors. Domestic and international transfer revenue at Beijing increased by what Air China calculates as 6%, in line with its 6.2% increase in overall revenue.
As Air China's largest hub, Beijing achieved the largest transfer volume with 2.47 million passengers. Its smaller hub at Chengdu throughput 255,000 transfer passengers, while Shanghai (whose large local market can support higher local traffic) saw 120,000 transfer passengers.
Air China top 10 hubs/bases/stations ranked on international seat capacity: 1-Sep-2014 to 7-Sep-2014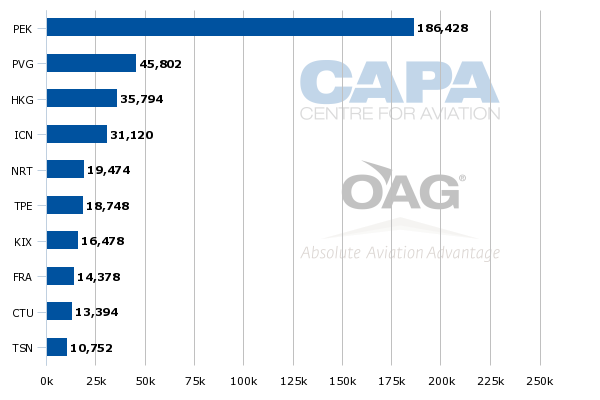 Air China to reduce North America seasonally as competition intensifies
Air China was the first of the Chinese carriers to scale up in North America, and now it is becoming one of the first across Asia to scale down. From 26-Oct-2014 Air China will reduce Beijing-New York JFK frequency from 14 weekly to 12 weekly, while Beijing-Houston will decrease from seven weekly to five weekly.
The New York market has been particularly impacted since (Air China partner) Cathay Pacific mounted a fifth daily flight to the area (to Newark; the other four are to JFK). China Southern in Aug-2014 launched a four-weekly Guangzhou-New York JFK service while capacity from elsewhere in Asia is also increasing and likely to continue as China Eastern adds seats and China Southern adds frequencies.
Where Chinese carriers had been focusing on the US West Coast, they are now turning their attention to the East Coast with recent months also seeing Hainan Airlines launch a service to Boston (with plans for New York as well) and Air China to Washington Dulles.
Air China's cargo performance is improving due to aircraft changes
Air China Cargo's losses have been reduced by over 50% according to management, and they hope to return the unit to profit in 2H2014.
While yields are not improving, the shift from 747-400 freighters to 777 freighters is reducing costs.
As at 30-Jun-2014, Air China had five 747Fs and four 777Fs with four more 777Fs due for delivery in 2H2014 and three in 2015.
Outlook: fleet growth to continue as Air China faces similar challenges
The Air China group ended 1H2014 with 512 aircraft, including 316 at Air China. 69 aircraft are planned to be delivered in FY2014, including 39 for Air China. However the net impact in 1H2014 was limited as Air China mainline took 14 aircraft but retired as many. Yet capacity growth occurred as Air China mainline took more widebodies than it replaced.
2015 calls for 68 group deliveries, including 38 at Air China. 2016 sees 45 group deliveries including 25 for Air China. (These figures should be treated with caution as they do not reflect retirements or aircraft later added.) However, Air China management hopes to slow capacity growth in a quest for profitabliity.
Reduced operational growth would be welcome at Air China, as it would be across most of the country's carriers whose energy has largely had to go into aircraft growth rather than strategic growth. Outstanding strategic matters for Air China (and others) to address are by now familiar: more premium revenue growth, capping staff cost growth and overall efficiencies, although these are limited by the government's solid influence.
There are new challenges emerging as China Eastern seeks to revitalise its position in China's other key city of Shanghai. This includes overdue long-haul growth, which will impact Air China, especially since China Eastern is opting for a more spacious premium cabin than Air China's. Then again, China Eastern may not be able to command a yield premium for this.
Air China is also absent - at least for the time being - in the area of LCC developments. By contrast, China Eastern has converted subsidiary China United Airlines into a LCC, based at Beijing's second airport, Nanyuan. China Eastern is collaborating with Jetstar on the stalled joint venture Jetstar Hong Kong and is understood to be using the relationship with the long-established Australian LCC to improve its understanding of how the model works.
However the carrier's new low-cost strategy is still emerging and China United largely serves secondary markets with low frequency. China Southern is likely to convert Chongqing Airlines into a LCC. With all this going on at its major rivals, Air China will undboubtedlyfollow through by converting one of its own subsidiaries too - if only to show willing under Beijing's new push to have LCCs ensure that market growth continues.

Although there is a list of changes likely to occur, the biggest items await regulatory clarity. So long as uncertainty continues, this further postpones - or jeopardises the smart growth airlines would like to be making.
To learn more about China's airlines and to meet all of Asia's key aviation players, sign up now to be part of CAPA's three day Asia Aviation Summit and LCC Congress, plus a full day of corporate travel at Singapore's Capella Sentosa 13-15 October, 2014: https://centreforaviation.com/events/upcoming/