Air China up; Goldman Sachs raises China Southern's share price estimate
See separate article: Air China takeover of Shenzhen Airlines to enhance competitiveness
Meanwhile, China Eastern Airlines climbed 5.9% after gaining approval from The China Securities Regulatory Commission to take over Shanghai Airlines, whose stock was up 2.2%.
Upbeat China Mainland manufacturing survey gains
Hong Kong and China stocks also gained as sentiment improved amid optimism over China's economic growth, after upbeat Mainland manufacturing survey gains.
HSBC China Manufacturing PMI Data, compiled by Markit, revealed that manufacturing in China experienced the "most marked improvement of operating conditions in the Chinese manufacturing economy since the first month of data collection in April 2004" in Nov-2009, offsetting concerns on global markets regarding a potential loan default by Dubai.
HSBC China Manufacturing PMI: Apr-2004 to Nov-2009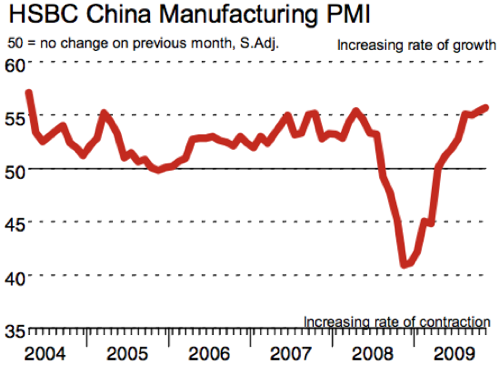 Cathay Pacific expects premium demand revival, but currently remains weak
Also in North Asia, Cathay Pacific Airways (shares up 3.2%) stated it expects a continuation in demand for premium services, although premium demand currently remains weak.
CEO, Tony Tyler, commented, "there will be demand for the premium service. The question is will they come back in sufficient numbers, sufficient strength for us to get our yield up".
In South East Asia, Singapore Airlines CEO, Chew Choon Seng stated the carrier is starting to see an improvement in load factor, particularly in First and Business Class. The carrier, whose shares were up 1.7% yesterday, reported a load factor of 81.1% for Oct-2009.
Thai expects small profit in 2010; yields at "unacceptably low" levels
Thai Airways CEO, Piyasvasti Amranand, in an address to the Foreign Correspondents Club of Thailand (FCCT), stated he believes the worst of the global financial downturn is now over, and the carrier may be able to return to a small profit in 2010.
He warned, however, that competition within the aviation industry was sure to continue and that THAI would have to maximise efforts to reduce operating costs and improve yields, which were currently "unacceptably low".
Indian airline shares up as jet fuel prices reduced
Meanwhile, in India, Jet Airways, Kingfisher Airlines and SpiceJet shares all gained again yesterday, by 9.3%, 7.4% and 5.8%, respectively, as Indian Oil Corp (IOC), Bharat Petroleum Corp and Hindustan Petroleum reduced Indian jet fuel prices by approximately 1.1%, effective 01-Dec-2009. Fuel prices were increased by approximately 2.4% on 15-Nov-2009.
Jet Airway's stock was the second biggest gainer in the 'A' group on the Bombay Stock Exchange.
Dubai share index slumps again, on Dubai World fallout
The main Dubai share index, meanwhile, slumped more than 6% yesterday, despite efforts by Dubai World, the company at the heart of the crisis, to restructure approximately USD26 billion in debt.
See related article: Dubai World debt problems create airline uncertainty; interests wide and pervasive
Asia Pacific selected airlines daily share price movements (% change): 01-Dec-09