Air China shares soaring; EVA and China Airlines use cross-straits tailwinds
Analysis
Perhaps the best performing airline stock this year is Air China (+7.8% yesterday), now challenging its 2009 highs, as continuing reports of government handouts, and its strengthening position in the Chinese domestic and international markets make it look good.
The Taiwanese airlines continue to forge ahead as the prospects of further openings for direct services across the Taiwan Strait remain on the table.
And Virgin Blue and Qantas have extended their mild recoveries, off previous long term lows.
Asia Pacific airlines daily share price movements (% change): 17-Mar-09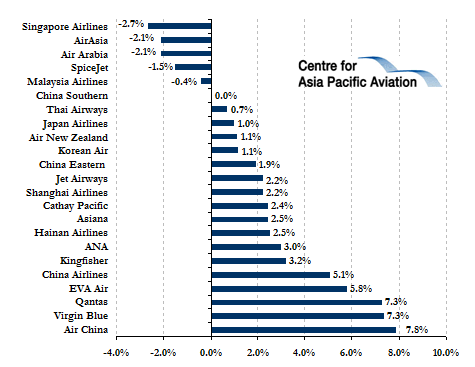 Air China's share price has angled upwards this month. Chinese domestic traffic appears to be holding up reasonably well (although Mar-09 data will be the best month to judge, following adjustments for the Lunar New Year holiday falling in different months in 2008 and 2009); also, as Air China's Chinese competitors, Eastern and Southern pull back on international services, this further entrenches the Beijing-based airline's flag carrier role.
Air China share price: 02-Jan-09 to 17-Mar-09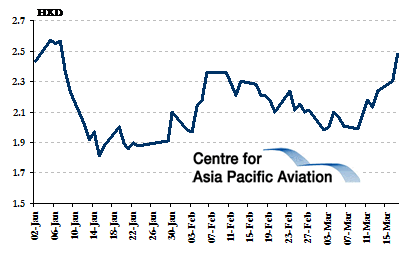 EVA Air rose 5.8% again yesterday and China Airlines was not far behind, with a 5.1% increase to add to recent gains. The two have tracked remarkably closely over recent months. Although EVA retains a larger dependence on the slowing freight market, the reflection of the glow of mainland services has helped both carriers to shine.
Any rebuff on expanded direct services from a cautious Beijing would challenge this upwards direction.
EVA air and China Airlines share price: 30-Sep-08 to 17-Mar-09