Air China enjoys prospect of Boeing, Airbus cancellations. Virgin has the Blues.
Air China, with the possibility both of extended financial largesse from the Beijing government and an increasingly serious likelihood of the same government intervening to support it in delaying or cancelling now-unwanted aircraft orders, leapt as high as 30% in value before closing up 22.1% yesterday. Shanghai Airlines, which does not have the same commitments, also gained 4.1%.
The two other main Chinese airline stocks, China Southern and China Eastern, are not trading at present - so, for example, rumours of an announcement today about a CHY3 billion injection for China Eastern will not be immediately reflected in the market.
Asia Pacific share markets generally closed higher on 10-Dec-08 amid hopes of an aggressive rate cut in the US next week. The Hong Kong Hang Seng rose 824.52 points (+5.59%) to 15577.74, the Tokyo Nikkei rose 264.37 (+3.15%) to 8660.24, while the Australian ASX200 closed slightly higher at 3590.1 rising 16.8 points (+0.47%).
Australasian airline shares were the main losers yesterday, as gloom descends on the domestic market. Virgin Blue suffered worst, following a sell recommendation last week from ABN-Amro. Virgin Blue, suffering from excessive order indigestion, is confronted with an uncertain ownership future, while its market is under pressure.
The carrier is now entering treacherous waters and will need to be securing a long term shareholder future before things get too much worse.
Virgin Blue share price: 09-Jan-08 to 09-Dec-08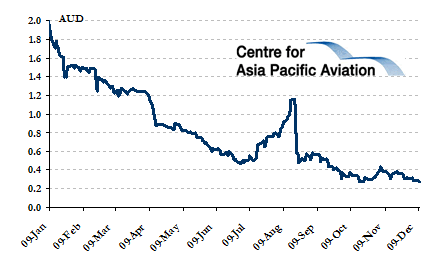 Asia Pacific selected airlines daily share price movements (% change): 10-Dec-08