Air China builds its N American network while Hainan Air to use A330 instead of 787 to Chicago
Analysis
The North American market continues to outperform for Chinese airlines, a result of high demand and more limited competition than on European routes. In addition to Air China's forthcoming Beijing-Houston service, the carrier will add another four weekly services to New York JFK. A decade ago Air China had only a three times weekly Beijing-New York service, reflecting the rise of China as both a country and aviation market.
Air China's 2013 capacity to North America will be 183% greater than in 2003 and is quickly closing in on United Airlines' position as the largest carrier between North America and China.
In China it is not just the flagship and government-preferred Air China looking to expand. Hainan Airlines last year announced a Beijing-Chicago service to start in Mar-2013 with Boeing 787s. Following delayed Chinese certification of the 787 – which was stalling well before the aircraft's Jan-2013 grounding – Hainan has pushed the launch back to Sep-2013 and plans, for now, to operate the service with A330-200s.
The route marks the first high-profile long-haul route for Hainan Airlines, which has faced route restrictions as the government seeks to protect incumbents.
Air China increases New York JFK frequency to 11 weekly services
From 31-Mar-2013 Air China will increase its seven times weekly Beijing Capital-New York JFK services to 11 weekly. The four additional services will be operated by 777-300ERs and at the same time Air China will replace the seven weekly 747-400 services with 777-300ERs, giving an all-777-300ER operation as the carrier phases out its more costly 747 passenger fleet with its higher fuel and maintenance costs.
The 777-300ER carries slightly fewer passengers but has 16% more cargo volume, according to Boeing.
Air China 747-400 versus 777-300ER configuration: 2013
| Aircraft | Economy | Business | First | Total |
| --- | --- | --- | --- | --- |
| 747-400 | 292 | 42 | 10 | 344 |
| 777-300ER | 261 | 42 | 8 | 311 |
Air China's 777-300ER seats 9.5% fewer passengers, with the biggest reduction in economy class, which goes down to 261 from 292 on the 747-400. Business class stays the same at 42. First class drops from 10 to eight seats on the 777-300ER, consistent with the general de-emphasis of first class, but also the logistics of its bigger and non-angled first class product in a four-abreast (1-2-1) configuration, making a 10-seat configuration difficult.
Overall capacity for Air China between Beijing and New York will increase 42% while economy class will only increase 40%. Although significant, this is not as large as the 78% capacity increase China Southern faced when it up-gauged its Guangzhou-Los Angeles daily service from 777-200 to A380.
See related article: China Southern to finally commence long-haul A380 services, but operation still faces challenges
Air China's higher yields will be derived from government and business traffic to and from Beijing, China's political capital and key economic city. Significant discounts will be available to and from other Chinese cities, where competition is greater (due to China's regulatory policy, only one Chinese carrier can typically serve any long-haul route, giving Air China a local monopoly).
Air China is also targeting sixth freedom traffic from around Asia and even Australia, a trip via Beijing that is more circuitous although capacity between Australia and east coast North America is limited. Air China like its peers hopes to develop its status as a hub city carrier, a prospect enhanced by the recent decision to allow 72 hour visa on arrivals for many nationalities transiting through China in Beijing (Shanghai, the base of China Eastern, followed suit and Guangzhou, the home of China Southern, hopes to do so as well).
The additional four weekly frequencies feature a morning Beijing departure and New York arrival time. Back to Beijing, the new flight will depart New York earlier and arrive in Beijing earlier. The flight from Beijing will be able to accommodate limited connections given its 0900 departure time, but on the way back could accommodate more connections with its 1420 arrival, compared to 1820 for the existing service. (Note that these schedules are based on the carrier's booking system, which differs from a press release about the increase.)
This will enhance Air China's proposition, although US-based corporate contracts tend to favour US carriers. Some companies have contracts with Japanese carriers, who are stepping up their own frequency to North American cities.
Air China New York JFK schedule: 31-Mar-2013
Route
Timing
Frequency
Equipment

Beijing-New York JFK

0900-1020 (CA989)

1300-1420 (CA981)

Mon, Weds, Fri & Sun

Daily

777-300ER
New York JFK-Beijing

1250-1420+1 (CA990)

1650-1820+1 (CA982)

Mon, Weds, Fri & Sun

Daily

777-300ER
Georgia, 'Times New Roman', Times, serif; font-size: 0.8em;">Source: Air China
New York is the third North American city to receive above daily frequency from Air China
With the frequency increase, New York becomes Air China's third North American city to see service above a single daily flight. The first city to see regularly scheduled flights above daily was Vancouver in Jun-2010. Capacity has drifted up and down since but in the northern summer season Air China plans to offer for the first time double daily service to the western Canadian city, which has significant ties to Asia, in part because of relative long-haul proximity, 8515km. Air China is able to serve Vancouver with A330s whereas other points are a stretch for A330s or require longer-range widebodies.
Air China is the sole operator between Beijing and New York JFK although United Airlines serves the Chinese capital from Newark with daily 777-200s. The two are members of the Star Alliance, but while United codeshares on Air China's JFK service, Air China does not code on United's service, according to Innovata. The New York region is also linked to mainland China by China Eastern with daily A340-600 service from JFK to Shanghai Pudong; United also operates to Shanghai but from Newark and with daily 777-200s.
Beijing Capital International Airport to New York area seats per week, one way: 19-Sep-2011 to 28-Jul-2013
Vancouver too has a daily 767-300 service to Beijing from Air Canada, also a member of Star. Air China and Air Canada codeshare on each others' service. Vancouver is also linked to mainland China with a daily service from each Air Canada (767-300) and China Eastern (A330-200).
Beijing Capital International Airport to Vancouver seats per week, one way: 19-Sep-2011 to 28-Jul-2013
Air China's second North American city to receive more than once daily service was Los Angeles in Sep-2011. From Mar-2013 the service goes regularly double daily with 777-300ERs. Air China is the only operator between Beijing and LAX although the city sees daily Shanghai service from each of American (777-200), China Eastern (A340-600) and United (777-200). (American's service can fluctuate to six weekly.) China Southern also serves LAX from Guangzhou with a daily A380 flight.
Beijing Capital International Airport to Los Angeles seats per week, one way: 19-Sep-2011 to 28-Jul-2013
Air China's sole other North American service is to San Francisco, which it launched in Apr-2006. So far in 2013 the service is planned to remain a single 747-400 flight. Air China shares the route with United Airlines, which operates a daily 747-400 service. There is reciprocal codesharing, unlike in New York.
Beijing Capital International Airport to San Francisco seats per week, one way: 19-Sep-2011 to 28-Jul-2013
Other mainland Chinese service is offered by United to Shanghai with a daily 777-200 flight.
Air China also plans to launch a new Beijing-Houston service from 11-Jul-2013.
See related article: China enters 2013 with new long-haul routes from BA, Finnair, Hainan, Qatar – and more to come
Air China's capacity increases to New York and Vancouver, combined with its Houston service, will see it add about 4,500 weekly seats to and from North America. If that capacity is maintained over the winter period (and likely Vancouver will dip a bit), Air China would be about 2,500 weekly seats short of overtaking United's current winter capacity.
With another San Francisco service, up-gauging to Houston to daily, or introducing a new city, Air China would overtake United Airlines.
Carriers serving North America from China ranked on seat capacity: 4-Feb-2013 to 10-Feb-2013
However, strictly between the United States and China, Air China's capacity (at current levels, excluding the New York and Houston changes) are half that of United.
Carriers serving the United States from China ranked on seat capacity: 4-Feb-2013 to 10-Feb-2013
United is expected to increase Chinese capacity with the addition of new routes to secondary cities.
See related article: United Airlines aims to open secondary Chinese cities with the 787
On the Chinese side, the competitive outlook is in Air China's favour.
China Southern is largely restricted to its Guangzhou hub, from where profitable long-haul services are limited. The carrier has yet to expand outside of Los Angeles and Vancouver.
China Southern hopes, perhaps optimistically, to partner with Air China between Beijing and New York where Air China (in a very Chinese solution, where two competing airlines are involved) would use China Southern's A380s, otherwise lacking routes to fly on.
China Eastern had hoped for a more aggressive North American expansion by now but faced setbacks owing to the delay of the 787. China Eastern later cancelled its 787 order as it did not believe the 787 could reach the east coast of North America from Shanghai. An order for 777-300ERs will see the carrier expand its long-haul network. The aircraft will initially replace A340-600s and then facilitate expansion by doubling existing services and then opening new services.
Xiamen Airlines hopes to begin North American services with its 787s while Hainan Airlines and Sichuan Airlines could grow their footprints, but these are small (albeit not insignificant in the long run) developments.
By the time some of this capacity begins to be put into the market, Air China will likely have opened services to additional, and smaller, North American destinations with 787-9s.
The North American market is favoured by Chinese carriers as competition is less intense and returns have been more stable. Between Asia-Pacific and Europe there are some weekly 1.2 million seats in winter, compared to 700,000 to North America. Air China has gradually and evenly built its North America capacity with the exception of flat growth or decreases during the 2008/2009 and 2011/2012 economic downturns.
Air China annual seat capacity to North America: 2003-2013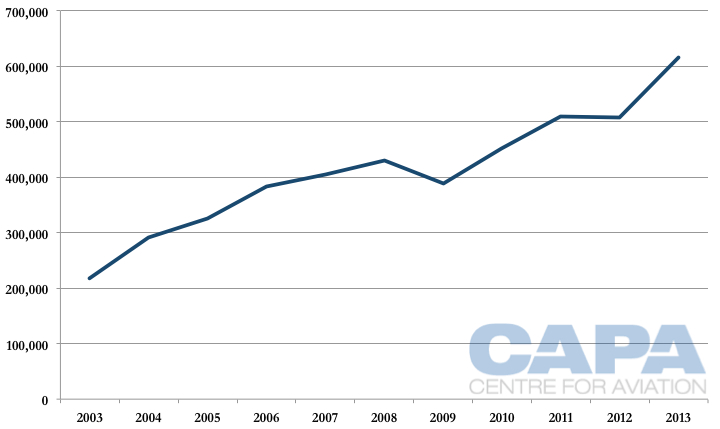 777-300ER deployment reflects Chinese carriers' growing emphasis on service
Air China's gradual replacement of 747-400s with 777-300ERs is a much-needed, and overdue, step to help Chinese carriers shed their image as having poor service. Whereas Air China's 747-400s had standard lie-flat seats in first class and no personal TV screens in economy, its 777-300ERs have a first class suite product and a full in-flight entertainment and adjustable headrest in economy, a service leap that rivals some of the world's leading airlines.
Chinese carriers have been upfront about their weakness in service and desire to improve it. China Southern has been the most aggressive and innovative of Chinese carriers on international routes in recent years, for example as the first to promote actively its capability to provide sixth freedom services. CEO Tan Wangeng told a Guangzhou forum, as reported by Travel Today, "There is much room for improvement...But we're still nurturing this travel market so it takes some time. Airfares should always live up to the service quality so right now, while we are improving, our airfares are relatively lower. But as time goes by our price will go up a little as our service quality improves to catch up with those big names in the world aviation industry."
The smalller Xiamen Airlines (which has few international routes, all of them within Asia) says, "Although there is room for improvement in our services, Xiamen Airlines is committed to each passenger to provide a warm, comfortable, attentive service."
Hainan delays Chicago service and will use A330s instead of 787s
In another development in the China-North America market, Hainan Airlines has changed the service start for its Beijing-Chicago service. Originally due to commence in Mar-2013 with a 787-8, that date became increasingly unlikely in late 2012 as China's regulator, the CAAC, had not yet certified the aircraft (various theories abound for the lengthy process).
Hainan was to be the second Chinese 787 customer after China Southern. Both had aircraft assembled and largely waiting for delivery. Although Hainan's 28-Jan-2013 decision to commence the four-weekly route from 03-Sep-2013 with two-class A330-200s instead of two-class 787-8s came shortly after the worldwide grounding of the 787, the evaluation had likely been well underway prior to the grounding. Before the grounding there were reports Chinese carriers would not receive the 787 until 2H2013, leaving nearly a full-year delay due to Chinese regulators.
With schedules now loaded, the carrier can begin discussions to codeshare with American Airlines. The two already codeshare on other routes. Although American serves Beijing from Chicago, this is unlikely to negatively impact a decision. Indeed, it could be advantageous as it offers additional frequency. For American Airlines, Hainan's schedule would offer better Beijing slots too.
There is little prospect of Hainan being permitted to compete internationally on a level with Air China in the medium term, but the Chicago route is significant for Hainan as, although it already serves Seattle and Toronto, this will be its first major long-haul destination – and, it hopes, the first of more to come in a growing Chinese market.
See related article: Hainan Airlines to enter under-served Beijing-Chicago market with 787 service