Air Canada seizes on Asian strength while laying the groundwork for key connections in Istanbul
Air Canada is banking on continued strength in its Pacific network into 2013 as it aims to expand its reach into Asia during the summer high season next year through new service to Seoul from its Toronto hub and an expansion of offerings to Beijing and Tokyo Narita. At the same time the carrier is introducing flights between Toronto and Istanbul, Turkey as a means to tap the strength of fellow Star Alliance member Turkish Airlines' network across central Asia, Africa and the Middle East.
The new flights to Istanbul could be Air Canada's answer to the growing partnerships that airlines participating in other large global alliances are forging with Gulf carriers, something Air Canada and its major Star partner Lufthansa have so far refused to explore as both carriers have been the most critical of the rapid expansion of Middle Eastern airlines during the last few years.
The moves by Air Canada into Asia during 2H2013 follow the carrier's strong performance in its existing markets in the region throughout 2012. Presently, Air Canada serves five destinations in the Asia Pacific region – Beijing (from Toronto and Vancouver), Shanghai (from Toronto and Vancouver), Hong Kong (from Toronto and Vancouver), Tokyo Narita (from Vancouver and Toronto) and Seoul (from Vancouver). Asia currently accounts for 10% of Air Canada's international seats on offer and 26% of its international ASKs.
Air Canada international capacity by region (% of seats): 26-Nov-2012 to 02-Dec-2012
Air Canada international capacity by region (% of ASKs): 26-Nov-2012 to 02-Dec-2012
Given Air Canada's flag carrier status it is easily the largest carrier between Canada and northeast Asia, accounting for a nearly 46% share of seats on offer between the two regions based on current schedules from Innovata for the week commencing 25-Nov-2012.
Canada to northeast Asia capacity by carrier (seats per week, one way): 19-Sep-2011 to 19-May-2013
During the nine months ending 30-Sep-2012 the Pacific significantly out-performed all of Air Canada's other geographical regions as top line revenues grew 16% year-over-year to CAD1 billion (USD1 billion). Unit revenue growth in those markets of 13% helped drive yields up 14% year-over-year.
Air Canada's traffic in its Pacific network grew nearly 3% year-over-year during the first nine months of 2012. The carrier has explained its strong performance has been driven by a full recovery in Japan from the earthquake and tsunami that struck the country in Mar-2011 and strong demand for Air Canada's premium product.
Air Canada operating performance by regional entity: 9M2012 vs 9M2011

Building on its solid performance of its Asian markets, and continued macro economic uncertainty in Europe, Air Canada appears to be playing to its strengths, devoting its premium long-haul mainline product to higher yielding markets while preparing to launch its new low-cost carrier into European leisure markets. The Asian expansion is also being fuelled by delivery of two Boeing 777-300ER widebody aircraft to Air Canada during 2013.
Adding Toronto to its existing Vancouver-Seoul service
Air Canada is deploying 777-300ERs on its new thrice weekly flights from Toronto to Seoul, which is joining the airline's existing service from its Vancouver hub to South Korea's capital. Current schedules in Innovata show that Air Canada offers daily service from Vancouver to Seoul, where it competes with Korean Air. Korean also operates four weekly flights from Toronto to Seoul.
Air Canada has some connectivity in Seoul with fellow Star partner Asiana, but there is also ample O&D demand on the Toronto-Seoul pairing as Ontario province, of which Toronto is the capital, houses the largest Korean population in Canada. British Colombia, home to Vancouver, accounts for the second greatest Korean population cluster in Canada.
While Korean has strong demand for its flights to Vancouver and Toronto from its hub in Seoul, the carrier launched a codeshare agreement with WestJet in May-2012, which enhanced its connectivity in its Canadian markets. WestJet is the second largest carrier in both Toronto and Vancouver in terms of seats on offer. Air Canada and Korean seem to believe that ample O&D demand coupled with the connectivity options offered by Asiana and WestJet should allow both carriers to co-exist in the Toronto-Seoul market.
Air Canada has the obvious added benefit of accounting for 56% of Toronto's seating capacity and 53% of the ASKs deployed to/from the airport (which is Air Canada's largest hub in terms of seats), leverage Korean does not enjoy. But each carrier should be able to generate enough demand in their respective home markets to co-exist profitably on service from Toronto to Seoul.
Toronto Pearson International Airport capacity by carrier (% of seats): 26-Nov-2012 to 02-Dec-2012
Bolstering Beijing and Tokyo
As Japanese traffic has fully rebounded from the natural disasters the country endured in 2011, Air Canada has also seen strength on it routes to mainland China and Hong Kong during 2012 driven by passengers opting to upgrade to the carrier's higher-yielding Tango Plus fares. Hoping to sustain the momentum of those routes, Air Canada during Jun-2013 plans to expand its weekly departures from Toronto to Beijing from seven to 10, and add four weekly flights from Vancouver to Beijing for a total of 11 weekly offerings. Included in the new crop of flights from Vancouver to Beijing is a late night flight timed optimally to serve business travellers, says Air Canada.
Air Canada is operating the additional Toronto-Beijing frequencies with 777-300ERs, and based on schedules in Innovata for the beginning of May-2013, Air Canada will put further distance between it and competitor Hainan on flights to Beijing with the added service. Based on Air Canada's seating configuration of 349 in its 777-300ERs, it will add just over 1,000 one-way seats per week.
Prior to the expansion, Air Canada is estimated to hold a 74% seat share on service between Toronto and Beijing with Hainan holding a 26% stake. Hainan has served the Toronto-Beijing route since 2010, so it seems the carrier should be able to generate enough Beijing-based demand to hold its own in the market.
Toronto Pearson to Beijing Capital capacity by carrier (seats per week, one way): 19-Sep-2011 to 19-May-2013
Fellow Star Alliance member Air China operates service alongside Air Canada on flights from Vancouver to Beijing, and based on the 311-seat capacity of the 767-300ER Air Canada is operating on the additional frequencies in the market, Air Canada will introduce 1,244 weekly one way seats on the pairing. Prior to the expansion Air China will account for 56% of the seats on offer while Air Canada will hold a 43% share. Presumably, Air China will benefit from the late night service Air Canada is introducing for business travellers as the two partners work to maximise demand on the pairing.
Vancouver to Beijing Capital capacity by carrier (seats per week, one way): 19-Sep-2011 to 19-May-2013
Air Canada is also resuming in May-2013 seasonal flights from Calgary to Narita. For summer 2013 the carrier will offer daily service on the route, up from five weekly frequencies during the high summer season in 2012.
During the off season Air Canada operates one-stop service between Calgary and Narita through Vancouver. The expansion during the high season of 2013 reflects the rebound and recovery in Japan's traffic. During 2Q2011 Air Canada took a CAD20 million (USD20 million) revenue hit as traffic and demand suffered in the wake of the earthquake and tsunami.
Recognising Istanbul's potential
One of the biggest moves Air Canada is making in 2013 is the Jun-2013 launch of three new weekly flights from Toronto to Istanbul. Presently, Air Canada's Star partner Turkish Airlines offers five weekly flights from Toronto to its Istanbul hub after adding two frequencies on the pairing during Oct-2012.
Turkish Airlines has been interested in serving Toronto daily for some time but is restricted by the Canada-Turkey bilateral. Turkish is one of several foreign carriers that has been frustrated by Canada's restricted policy of limiting flights in markets that Air Canada does not serve. Other frustrated carriers include Star member Copa Airlines and Emirates. Copa and Emirates are both unable to serve Toronto daily.
While Turkey's solid economy is likely driving demand for additional service from Canada to Istanbul, the reality is Air Canada through its new service is likely taking a long-term view to establish key connections through Istanbul to the extensive network offered by Turkish to Africa and central Asia in particular, two areas where Air Canada has little or no presence. Air Canada's service to Africa is limited to the continent's northern region through flights to Algiers, Cairo and Casablanca. Turkish serves 27 destinations in Africa, and recent additions include Abidjan, Mogadishu and Kinshasa.
Turkish Airlines Network Summary: as of 26-Nov-2012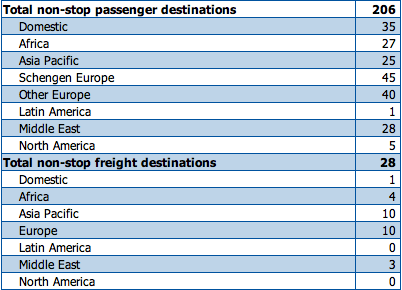 Turkish is also one of the largest airlines serving the Europe-Asia market, with a key presence in central Asia, whose markets are largely underserved and have limited connections. Turkish has an ability to offer connections to the growing Kazakhstan market. During Jul-2012 Turkish also launched new service to Mongolia's capital Ulaanbaatar and Osh, the second largest city in Kyrgyzstan.
See related articles:
Partnership with Turkish seems logical as Air Canada re-examines its options
But Air Canada is also sure to be examining its options for better connections to the Middle East in the aftermath of the dramatic embrace by Gulf carriers during the last few months. SkyTeam anchor member Air France has established an agreement with Etihad to connect to markets through Abu Dhabi while Qatar Airways has signed on to become a full member of the oneworld alliance, opening up its network from Doha to the oneworld members. British Airways, which was instrumental in orchestrating Qatar's ascension into oneworld, is particularly bullish on Doha's potential as a major connecting point in the Gulf region and beyond.
See related article: As partners evolve – Qatar-oneworld, Air France-Etihad/airberlin – how promiscuous can airlines be?
While Turkish's network in the Middle East is not as extensive as the region's powerhouse carriers – Emirates, Etihad and Qatar – it has recently been touted as an alternative to those airlines as the German government has made overtures to Turkey about a potential tie-up between Lufthansa and Turkish. The move is seen as a tactic to stymie further inroads by Gulf carriers into Lufthansa's stronghold in central Europe.
See related article: Turkish Airlines tie-up could give Lufthansa the solution it needs as profits continue to fall
Air Canada and Lufthansa have been the most public in their criticism of the Gulf carriers, contending the government subsidies those airlines receive unfairly tip the competitive balance towards Emirates, Etihad and Qatar. Air Canada and Emirates have has a bitter feud over the latter's desire to expand its service to Canada, and so far Air Canada has succeeded in using its influence on the Canadian government to keep Emirates at bay.
But with Qatar likely to deepen its relationship with oneworld member American Airlines and all three Gulf carriers expanding their service to the US, Air Canada needs to think about its own strategic options in attaining proper connectivity to the Middle East. A deepening of ties with Turkish seems to be one of the most logical options.
In the short term Air Canada seems to be taking what are prudent actions in bolstering its service to Asia after recording a solid performance in those markets throughout 2012. The focus on Asian expansion is logical given Air Canada is shielded from intense competition on those markets as opposed to pressure it is seeing in high-yielding business markets from Toronto and increased pressure on yields in its US transborder business markets as domestic rivals WestJet and Porter shore up their service.
Asia also helps deflate some of the lingering soft demand from Europe as the continent's economy remains sluggish. But long-term the carrier needs to consider its place in the new world order emerging among the world's top global carriers, and must craft a strategy to ensure it retains its stature as a global player. The new service to Istanbul could be a small step in Air Canada's efforts to ensure it does not fall further behind its US and European counterparts in offering connectivity in the ever-important Middle Eastern market.