Air Canada rebounds from tough 1H2012 but competitive pressure remains intense
Analysis
Air Canada is welcoming a change in its fortunes during 3Q2012 after a turbulent 1H2012 characterised by high-profile labour strife and the collapse of its major maintenance provider both of which significantly pressured its financial performance as profits for the first six months of the year tumbled CAD241 million (USD241 million) to CAD306 million (USD306 million). But with the government stepping in to resolve labour disputes and the busy high season ushered in by 3Q2012, the carrier has received a reprieve from the stinging losses recorded earlier in the year.
Canadian Government-appointed arbitrators imposed Air Canada's preferred contracts on the carrier's pilots and mechanics in mid-2012 after certain employee groups engaged in work stoppages that significantly disrupted the airline's operations in Mar-2012 and Apr-2012, and pressured the carrier's earnings during 1Q2012 and 2Q2012.
Air Canada management has often remarked the deals are a necessary element of its transformation from an airline bogged down by a legacy cost structure to a carrier more capable of competing with airlines operating with lower costs.
See related articles:
Air Canada reversing stinging losses
While it is tough to gauge employee morale after the government's intervention in the management-labour dynamic, Air Canada has enjoyed a financial rebound, recording a CAD429 million (USD429 million) profit during 3Q2012, which was a CAD553 million (USD553 million) improvement over the CAD124 million (USD124 million) loss the company recorded in the year-ago period.
Air Canada financial performance: 3Q2012 vs 3Q2011 and 9M2012 vs 9M2011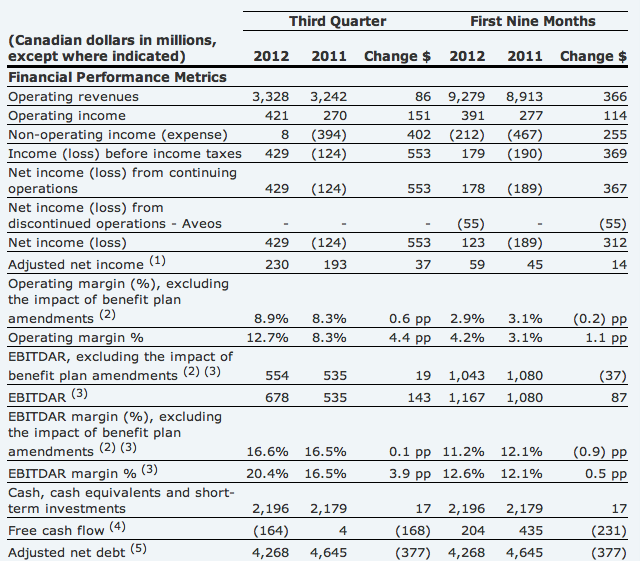 Top line revenues grew 3% to CAD3.3 billion (USD3.3 billion), aided by a 2.2% increase in passenger unit revenues that was driven by yield growth of 1.6%. A 2% drop in total operating expenses to CAD3 billion (USD3 billion) allowed Air Canada to improve its operating income by CAD151 million (USD151 million) to CAD421 million (USD421 million). On a unit cost basis, Air Canada recorded a 1.6% increase year-over-year in adjusted cost per available seat mile, but expects a 2%-3% drop in that metric during 4Q2012.
Air Canada's rival WestJet has been battling its own cost creep throughout 2012, and recorded a 3.8% year-over-year increase in unit costs during 3Q2012 to CAD9.10 cents, although still below the CAD10.7 cents (USD10.7 cents) posted by Air Canada during the quarter.
Air Canada select operating statistics: 3Q2012 vs 3Q2011 and 9M2012 vs 9M2011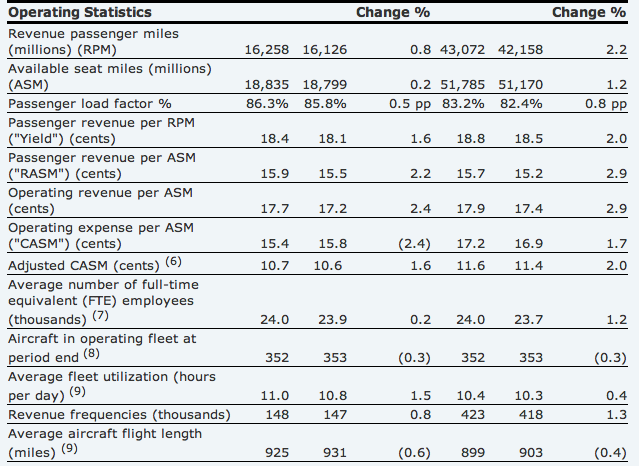 Transborder performance was weaker
Intense competition in the US northeast, particularly the New York market, pressured Air Canada's transborder performance during 3Q2012 as the region was the worst performing entity in the carrier's network portfolio. Yields declined 5.4% and unit revenues fell by 5.2%, as Canadian carriers increased capacity from Toronto to the New York metropolitan area. Total revenue in Air Canada's transborder markets essentially remained flat year-over-year at CAD507 million (USD507 million).
Air Canada change in financial performance by region: 3Q2012 vs 3Q2011

WestJet launched service from Toronto Pearson Airport to LaGuardia in Jun-2012, and now accounts for a 33% seat share in the market. Air Canada during May-2012 added an additional daily flight between Toronto and LaGuardia, which brings the carrier's service on offer to hourly. Presently, Air Canada accounts for 46% share of the approximate total 18,000 weekly seats available between Pearson and LaGuardia. American Airlines represents the remaining 20% share. Air Canada also in May-2012 launched service from Pearson to New York JFK, to ensure it remained the leading carrier between from Toronto to New York as WestJet further encroached in Air Canada's lucrative business markets.
Toronto Pearson International to New York La Guardia (seats per week, one way): 19-Sep-2011 to 28-Apr-2013
Westjet increases competitive pressures in Canada's 'eastern triangle'
Air Canada also continues to face increasing pressure in the business markets comprising Canada's "eastern triangle", encompassing flights from Toronto to Montreal and Ottawa as capacity in those markets and aggressive fare competition continue to affect those markets, said Air Canada CFO Michael Rousseau during a 3Q2012 results discussion with analysts.
During May-2011 WestJet upped the ante in the eastern triangle by increasing its daily flights between Toronto and Montreal to 10 daily and offering nine daily flights from Toronto to Ottawa. Current schedules in Innovata show that combined Air Canada and WestJet operate roughly 27,500 weekly seats from Toronto to Montreal and nearly 19,100 seats between Toronto and Ottawa. Additionally, business-oriented carrier Porter Airlines operates roughly 7,000 seats from Toronto City Centre Airport to Ottawa, while Porter and Air Canada operate roughly 14,000 seats from City Centre to Montreal.
Seat capacity by carrier from Toronto Pearson to Montreal and Ottawa: 04-Nov-2012 to 10-Nov-2012
Toronto City Centre to Montreal Pierre Elliott Trudeau International (seats per week, one way): 19-Sep-2011 to 28-Apr-2013
Air Canada launched service from City Centre to Montreal in Feb-2011 with Bombardier Q400 aircraft operated by partner carrier Sky Regional. Joining Mr Rousseau in the discussion with analysts, Air Canada CEO Calin Rovinescu stated Air Canada's unit revenues between City Centre and Montreal continue to improve.
Overall Air Canada grew domestic unit revenues during 3Q2012 by 2.6% and yields by 1.1% and increased revenue by CAD40 million (USD40 million) to CAD1 billion (USD1 billion). The improvement in yields was largely attributable to Air Canada's performance on transcontinental markets, said Mr Rousseau.
Air Canada recorded a slight 0.4% drop in trans-Atlantic revenue during 3Q2012 to CAD738 million (USD738 million) as it reduced capacity by 1.7% in those markets year-over-year. Aside from some weakness on service to the UK triggered by travellers avoiding the country during the summer Olympic games, Mr Rousseau stated unit revenue on the majority of Air Canada's routes to Europe held up well. Yields on those routes grew 1.9% while unit revenues increased 1.6%. Mr Rovinescu noted while some US carriers pulled out of Greece, Air Canada "did okay" on its service to the beleaguered country.
The Pacific was Air Canada's best performing entity during 3Q2012 as revenue jumped nearly 14% to CAD425 million (USD425 million) driven by strong performance in the premium cabin, particularly on routes to Japan and China. Yields in those markets jumped 13% year-over-year and unit revenues grew 14.5%. While premium traffic helped Air Canada turn a strong performance in its Pacific markets during 3Q2012, the carrier's total premium cabin revenues remained flat year-over-year as Air Canada stated a 1% improvement in yields was offset by a similar decline in traffic.
Air Canada plans an uptick in 2013 capacity, WestJet to grow 7-8%
Air Canada plans an incremental capacity increase during 2013 of 1.5% to 3% compared with supply expansion of 0.75% of 1.25% in 2013. Similar to rival WestJet, Air Canada has not offered a specific breakdown of its capacity deployment. But some of the increase will be generated by delivery of two Boeing 777 widebody aircraft, which will in turn allow for the transfer of two 767s to Air Canada's yet-to-be named new low-cost leisure carrier. The 767 widebodies will also have a higher seating density than their present configuration.
See related article: Air Canada pairs low-cost carrier with vacations business to battle package operators
The slight capacity growth planned by Air Canada joins a projected supply expansion of 7%-8% for WestJet, which will result in more capacity available in the Canadian domestic market place. But despite the increase, Canada's two major carriers believe the relative yield strength they have enjoyed in 2012 will continue into 2013.
WestJet has declared it can offer lower fares in markets pegged for its new regional subsidiary Encore without comprising its yield growth, which increased 3.3% year-over-year during 2012. With its lower cost structure WestJet management has surmised it will preserve yields even by offering big discounts in Encore's markets, which will likely be routes operated by Air Canada Express.
See related article: WestJet sees no stumbling blocks as it continues to lay the foundation for its new regional carrier
Progress made at Air Canada, but staff morale needs to improve as WestJet continues to attack on all fronts
Mr Rovinescu stressed that Air Canada is fully aware of WestJet's strategy in entering smaller markets with Encore in 2013 and emphasised that Air Canada's focus during 2013 is to improve on the progress it has made in 2012. The carrier "has no intention of conceding anything on the yield side", he declared.
Air Canada can certainly celebrate progress in improving its financial state during 3Q2012, but it is far from definitive whether the carrier has embarked on a sustained path to profitability or the deep rifts between management and labour have been healed.
The carrier's cost gap remains substantial, and the expense of launching its new long haul leisure carrier in 2013 coupled with new competitive pressure from WestJet in its regional operations will certainly create obstacles in Air Canada's ongoing transformation.