Air Canada, JetBlue recover a little ground. Allegiant, United Airlines, American lose most
Analysis
Air Canada (+3.7%) and JetBlue (+3.0%) recovered a little from their falls due to downgrade and share issuance respectively on the previous day.
Fuel-price sensitive Allegiant (-4.4%) lost as oil again rose; and United Airlines (-3.2%), American (-3.1%) and US Airways (-3.1%) and Alaska (-3.1%) also shed earlier gains.

United is to make a large aircraft order in 3Q2009 for up to 150 large aircraft and the market is in mixed minds about the timing - a buyers' market, but can United afford to buy just now? Major competitor American already has a large order for B787s.
North & South America selected airlines daily share price movements (% change): 04-Jun-09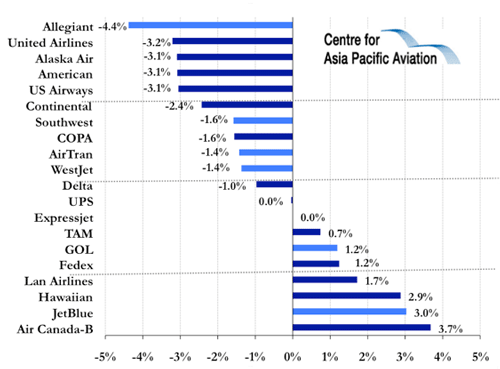 When you're on the brink of bankruptcy, any news that isn't bad news is good. So yesterday's appointment of former Ontario bankruptcy Judge, James Farley, to mediate on Air Canada's pension dispute with its unions helped lift the company's shares. Farley's appointment was seen at least as a positive step towards resolving the dispute between the company, which seeks a pension moratorium and the unions, which want hands-off.
The former judge has a good reputation in mediation and the unions "welcomed" his arrival on the scene.
Wednesday's downgrade of Air Canada's credit rating to CCC+ by Standard and Poors was put behind them. The rating places the Canadian carrier as a highly speculative investment, facing numerous areas of uncertainty. But then you don't need to be a ratings agency to pick that one.
S&P maintains a negative ratings outlook, so that further downgrades are possible if financial benchmarks are not maintained.