Air Berlin to bury dba this week - the end of the beginning?
Analysis
It seems light years ago that a resurgent British Airways used the newly liberalised European skies in 1992 to attack the then not-so-powerful Lufthansa in its home market, establishing Deutsche BA to offer some domestic competition for the German monopoly operator. It was to be a short, unhappy life.
British Airways at the time was the innovator-extreme, seeking new franchise and branding opportunities as liberalisation dawned over Europe. The German experiment was however not a success and, Air Berlin eventually bought the renamed dba two years ago.
Now Air Berlin, Germany's second largest carrier, is to shut down the dba airline and brand, effective 30-Nov-08. The closure has already caused some rancour, as pilots of dba and some from LTU (another airline acquired by Air Berlin, in August 2007) staged strikes last week. This prompted Air Berlin management to cancel all "flight contracts" with dba. "to save our passengers the inconvenience that would be caused by further strikes", according to Karl Lotz, Air Berlin Executive Director.
Air Berlin now plans to consolidate the operations of LTU in Dusseldorf, closing basesd in Hamburg, Stuttgart, Berlin, Vienna and Frankfurt. The carrier has undergone several changes of heart this year, as the background noise varied.
First, under threat from astronomical fuel prices, Air Berlin was forced to begin cutting capacity, especially on longer haul, relatively low yielding routes such as Beiing and Shanghai. Now, as those costs slump back to former levels, those routes become potentially viable again and, according to some reports, will see Air Berlin re-enter the Chinese market.
Air Berlin share price: 01-Sep-08 to 25-Nov-08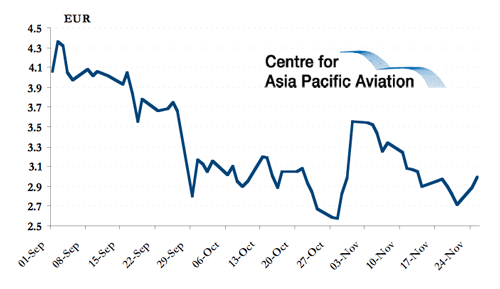 Next, as a step back from its growth by acquisition strategy, Air Berlin in July announced that it would not be proceeding with its bid for Thomas Cook's 75.1% stake in Condor. And more recently, according to reports, TUI's leisure carrier, TUIfly is no longer a takeover opportunity. In the circumstances - with debt difficult to come by, and a need to focus on immediate issues - this would probably not be a bad thing.
But this will mean that Air Berlin is going to have to rely on organic growth now, while its bigger national competitor, Lufthansa, continues to buy all around it. As growth has slowed, its home base in Berlin has suffered a slowdown too, after over a period of heady growth, causing some restlessness there.
Berlin (Tegel) Airport passenger numbers and passenger growth: Jan-06 to Oct-08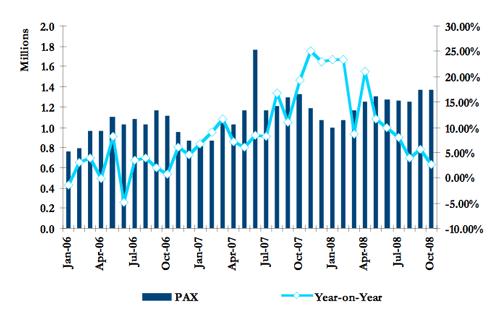 Air Berlin has 50 B787s on order, but under current timing, will not be receiving these before 2013 - and a lot will no doubt happen in the meantime. So it now finds itself in a position to re-evaluate its future.

This rethink would be made more challenging if TUIfly, Germanwings and Condor were to combine, as was talked about earlier in the year. TUI/Germanwings Group airline alone would offer a significant threat in the German market, handling approximately 30 million passengers annually, behind Lufthansa's 56.4 million. This looks less likely now, but no doubt Lufthansa will be keen to fuel any possibility that a serious competitor to Air Berlin can emerge.
As dba disappears, there is some comfort for investors though that Air Berlin's headlong growth strategy is now being slowed, and with it, the prospect of greater stability, even if it does not promise wider dominance - almost in fact as if the demise of dba were in some way symbolic of the end of the beginning of the new aviation era, begun nearly two decades ago.