African airline start-ups hold the key to unlocking the continent's riches
Analysis
Africa's potentially rich aviation pickings are attracting a new breed of start-ups. Some, like Starbow and FastJet, have ambitions to develop pan-African networks through franchise models. Others, including Africa World Airlines and Korongo Airlines, are focused on their domestic markets and regional services to neighbouring states. Yet a third grouping, led by ECAir, have established inter-continental operations.
While several of the start-ups are backed by their respective governments, it is notable that the strongest contenders are either largely or wholly privately owned and funded.
This new generation of carrier could provide the answer to Africa's lack of domestic and intra-continental air services by increasing route options, lowering fares and making air travel affordable to the growing middle class.
Aviation enjoys a natural advantage as a means of connecting cities, where most of Africa suffers from poor or non-existent ground transport infrastructure.
All these airline start-ups – and their desire to provide the much needed linkages so desperately needed to unlock Africa's true economic potential – will however bump up against the slow rate of airspace liberalisation and government protectionism and corruption. The new airlines genuinely offer real trade opportunities, but inertia will typically slow the process of change.
Fly540 and Starbow blaze trails to build pan-African aviation networks
Fly540, which was bought by FastJet from African conglomerate Lonrho in Jun-2012, originally launched in Kenya four years ago as a full service regional carrier.
FastJet, with the backing of easyJet's Sir Stelios Haji-Ioannou's easyGroup, launched its first rebranded Fly540 service on 29-Nov-2012 with two domestic routes in Tanzania, Dar es Salaam to Kilimanjaro and Mwanza, and will progressively rebrand and refleet Fly540's operations in Angola, Ghana, Kenya and Tanzania with A319s, implementing a hybrid LCC model.
Based on a business plan developed by Luftansa Consulting, Starbow launched in Ghana under its current ownership in Sep-2011, flying three domestic routes connecting the country's capital Accra with Kumasi, Takoradi and Tamale. In its previous incarnations it was Aero Surveys and Air Shuttle. One of four airlines operating in the country, Starbow claimed to have tripled the size of the domestic market with fares 30% below main competitor Antrak.
The airline is owned by a group of Ghanaian entrepreneurs who saw the need for frequent, reliable and affordable air transport in west Africa based in Accra. Its CEO, Brock Friesen, has a background in international aviation, first with Canadian Airlines; he was CCO of Air Malta prior to joining Starbow.
See related article: Ghana's Starbow plans international expansion ahead of Fastjet launch

Starbow has since expanded its network to five destinations, including adding its first international route in Aug-2012 with a five times weekly international service to Cotonou, Benin. Abidjan, Cote d'Ivoire was added on 08-Nov-2012, also offering five services a week with plans to eventually increase that to a double daily frequency. The services are timed to be business customer friendly, allowing for a full day's work in each city.
Frequencies have also been increased on existing domestic routes, including Accra-Takoradi to twice daily on weekdays. Starbow operates four Bae146/Avro RJ aircraft in a two-class 94-seat configuration.
The carrier introduced a new four-tier fare structure on its domestic routes, lowering the lead-in fares starting at GHS49 (USD25.89) for services to Kumasi and Takoradi and from GHS149 (USD78.71) to inland Tomale.
Mr Friesen has indicated services from Accra to Monrovia, Lagos and Freetown are planned, though no launch dates have been announced. The carrier's ambitions are to serve a dozen countries within a three hour flight time from Accra. Meanwhile it clearly has spare capacity, promoting its charter capability in a recent news release.
Starbow competes in a crowded domestic market with privately-owned Antrak Air, Fly540/FastJet and start-up Africa World Airlines which has launched services from its Accra hub to Takoradi, Kumasi and Tamale.
Africa World Airlines with HNA Group another example of China's interest in Africa
China's rising investment in Africa has made it the continent's second largest trading partner after the EU. Airline investments are a logical part of that process.
The strength of Africa World's entry has certainly been given credibility with the deep-pocketed backing of Chinese investment giant HNA Group, which counts Hong Kong Airlines and Hainan Airlines among its diversified portfolio of transport, logistics and hotel investments.
See related article: China's HNA Group, of Hainan Airlines, invests in Africa World Airlines, third new start-up in Ghana

The joint venture also includes the Ghana Social Security, National Insurance Trust and Ghana Strategic African Securities, along with private Chinese equity fund China-Africa Development Fund and Hong Kong-based transportation and logistics private equity firm Bravia Capital.
Africa World launched on 21-Sep-2012 with two Embraer ERJ-145LRs from Tianjin Airlines, serving Ghana's four biggest centres. Regional expansion will follow and intercontinental routes could be added in five years. The airline has big aspirations. Africa World founder Togbe Afede said at the time of its launch: "We intend our growth to mirror that of HNA, which currently has a fleet of about 400 aircraft."
China's Ambassador to Ghana, Gong Jianzhong, stated the establishment of Africa World "is a milestone for the aviation cooperation between China and Africa. Also, it will strengthen the bilateral trade cooperation and promote understanding between the two countries."
HNA's investment in Africa World is the first in a civil airline in Africa by a Chinese company.
Ghana's aviation market ideal, where surface transport infrastructure is weak
Ghana's domestic airline capacity has ramped up substantially since Jul-2012, as existing carrier Antrak increased its weekly capacity by 53% from 3,345 seats in early Jul-2012 to 5,115 seats a week in Dec-2012. Africa World has topped that by entering the market with 5,300 seats a week, while Starbow has 3,572 weekly seats, according to Innovata schedules data.
Fly540 Ghana also operates domestic services from Accra to Kumasi and Tamale as well as regionally to Freetown, Monrovia, Abijan, Lome and Lagos, according to its website, using a mix of aircraft types.
Even with the launch of multiple new carriers there is still enormous potential upside for growth. Ghana has a population of 25 million and its four main centres have a combined population of about five million. With lower air fares and a LCC model in a country with limited road infrastructure, airlines have become an inexpensive transport option for the government.
But the government is doing its best to shoot its economic development in the foot by promoting fuel costs 25% higher than the global average and Accra's Kokota Airport charges are triple those of Nairobi.
The airport is one of those managed by the government owned, but corporatised, Ghana Airports Company Limited (GACL), whose goal is "to become the preferred global gateway and a leader in airport business." Among its impressive list of "corporate values" there is no mention of providing cost-effective service to airlines, a missing feature which takes on increased importance where LCC growth needs to be encouraged.
Of the new entrants however, HNA in particular, takes a long term view of its investments and is willing to build scale and wait for returns to flow.
Cote d'Ivoire also welcomes new low-cost airline entry
Cote d'Ivoire too has a new airline, replacing Air Ivoire (51% owned by private Groupe Atlantique and 49% by the government) with a new flag carrier, Air Cote d'Ivoire. The new incarnation is 65% government owned, while Air France-KLM holds 20% and Aerienne de Participation-Cote d'Ivoire 15%, represented by the Aga Khan Fund for Economic Development (AKFED).
The newest airline entrant on the continent, Air Cote d'Ivoire launched (five months late) in Nov-2012 offering a network of seven west and central African destinations, including Conakry, Dakar, Douala, Libreville, Brazzaville, Bamako and Lome, using two A319s from Air France's VIP division.
The carrier will cooperate with Air Burkina and Air Mali, also part of the AKFED Group "in order to build an economically viable long term model" according to the Cote d'Ivoire government.
Republic of the Congo's ECAir is exempted from EU blacklist
A serious obstacle to the success of many African airlines results from the inadequate oversight of air safety at government level, prompting the European Union to blacklist much of the continent's aviation capability. This not only prevents airlines from operating into European airspace but often has flow-on implications, such as invalidating insurance coverage for Europeans and others travelling on the continent – so that those are lost customers.
In central Africa, Republic of the Congo's new flag carrier Equatorial Congo Airlines, operating as ECAir, was established in Sep-2011 after the construction of Brazzaville's Maya-Maya International Airport to maximise the national benefit from the new facility. ECAir has managed to avoid EU-imposed contstraints by aligning itself with Geneva-based PrivatAir to provide aircraft, crews and technical support as well as with Lufthansa Technik for maintenance. This has ensured the airline meets international safety standards.
ECAir operates between the capital Brazzaville and the country's coastal commercial centre Pointe Noire using two Boeing 737-300 aircraft in competition with incumbent Trans Air Congo. The airline also launched a three times weekly Brazzaville-Paris CDG service in Aug-2012 using a two-class configuration Boeing 757-300 aircraft. It is the only Congolese airline to be exempted from the EU blacklist because it is a virtual airline using PrivatAir aircraft.
ECAir CEO Fatima Beyina-Moussa was reported as saying in Nov-2012 that the airline will open a new domestic route and two new destinations in the sub-Sahara region and west Africa in the near future.
It will take at least three years for the airline to become profitable and the Congolese government has committed to fund the carrier for that time, Ms Beyina-Moussa said. Although this carries all the warning signals of establishing a cost-plus airline, it may be the best that the country's emerging aviation industry can provide.
The Democratic Republic of Congo is also attracting foreign airline investment
Across the border in the DRC, Korongo Airlines was originally founded in 2009 as a joint venture between Brussels Airlines which holds a 40.4% stake, Forrest Group with 39.6% and local DRC investors holding the balance of 20%. For Star Alliance's Brussels Airlines the investment is part of the carrier's focus on developing its African long-haul business, at the same time helping provide a platform for regional expansion for its Star partners.
See related article: Brussels Airlines to benefit from changed EU law that levels playing field for airlines
Korongo launched its first services from Lubumbashi International Airport in Apr-2012 to Kinshasa. It has since added Johannesburg and, on 31-Oct-2012, Mbuji Mayi from its Lubumashi hub with Kolwezi the next planned destination. The carrier operates 737-300 and BAe146 aircraft.
Korongo chairman George Forrest in Aug-2012 announced plans to also add Goma and Kisangani in the DRC as well as international routes to Zambia, Kenya, Uganda and Cameroon by the end of 2012, though no specific timeframe was disclosed and there has been no further word on progress.
Air Korongo route network: as at 06-Dec-2012
South Africa's FlyGoAir prepares for take-off
FlyGoAir will become South Africa's newest airline when it commences operations on 10-Dec-2012 with three times weekly Johannesburg Lanseria-Kruger services using a Beechcraft 1900 turboprops.
Its launch comes at a time when South Africa's airlines are struggling to make money and hard of the heels of the demise of LCC 1time in Nov-2012. The service was originally planned to start on 26-Nov-2012 and will be operated by aircraft leasing company CemAir.
FlyGoAir appears to have its work cut out for it. It will compete semi-indirectly on the route with South African Airways franchise Airlink, which operates up to five-times daily from Johannesburg OR Tambo International Airport using a mix of Jetstream 41, Embraer ERJ-135s and BAe RJ85 aircraft.
British Airways, operated under licence by Comair, withdrew from the route in Feb-2012 and since then SAA has gradually ramped up its capacity.
Johannesburg OR Tambo International Airport to Nelspruit Kruger Mpumalanga International Airport capacity by carrier (seats per week, one way): 19-Sep-2011 to 26-May-2013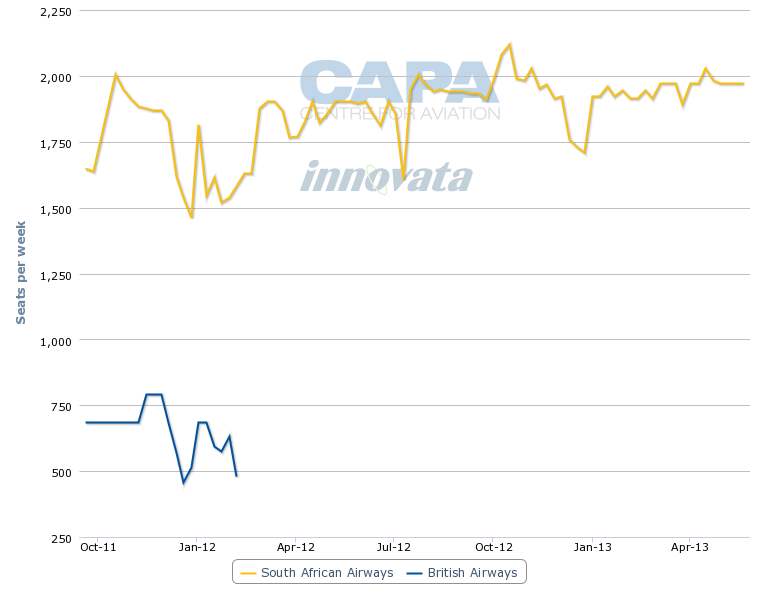 FlyGoAir also plans to start services from its Lanseria hub to Polokwane and Pietmaritzburg in Jan-2013, followed by George and Bloemfontein and Kruger-Cape Town later in 2013.
Former 1time executives have also announced plans to launch a new LCC Skywise in early 2013, initially on South Africa's biggest route Johannesburg-Cape Town using two 737-300 aircraft.
See related article: South African Airways and Comair could face new LCC competitor following demise of 1time
For Africa's airlines survival of the fittest is tempered by deep pockets and inertial constraints

It is clear that the "potential" for airline expansion in Africa is enormous; at the same time the obstacles, physical and intangible, remain formidable.
FlyGoAir and a number of its peers may therefore struggle to last the distance in Africa's difficult operating environment. But a number of well-funded and internationally supported airlines are emerging, eager to claim their share of Africa's riches – in which aviation will play a vital role over the next few years.
It is encouraging that private money is starting to flow in, with the expectation of profitability – something that has been mostly absent in Africa. The quiet role of the global alliances is also making itself felt, as Star, SkyTeam and oneworld see value in supporting a stable and potentially expansive local airline capability for their member airlines to feed into and from.
In the process of this new entry, fares in some markets, particularly parts of west Africa, are beginning to fall as LCC start-ups look to grow the passenger pool by making air travel more affordable for the emerging middle classes. Some, like FastJet, are looking to establish pan-African networks by setting up affiliated airlines in individual markets as a way to overcome the bilateral restrictions.
But all will face the significant hurdles of operating costs which are higher than in most other regions and government protection of often inefficient flag carriers which will restrict the low-cost aviation growth rates experienced in other developing economies such as Asia.