Aeroports de Paris revenue up 4%; Fraport downgraded to 'underperform'
Revenue: EUR717.8 million, +3.9% year-on-year;
Aviation: 396.6 million, stable;
Aeronautical fees: EUR226.6 million, +3.9%;
Ancillary fees: EUR40.3 million, -5.5%;
Airport security tax: EUR119.0 million, -3.5%;
Other: EUR10.6 million, -14.1%;
Retail and services: EUR231.1 million, +11.3%;
Retail: EUR113.3 million, +16.5%;
Car parks and access: EUR38.5 million, +7.5%;
Industrial services: EUR9.1 million, -3.4%;
Rental revenue: EUR23.2 million, -6.2%;
Other: EUR47.0 million, +16.3%;
Real estate: EUR57.8 million, +9.9%;
Ground handling and related services: EUR54.9 million, +12.5%.
See related CAPA profile: Financial results
Fraport Group (-2.7%) shares lost the most ground on Wednesday (10-Nov-2010). Fraport was also downgraded to "underperform" from "buy" at BofA Merrill Lynch Global Research. On the same day the airport operator reported a passenger traffic increase of 13.9% - traffic highlights in Oct-2010:
Passenger numbers: 8.5 million, +13.9%;
Aircraft movements: 70,737, +8.7%;
Selected airport operators/investors daily share price movements (% change): 09-Nov-2010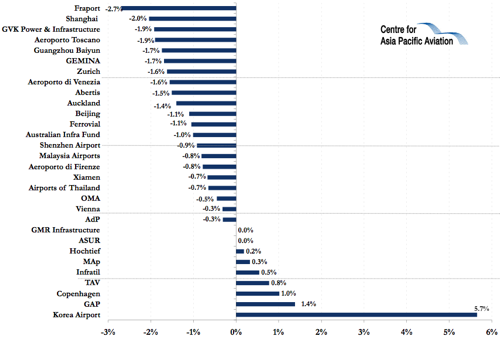 Italy's Autogrill (-0.3%) shares decreased slightly on Wednesday while its stock has advanced almost 11% in 2010. The airport operator also reported a revenue increase of 6% - financial highlights for the nine months ended 30-Sep-2010:
Revenue: EUR4216 million, +6.3% year-on-year;
Food & beverages: EUR2959 million, +5.2%;
Travel retail and duty free: EUR1257 million, +9.2%;
Flight: EUR363.4 million, +20.4%;
EBIT: EUR247.8 million, +20.0%;
EBITDA: EUR474.2 million, +6.7%;
Food & beverages: EUR346.5 million, -0.6%;
Travel retail and duty free: EUR144.6 million, +26.1%;
Flight: EUR40.0 million, +14.8%;
Net profit: EUR116.8 million, +40.9%;
Capital expenditure: EUR120.9 million, +38.6%;
Net operating cash flows: EUR391.8 million, +23.8%.
Selected airport supplier's daily share price movements (% change): 09-Nov-2010