Aer Lingus reports strong second quarter, but not enough to offset first quarter losses
Aer Lingus reported encouraging earnings in the second quarter (three months to 30-Jun-2011) and sees a favourable outlook for the remainder of the year. The strong 2Q2011 result, however, was not enough to offset losses in the first quarter, which left Aer Lingus in the red at the operating and net levels at the half-year point.
Aer Lingus recorded an operating profit of EUR25.9 million in 2Q2011, a 38% year-on-year increase, bolstered by strong gains in passenger numbers and yields, solid cost discipline and the airline's ongoing capacity management programme.
Aer Lingus operating profit (EUR millions) and operating margin (RHS): 2Q2009-2Q2011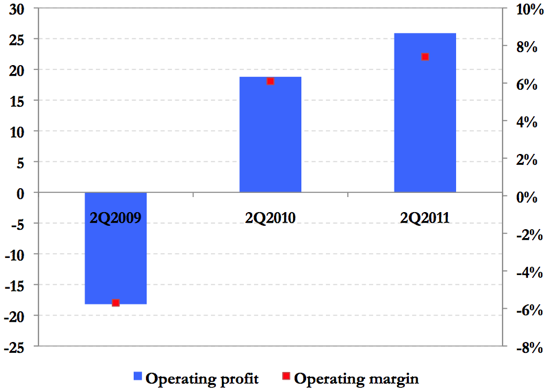 For 1H2011, Aer Lingus reported an operating loss of EUR27.8 million for the first half (six months to 30-Jun-2011) compared to a EUR19 million loss in 1H2010. CEO Christoph Mueller attributed the weaker result to an industrial dispute with cabin crews in the first quarter which cost the carrier EUR15 million.
"Aer Lingus experienced a strong second quarter," said Mr Mueller. "This result was underpinned by the continuing positive impact of our capacity management strategy, stabilised passenger numbers, strong yield growth and the absence of airspace closures in Northern Europe, which occurred in 2010."
Commenting on the remainder of 2011, the CEO said, "although economic conditions in Ireland remain challenging, strong second half trading and booking profiles" leave the airline "positive about trading prospects." He added, "We are more positive about the profitability of the business in 2011 than we were at the start of the year."
Aer Lingus record strong revenue gains in 2Q2011
Second quarter revenue increased 14% to EUR351 million, outpacing passenger traffic growth and importantly, operating cost growth. The results reflect the ash cloud crisis and airspace closures in 2Q2010 and the later Easter break which fell in the second quarter this year.
Aer Lingus revenue and operating costs (EUR millions): 2Q2009-2Q2011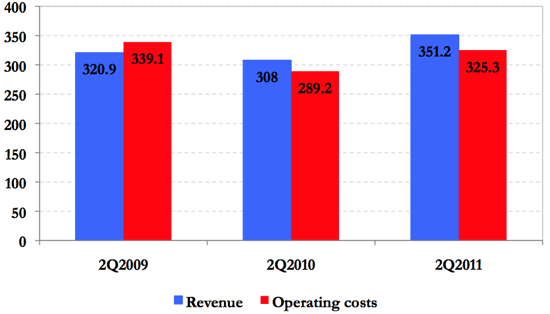 Aer Lingus noted that fare revenue (which contributes 83% of total revenue) increased 15.3% year-on-year. The airline said its new pricing strategy helped bolster the top-line revenue result.
Ancillary revenues increased 6.9% in the second quarter to EUR45 million, accounting for 12.8% of total revenue in the quarter, down from 13.7% in 2Q2010. Ancillary revenue growth was slower than passenger traffic growth in the period. On a per-passenger basis, Aer Lingus generated EUR17.43 in ancillary revenue, a 1.2% decrease, reflecting this trend.
Aer Lingus said slower ancillary revenue growth reflected "changing passenger behaviour patterns," including fewer passengers paying for checked baggage. In order to return this stream back into growth mode and stabilise ancillary earnings, Aer Lingus is attempting to diversify its ancillary offering. The largest ancillary items are seat selection, online booking fees and baggage fees. The airline is evaluating a range of retail revenue projects, "which will seek to provide customers with convenient travel options for which they would be willing to pay," rather than rely heavily on three items.
Network reorganisation pays off
Aer Lingus stated its network reorganisation, which more closely reflects demand conditions, led to revenue gains in the first half. Owing to the weak local market, the airline is increasing its exposure to non-Irish (inbound) markets. The airline has increased in-bound services most significantly from continental Europe. Fifty-five percent of Aer Lingus' booking revenues in the first half came from markets outside the Emerald Isle. The airline said it is making in-roads into the competitive trans-Atlantic market by boosting transfer traffic between North America and continental Europe.
Revenue sources in 1H2011: Irish booking revenue vs. non-Irish booking revenue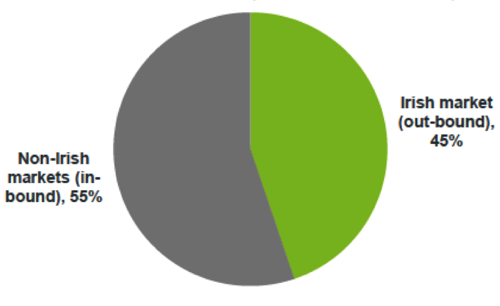 Passenger traffic up 8.3% led by short-haul segment
Passenger numbers increased 8.3% in the second quarter to 2.58 million. Short-haul passengers increased 8.6% to 2.34 million and long-haul by 4.8% to 241,000.
Aer Lingus passenger numbers (,000): 2Q2009-2Q2011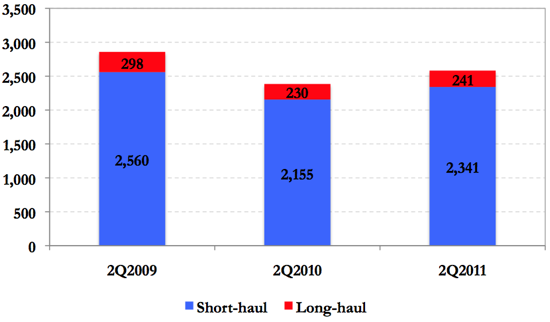 Aer Lingus continued to re-focus capacity to meet demand from in-bound, time sensitive short-haul markets. Schedule changes were also made to the trans-Atlantic route network to improve convenience and boost yields.
In the short-haul space, revenue increased 17.1% to EUR215.3 million (pax traffic up 8.6%). Short-haul ASKs increased 11.9% and RPKs by 8.6%. Load factors fell 2.3 ppts to 73.3%, reflecting continuing weakness on some leisure routes. Average yield per passenger increased 8.1% to EUR91.98.
In the long-haul market, revenue increased 10.6% to EUR76.8 million (pax traffic up 4.8%). Long-haul ASKs increased 8.8% and RPKs by 4.0%. Load factors fell 3.5 ppts to 75.7%. Aer Lingus attributed the load factor fall to the threatened pilot strikes at the start of Jun-2011 and increased competition on trans-Atlantic routes. Average yield per passenger increased 5.9% to EUR318.80. Transfer passenger growth and business class travel helped drive the yield increase in the quarter.
Total ASKs increased 10.9% in the period and RPKs rose 7.0%. Load factors fell 2.6 ppts to 74.1%. Despite this, yields were up 6.6% to EUR113.13 in the second quarter, reflecting its focus on pricing and network optimisation.
Aer Lingus short-haul, long-haul and total yields: 2Q2009-2Q2011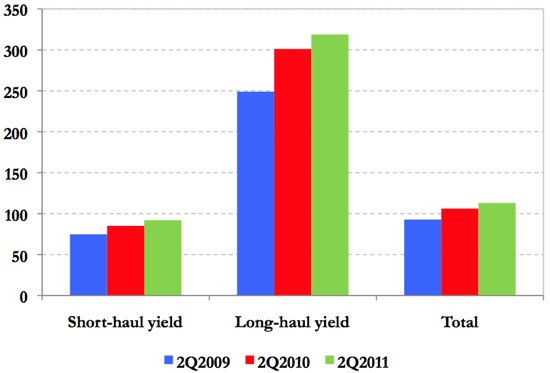 In its other business lines, Aer Lingus Regional services (operated by Aer Arann) and the Washington Dulles-Madrid codeshare service, which Aer Lingus operates in partnership with United Airlines, continued to trade in line with expectations, the airline said. The Aer Arann franchise agreement grew significantly in the second quarter, with the regional carrier taking over a large number of domestic and short-haul services from Aer Lingus. Aer Arann, with its smaller ATR equipment, can more profitably serve the shrinking Irish domestic market. Aer Lingus Regional passenger numbers increased 89.3% to 195,000 in 2Q.
Fuel costs stay steady thanks to currency

Fuel, which has been the over-riding cost story for all European airlines in the past quarter/half, was a highlight of Aer Lingus' performance in 2Q2011. Despite a 10.9% increase in ASKs and a sharp rise in the spot price of oil, Aer Lingus' fuel costs increased just 0.3% in 2Q2011, to EUR77.3 million. Fuel represented 23.8% of total expenditure, down from 26.7% in 2Q2010. US dollar-denominated fuel costs increased 10.4%, but these gains were largely offset by the 10% appreciation of the euro against the dollar, effectively neutralising fuel price gains. Aer Lingus noted fuel hedging insulated the company from the sharp rise in prices. Average fuel prices per tonne were USD929, a 1.5% year-on-year increase.
The airline has 80% of 3Q fuel requirements hedged at USD868 per tonne and 65% of 4Q requirements hedged at USD898 per tonne. The airline is 27% hedged at USD941 per tonne for 2012.
Operating costs were driven by a 16% increase in airport charges, due chiefly to higher fees at Dublin and London Heathrow. Ground operations increased 55.6%, resulting from IT and transformation costs. Other operating costs increased 26.3% in the second quarter. Staff costs fell 2.6% in the period.
Aer Lingus said it continued to reduce costs under its multi-year "Greenfield" cost-saving strategy, which aims to slice EUR97 million off its operational cost base. In the first half, Aer Lingus achieved a further EUR19.9 million in savings, taking the total implemented saving to EUR73.8 million. These cost savings came most significantly from fuel savings and procurement initiatives. It expects to pass through a further EUR6 million in 2H2011, taking the total cost reduction to EUR80 million. Seasonality is now the real challenge, Aer Lingus said, which is demonstrated in volatile quarterly earnings. Aer Lingus stated that cost-saving initiatives include cross-seasonal aircraft leasing and encouraging more seasonal work patterns from staff.
Aer Lingus said the improving pricing environment and wider economic outlook has allayed its concerns that the drastic cost-cutting programme would not be enough to safeguard future profitability. Aer Lingus stated it does not need to make significant changes to the Greenfield programme, "provided there is no deterioration in key markets or [a] further spike in fuel costs."
No alliances on the horizon, state sell-down unlikely: CFO
Aer Lingus stated the costs of joining a global alliance would outweigh the benefits in the short-term, adding, "the impact of alliance membership on our cost base is inconsistent with Aer Lingus' ongoing focus on achieving lower operating costs." Aer Lingus will favour bilateral agreements with airline partners as the primary means to achieve profit improvement with minimised cost and risk, the airline said. It will re-visit the topic of alliance membership in 2012, "particularly if a North Atlantic bilateral relationship using anti-trust immunity appears viable."
Aer Lingus was a member of oneworld until 2007, when it left the alliance to pursue a low-cost, point-to-point strategy, which it has since abandoned.
Aer Lingus has ruled out a quick sale of the government's 25% stake in the airline despite mounting pressure on the Irish Government to sell down state holdings to address government finances. CFO Andrew Macfarlane said he would be "surprised if a deal was to happen in the current year." "The likely proceeds would be fairly small compared with the government's financial problems and it's hard to see who would be the buyer," Mr Macfarlane said.
Product evolution to drive revenue
Aer Lingus has invested heavily in technology and new products, aimed at boosting revenue growth and insuring the airline against future cost shocks. The airline is introducing new fare families to simplify pricing structures, allowing Aer Lingus to cater to various travel segments simultaneously.
"Flexfare," which has been in place since Nov-2008, includes a lounge and flexible travel options. "Bestfare" is a bundled option, which includes checked baggage and advanced seat assignment, will be rolled out in late 2011. "Fare families" is an option that Aer Lingus says will "support a virtual business class cabin." The airline will launch "Tripfinder", which is targeted at customers who wish to travel but cannot decide on a destination.
Aer Lingus recently released its new app and mobile website, allowing customers to plan and review their flight details, check in, receive travel alerts, check real-time flight information and make bookings using mobile devices. Mobile and app check-in is currently only available on routes between Dublin and London Heathrow; Gatwick, Manchester and Birmingham are due to be rolled out network-wide over the next couple of months.
Aer Lingus expects solid second half, improved full-year result
Aer Lingus has made one of the more remarkable turnarounds in European aviation in recent years. The airline has suffered enormously at the hands of low-cost rival (and major shareholder), Ryanair, recording heavy losses prior to the start of Mr Mueller's tenure. Aer Lingus now appears to be back on track, with solid management and a defined strategy to restore profitability. While the airline's first half result was weighed down by a poor first quarter performance, primarily a result of disputes with unions, it delivered a second-quarter result that puts it among Europe's top performers.
Aer Lingus EBIT margin vs. select European peers: 2Q2011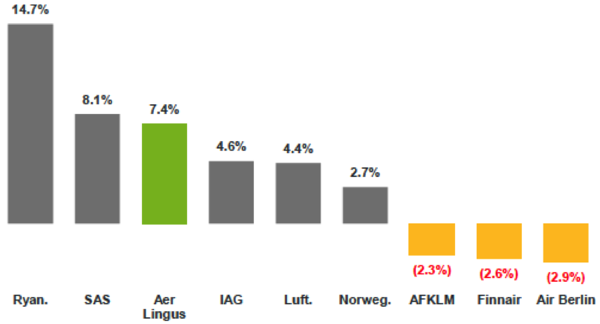 Mr Mueller reiterated that Aer Lingus has become a "profitable and cash-generative operation", which is quite an achievement amid a sharp deterioration in Ireland's economic conditions. In the first half, Aer Lingus generated free cash flow of EUR15.5 million. Working capital inflow of EUR146 million was the most significant cash movement in the first half, reflecting the seasonal impact of booking payments for flights. Cash increased by EUR34.4 million to EUR919 million in the half. Gross debt increased EUR27 million in the half to EUR562 million.
Investors appear to be unconvinced for now. Aer Lingus' share price has underperformed peers in 2011, falling some 41% since the start of 2011. Ryanair, which has a lower cost base and is less exposed to Ireland, was down 17% over the same period. The broader Irish market is down 12%. IAG is down 40% in 2011 and easyJet's shares have fallen 25%.
Aer Lingus' shares have been hit by uncertainty surrounding industrial action from cabin crews and issues surrounding the company's pension deficit. Mr Macfarlane warned Aer Lingus faces the threat of legal action or industrial confrontation as it seeks to resolve the EUR400 million deficit. Trustees have until the end of this year to propose a solution. "If trustees ask staff to increase contributions we may find ourselves in line for trouble," warned Mr Macfarlane. Aer Lingus' shares trade on a 9.8 times 2011 earnings ratio, against 12 times for the EU airline sector.
Aer Lingus share price (index), year-to-date movements vs. Ryanair (green), easyJet (light orange) and IAG (red)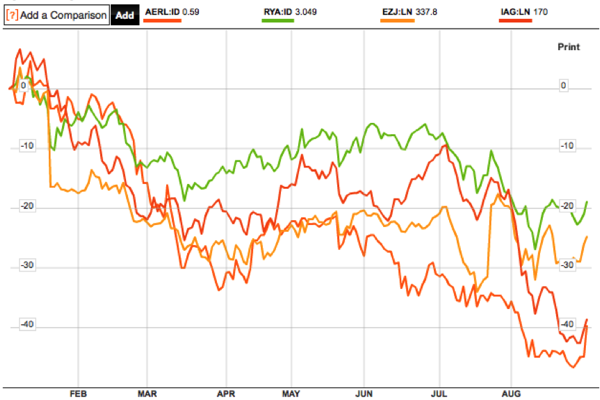 The positive second-quarter result was accompanied by an optimistic outlook from the CEO for the remainder of the year. Mr Mueller noted that strong forward bookings suggest the FY2011 operating profit will be stronger than originally forecast. Second half revenue growth is expected to be broadly similar to the first half result (+14%), which leaves the company "more positive about the profitability of the business in 2011" than earlier guidance provided. CCO Stephen Kavanagh said average passenger yields are likely to remain flat in the second half, with most growth potential in increasing passenger volumes. Long-haul capacity will remain unchanged in the second half, due to weakness in the Irish economy. CFO Andrew Macfarlane expects an increase in the consensus forecast for operating profit for the full year, which he said was currently around EUR21-22 million. This result is likely to be below the full year 2010 profit.
As Mr Mueller noted, Aer Lingus' ability to generate returns in the current business environment reflects the drastic changes the airline has made to its model and structure in recent years. Most significantly, this has come through drastic cost reductions and ongoing cost discipline, and a demand-led capacity strategy that has seen the airline chase yield, rather than market share. "We have a strong balance sheet with high levels of cash, a modern fleet and a high quality product", Mr Mueller stated. "These [factors] combine with our relatively low-cost base to create profitable short- and long-haul networks."