Aer Lingus: Not the end of the world. But you can see it from here.
Shareholders talked with their money after Ireland's flag carrier reported another downwards profit outlook this week. The fall in its stock price on Wednesday brought this year's fall alone to over 60%.
Shares in Aer Lingus plummeted 25.4% on 11-Mar-09, after temporarily losing nearly 40% of their value during the day. The carrier announced a EUR107.8 million after-tax loss for 2008. That was no great surprise.
But, after Aer Lingus Chairman, Colm Barrington, had aggressively stated in January that the carrier would be profitable over the year - despite already clear signs of a serious fall in consumer confidence in its main markets - the market was severely spooked by this week's announcement that it no longer expects to post a 2009 pre-tax profit as suggested in its earlier guidance.
The detail of the message here was less than clear, with CEO, Dermot Mannion, now asserting that the airline could absorb yield dilution of 12% and remain profitable - while other reports suggested the airline's position was that a 10% fall in average prices was causing it to downgrade its profit projection to a loss.
Rather than bouncing back once the market had digested the bad news and seen the upside, Aer Lingus shares again fell, just over 2% on Thursday. This does not augur well for the next market reaction, especially if this week's Wall Street revival dries up.
The carrier has suffered a prolonged decline in market sentiment since early 2007, not long after Ryanair - which currently holds 30% of the airline's equity - made its first bid to take over control.
Now there appears to be little on offer which will reverse the trend, making the gutsy little airline a much more fragile proposition.
Aer Lingus share price: 27-Sep-06 to 12-Mar-09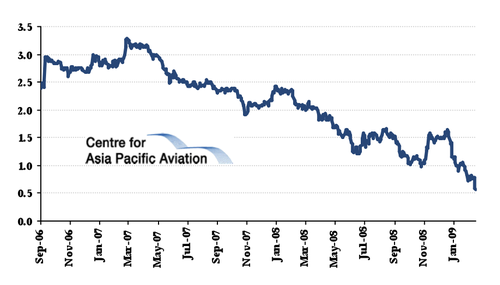 Whatever the detail, it is clear that this could be a mortal blow for Aer Lingus - and that, coming on top of negative outlooks from Lufthansa and Air France-KLM, it also appeared to be a seminal moment for the European airlines overall.
For example, by contrast, with three days' revival on Wall Street, more or less mirrored in Europe, the US airline industry has staged a significant recovery over recent days. Almost all European airlines were however down yesterday. (That said, the US airlines have shown much higher volatility than their European equivalents and may well turn down rapidly if the market turns down again, as recent experience suggests it will.)
In the event, Ryanair CEO, Michael O'Leary, was quick to point out the apparent discrepancy between Aer Lingus' Jan-09 statement -when the carrier's management was fighting off a Ryanair takeover - and this week's much more negative view.
However, it is an unavoidable fact that consumer sentiment throughout Europe has deepened significantly over recent weeks. Earlier (faint) hopes of a medium term recovery were still present back in January, whereas they are fast evaporating now.
This Aer Lingus announcement and the market response will almost certainly prompt another sortie by Ryanair, despite Mr O'Leary having previously stated that there would be no further move, since the latest rebuff.
If that is the case, the Irish government will find it much harder this time around to resist calls to sell out, whether to Ryanair or another - unlikely - willing buyer.
Aer Lingus' options are quickly drying up.
It would be tragic to see the once vital carrier deteriorate even further. But the definitiveness of this downturn may prove the final twist that removes the lifeline for a small network airline with limited hub opportunities.