ACI releases annual airport economics survey for 2010; Hainan Meilan shares up 4.3%
Analysis
ACI released (17-Dec-2010) its annual airport economics survey for 2010, which showed that of the 646 reporting airports, 165 (25%) reported a net loss in 2009. At the EBITDA level, 35 airports, (6%) reported losses in 2009. ACI's 2010 survey also reported the following financial highlights in 2009:
Revenue: USD95 billion, -2% year-on-year;

Aeronautical: USD51 billion, -2.5%;
Non-aeronautical: USD44.2 million, -1.5%;

Commercial: +3%;

Retail: +2%;
Real estate: +10%;
Car rental concessions: +9%;
Food & beverage: +7%;

Car parking: -3.5%;
Advertising: -11%;

Capital expenditure*: USD34.6 billion;
Passenger numbers: -2%;
Cargo volume: -8%;
Long-term debt: upwardly revised from USD240 billion to USD280 billion;
FY2010 forecast:

Passenger numbers: +6%;
Cargo volume: +15%;
Capital expenditure: USD38.5 billion, +11%.
*Excludes new (greenfield) airports and capital investments in the Middle East and China
MAp (-2.7%) reports (20-Dec-2010) the following traffic highlights for Brussels Airport in Nov-2010:
Passsenger numbers: 1.3 million, +6.6% year-on-year;
Meanwhile, Hainan Meilan Airport's (+4.3%) shares gained the most on Friday (17-Dec-2010) while Infratil gained 3.2% and Ferrovial dropped 2.9%.
Selected airport operators/investors daily share price movements (% change): 17-Dec-2010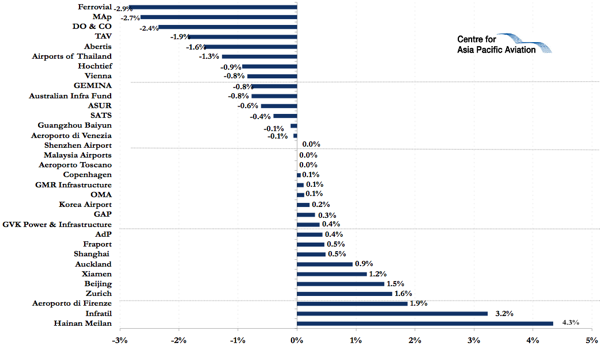 Dufry AG (-0.6%) reported that the Brazilian Securities, Commodities and Futures Exchange approved the reduction of the trading lot size of its Brazilian Depositary Receipts (BDRs). The BDRs of the company are currently traded in lots of 100 BDRs, but this will change on 03-Jan-2011, when they will be traded on an individual share basis.
Selected airport suppliers daily share price movements (% change): 17-Dec-2010