A350-1000 order changes: pragmatism prevails as airlines become more risk-averse
The relaunch of the A350-1000 programme is often attributed to Cathay Pacific, which, at the 2012 Farnborough Airshow, converted -900 orders and placed a new order for the A350-1000. Then-CEO John Slosar remarked Airbus' changes to the A350-1000 made it an "irresistible proposition".
Five years later, Cathay and United Airlines are resisting Airbus' new variant, the first of which is due to be delivered this year to Qatar Airways. United is swapping all 35 A350-1000s for 45 A350-900s, while Cathay has converted six of its 26 -1000s to -900s. The A350-1000 accumulated orders at the peak of the market.
Now there is a more conservative outlook, more competition from existing 777s and new 777Xs, and potentially a structural change in airline boardrooms, where they have evolved to becoing risk-averse and opting for smaller aircraft.
However, it is still early days for the A350-1000 programme. There may be more twists to come.
A350-1000 becoming niche asset as product lineup and markets evolve
Programme changes at United and Cathay do not invalidate the A350-1000 or condemn it to oblivion before it even commences commercial service. What the changes do indicate is that since A350-1000 commitments were made, there has been change in the lineup of new aircraft, developments with in-service fleet, and evolving global markets where new aircraft are deployed.
For major operators, the A350-1000 moves from mainstream to niche, and potentially to be an asset they can minimise or trade away to strengthen other segments in their fleets.
Since the A350-1000 launch, and since Cathay and United's order for the type, Boeing has launched the 777X. The larger (and more popular version) of the 777X is the 777-9, which airlines consider to be a better fit for premium, large markets once thought to be core opportunities for the A350-1000. Compared to the A350-1000, the 777-9 is viewed by airlines to have more range, and to be able to carry more passengers (and cargo) at the right cost. The A350-1000 falls short on payload for trunk routes and/or those that are ultra-long.
Airlines foresee a role for the A350-1000 on large volume markets that are not quite as premium as blue-chip ones, and markets that are long haul but do not need the full range of the 777X.
777-300ER glut is reshaping fleet plans
It is not only Boeing's next-generation aircraft – the 777X – impacting the A350-1000, but also the predecessor – the 777-300ER – having a distinct role.
United Airlines provides a seemingly clear example: when United committed to the A350-1000, the type was to be United's largest aircraft and replace the airline's 747-400s. Boeing was later able to place 777-300ERs with United, which allows United to replace the 747-400 in 2017, much earlier than planned.
The 747-400, as expected, was viewed unfavourably due to high fuel consumption (although granted some respite when fuel prices plummeted). A larger issue for United was increased maintenance and lower reliability, the last of which cannot be planned for and can disrupt operations. United surely benefitted from favourable pricing of a "777 bridge" order, which gave it improved capex, a key investor metric in the US market. Once the aircraft have all been delivered, United will have 18 777-300ERs.
For airlines without recent additions of 777-300ERs, the aircraft still looms since it appears resale opportunities will be so low that airlines are probably better off retaining the aircraft. Leased aircraft will likely be able to have their leases renewed at very favourable rates, since lessors will have difficulty placing the aircraft with a new operator.
Once again, the result is the availability of relatively cheap capacity not expected five years ago. The 777-300ER cannot cover the full range or unit costs of the A350-1000, but its upfront capital costs will be extremely favourable, or even negligible.
The A350-1000 has a role for some airlines
The A350-1000 backlog, after recent adjustments, accounts for approximately a fifth of the A350 programme's backlog.
Some A350-1000 operators do not have the 777-300ER in their equation. For Asiana Airlines (10 A350-1000s on order), Japan Airlines (13) and Virgin Atlantic (12), the A350-1000 will be the largest aircraft in their fleet. Air Caraïbes, with three A350-1000s on order, will also have the A350-1000 as its largest type.
These four customers so far do not have a larger aircraft to scale up to, potentially at the expense of the A350-1000. The four customers have a combined 38 A350-1000s on order, or 22% of the A350-1000 backlog.
A350-1000 orders: 30-Sep-2017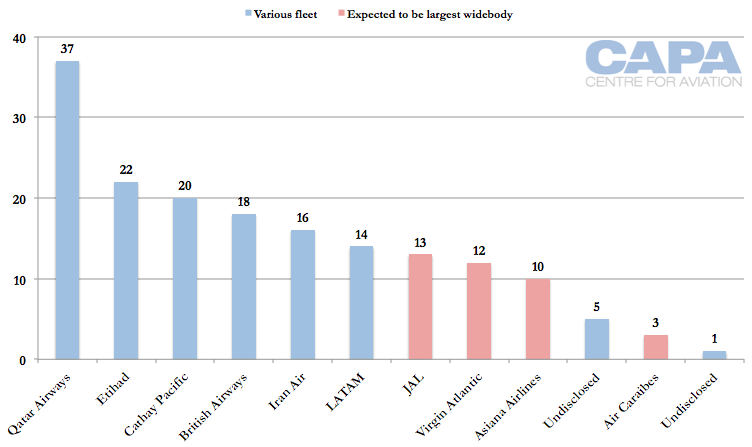 British Airways has 18 A350-1000s on order, supplementing a niche fleet of A380s and then a 777-300ER fleet often thought to be too small (IAG chairman Willie Walsh said BA would examine opportunities to buy secondhand 777-300ERs).
LATAM, with 14 A350-1000s on order, has 777-300ERs but not 777Xs, and in any event may not need the 777X's range for its core North American and European long haul markets. Depending on 777-300ER retirement, the A350-1000 could be LATAM's largest aircraft.
And then there are the Gulf airlines. Launch operator Qatar Airways has 37 A350-1000s on order to supplement its existing 777-300ER fleet (which includes some recent deliveries) and future 777Xs. Qatar is pursuing a network with such breadth and depth that it may internally justify multiple aircraft types.
Etihad Airways has both A350s (40 -900s and 22 -1000s) and 777Xs (8 -8Xs and 17 -9Xs) on order. As Etihad is already expected to reduce – perhaps substantially – its existing fleet and network footprint, it is difficult to see its order book not changing. However, Etihad's ideal new fleet needs to be matched with the reality of airframer contract renegotiation.
Disclosed A350-1000 operator fleet comparison: 30-Sep-2017
Airline

A350-1000s on Order

A350-900s?

777Xs on order?

A350-1000 to be largest size in fleet?

Air Caraïbes

3

Yes

No

No

Yes

10

Yes

No

No

Yes

(aside from only 6x A380)

18

No

Yes

No

No

20

Yes

Yes

Yes

No

22

Yes

Yes

Yes

No

16

No

No

Yes

No

13

Yes

Yes

No

Yes (777-300ERs being retired)

14

Yes

Yes

No

Potentially – 777-300ER retirement unknown

37

Yes

Yes

Yes

No

12

No

No

(Assumes A380 cancellation)

No

Yes
A350-1000 possible replacement for the many 777-300ERs
The A350-1000 may still be ahead of its time. It is a competitor to the 777-300ER, which was designed much earlier but only in recent years has been produced en masse: the 777-300ER has been manufactured since 2004, yet half of all 777-300ERs have been built since 2012. Those aircraft are far from having replacements be considered. Even earlier aircraft still have many years ahead in their life.
JAL was an early 777-300ER operator and has one of the older 777-300ER fleets. It entered the replacement cycle earlier and selected the A350-1000. Some exisiting 777-300ER operators (for example, ANA and Cathay Pacific) have opted for the 777X, but so far do not have as many 777Xs on order as they have 777-300ERs.
The A350-1000 accumulated many orders after its re-launch. It has since had a lull but could see a surge of orders in coming years for new growth and as airlines get closer to replacement of existing aircraft.
777-300ERs by year of delivery and cumulative deliveries: 2004-9M2017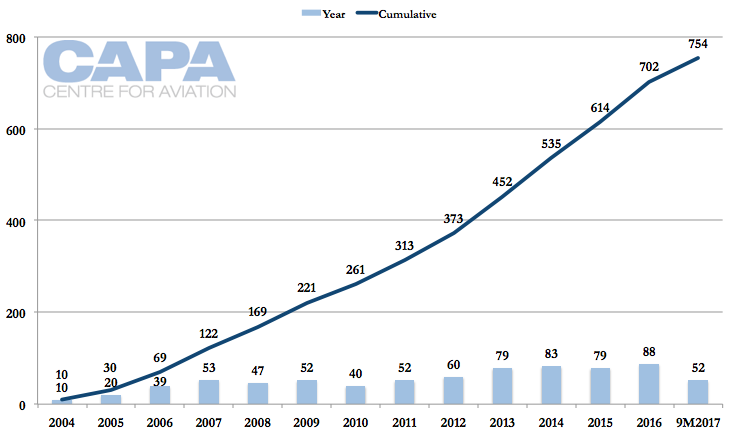 Growing aversion to risk at airlines favours smaller aircraft
Plenty of airlines have gone out of business for flying too much capacity. Few have exited because they did not fly enough.
It was at the peak of the market that Airbus relaunched the A350-1000 and accumulated most orders for it. In the current period there is the inevitable post-peak cycle but also, more significantly, potentially a structural adjustment at airline management and in boardrooms to be more risk averse.
Markets once thought to be ideal for the A350-1000 have become more obviously suited to the 777X, or even the older - and cheaper - 777-300ER. Other markets could sustain an A350-1000, but many airlines are being conservative and downgauging to smaller aircraft, also allowing them to retain wider city pair options.