Connect and communicate in 2023 with CAPA's Global Events Calendar
Press Release
CAPA – Centre for Aviation (CAPA), the world's most trusted source of aviation market intelligence and a part of the Aviation Week Network, announces its full program of aviation and travel events for 2023.
With six major in-person events across six locations, the 2023 event calendar will deliver unmatched depth and coverage of the aviation and travel industry.
The calendar also features the landmark Corporate Travel Summits from CAPA's sister brand, the Corporate Travel Community, at the events in Singapore and Hong Kong.
As the global aviation landscape returns to some semblance of normality, CAPA's events offer access to high-level aviation strategic thinking, travel and business insights from key executives, thought-leaders and decision-makers. As well as unparalleled networking opportunities with representatives from hundreds of travel sector buyers and suppliers – along with much more.
Highlights for the 2023 calendar include CAPA's home event to be held in Brisbane and the global Airline Leader Summit, to be held in Budapest, Hungary.
Alongside this is the return of CAPA's Sustainability Awards for Excellence and World Aviation Awards, recognising the airlines, airports and executives that have demonstrated leadership, innovation and strategic excellence.
CAPA Commercial Director, Claudia Kunz said:
"Aviation and the travel sector have been through a period unlike anything in their history. With travel mostly back to normal, it is time for the sector to act on the lesson learned from the pandemic and continue to connect and communicate with each other to build resilience and sustainability against future crises.
CAPAs' schedule of event for 2023 will team our unique high-level strategic understanding of the aviation and travel sectors with insight from an array of high-level speakers. The changes of the last few years have shown us that understanding the travel sector and connecting with other members of the industry are more important than ever before."
CAPA Australia Pacific Aviation Summit 2023 host Brisbane Airport Corporation, Executive General Manager of Aviation, Ryan Both, said:
"Brisbane Airport is delighted Australia's key Asia-Pacific Gateway and 24/7 hub will host the CAPA Australia Pacific Aviation Summit in September 2023. As the home of the 2032 Olympic and Paralympic Games, Brisbane looks forward to providing a first-class welcome to all delegates, airlines and airports from across the region, as we shape the future of aviation together."
The full events calendar includes: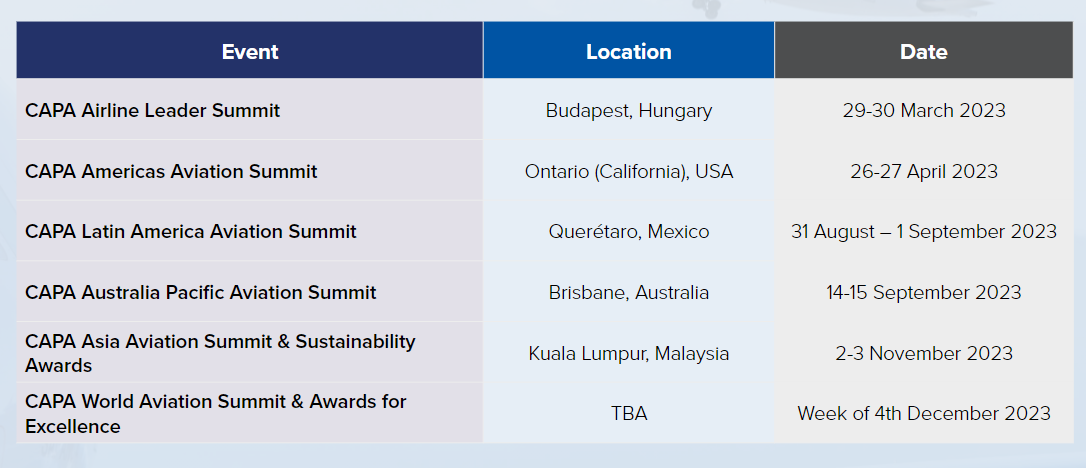 To find out more about the CAPA Events Calendar visit: centreforaviation.com/events
-ENDS-
About CAPA – Centre for Aviation
CAPA - Centre for Aviation (CAPA), part of Aviation Week Network, is the leading provider of independent aviation market intelligence, analysis and data services covering worldwide developments.
Established in 1990, CAPA uses platforms designed to help the aviation sector and supplier businesses stay informed, remain connected to industry leaders and fuel inspiration to drive change. CAPA's global C-level and corporate travel in-person and virtual Summits and Masterclasses attract executive level speakers, attendees and leading stakeholders of the global commercial aviation industry.
Understanding aviation markets is our great strength and passion, along with providing CAPA members, clients and partners with an unparalleled level of expertise and insight.
For more information and details on membership and events, please visit centreforaviation.com.
About Aviation Week Network
Aviation Week Network, the largest multimedia information and services provider for the global aviation, aerospace, and defence industries, serving 1.7 million professionals around the world, is part of Informa Markets, a division of Informa PLC.
Aviation Week Network's portfolio of air transport solutions includes the leading brands of Air Transport World (ATW), Airport Strategy & Marketing (ASM), Aviation Daily, CAPA - Centre for Aviation, Routes and Aviation Week's intelligence and fleet data services.
The air transport portfolio delivers face-to-face connections, essential news, analysis, business intelligence and data across multiple platforms, while also producing innovative and impactful marketing programs.
For more information visit aviationweek.com.
About Informa Markets
Informa Markets creates platforms for industries and specialist markets to trade, innovate and grow.
We provide marketplace participants around the globe with opportunities to engage, experience and do business through face-to-face exhibitions, targeted digital services and actionable data solutions. We connect buyers and sellers across more than a dozen global verticals, including Aviation, Pharmaceuticals, Food, Medical Technology and Infrastructure.
As the world's leading market-making company, we bring a diverse range of specialist markets to life, unlocking opportunities and helping them to thrive 365 days of the year.
For more information, please visit informamarkets.com.
For media enquiries, please contact:
Marco Navarria
Content & Marketing Director
CAPA - Centre for Aviation
mnavarria@centreforaviation.com