CAPA Perspectives: Sydney Airport an impressive performer, but there's always a limit
Press Release
With another month of +10% international passenger growth Sydney Airport has continued to shine with 1.2 million international passengers passing through in Apr-2016. Since 2002, Sydney has grown international traffic by 54% and made significant efficiency gains as it works toward a capacity goal of 75m passenger p/a. But there is a limit - a cap of 80 movements per hour. According to most recent schedules filed with OAG, Sydney Airport is already close - at 78 movements - in the hour between 08:00 to 08:59, though the practical execution of the cap is slightly more complex than this number suggests.
There's more to come. Sydney Airport's master plan expects international passengers to more than double to 29.6 million by 2033. That number is not overly optimistic, but Sydney's capacity to handle it is becoming tested. Congestion and delay during the AM peak is commonplace. While the passenger experience in the last 12 months has improved markedly, gate space remains a troubling sore spot with no easy solution. The airport layout makes expansion far from simple.
Sydney Airport Movements by Hour, 23-May-2016 to 29-May-2016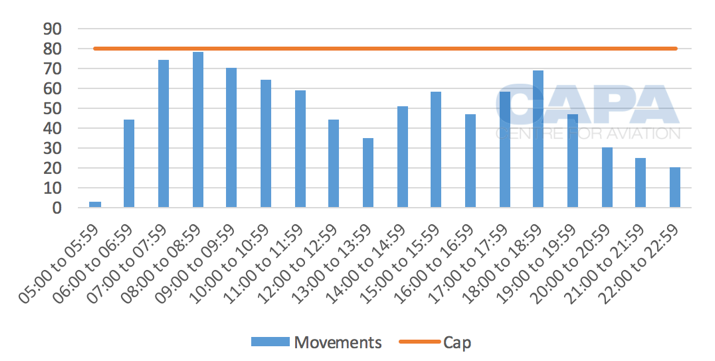 As Australia's major airports become more congested – notably Sydney – the appeal of secondary ports may increase, but the secondary airport model in Australia has had limited success to date with the glaring exception of the Gold Coast. More likely beneficiaries would be other capital city airports when passengers either bypass Sydney or connect onto a domestic service. With progress slow on issuing a notice of intent to Sydney Airport (the latest plans have been revised from mid to late 2016), and no operations expected at the western Sydney Airport until the mid-2020s (with delays almost certain), Sydney and its economy may find growing its international market a more difficult target.