Airports Company South Africa (ACSA) reported an overall traffic increase for Apr-2011 for Cape Town International Airport, Durban King Shaka International Airport and Johannesburg Oliver R Tambo International Airport. The three busiest airports in Africa all showed an increase of at least 5% on Apr-2010, with the self-described "hub of southern Africa", Johannesburg OR Tambo, increasing its traffic from a year ago by 8.1% passengers. All three airports have shown month-on-month increases since 2009.
In 2011 and 2010 Easter fell in April, so each set of numbers include the Easter holiday peak period.
Domestic traffic is stronger than international at all three airports, with domestic numbers for Durban King Shaka having the most impressive increase at 5.7%. Johannesburg OR Tambo lives up to its name as South Africa's hub as it reported a 10.8% increase in international traffic with 676,990 international passengers arriving in Apr-2011.
Durban International Airport passenger numbers growth: Jan-2009 to Apr-2011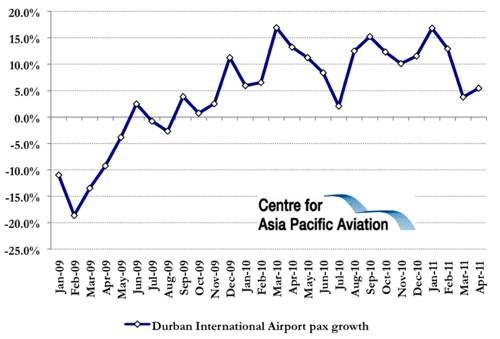 Cape Town International Airport passenger numbers growth: Jan-2009 to Apr-2011
OR Tambo International Airport passenger numbers growth: Jan-2009 to Apr-2011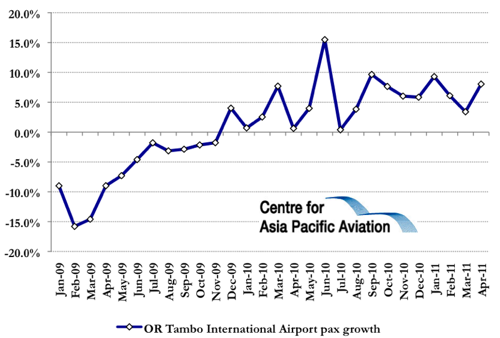 At all three airports, South African Airways carries the highest number of passengers. At Cape Town, SAA holds just under double the number of seats per week than the second place carrier, British Airways.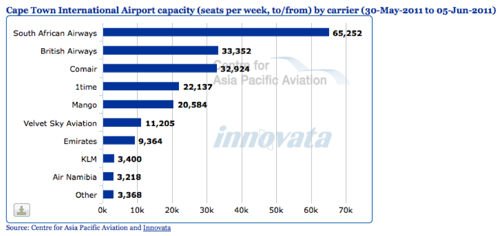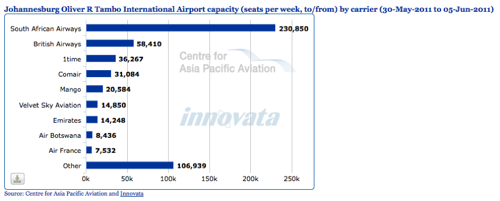 South African Airways international services from Johannesburg OR Tambo:

From Johannesburg OR, SAA offers services to and from Australia, Argentina, Dubai, Germany, New York, Zurich and more.
British Airways operates a domestic network through Comair in South Africa, serving Johannesburg, Durban, Port Elizabeth and Cape Town. It ranks as having the second highest number of passengers per week at all three airports, apart from Durban, where it is third.
British Airways Africa route map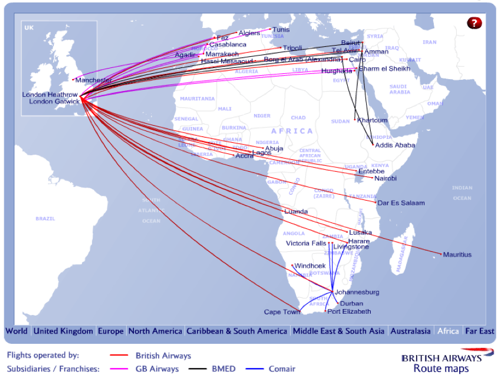 Year-on-year, the airports are continuing to perform strongly and passenger levels are increasing. Apr-2011 traffic for Johannesburg OR sits just below its third highest level in three years, which was reached in Jun-2010 – with a little help from the Football World Cup that South Africa hosted.
Johannesburg Oliver R Tambo International Airport Passenger Numbers (2009 to 2011)