Kingfisher cuts international network to staunch losses, Virgin Atlantic to return to Mumbai
Amid continued turbulence in the aviation sector and considerable financial pressures, Kingfisher Airlines this week announced plans to end international services by 10-Apr-2012, with services to Dubai, Colombo, Kathmandu and Bangkok to be suspended on 25-Mar-2012, and services to its remaining four international destinations to be cancelled by 10-Apr-2012. Meanwhile, Virgin Atlantic has announced it will return to Mumbai, with daily service from London Heathrow from 28-Oct-2012.
Kingfisher's decision to exit the international market was made as the carrier continues to be suspended from IATA's Clearing House and Billing and Settlement Plan and as it seeks funds to support continued operations. "So long as the BSP suspension is up, we cannot book guests on our international flights. So, it makes no sense to fly empty aircraft... Our task is to restore the BSP. Until then, it makes no sense to operate international flights," Kingfisher Airlines chairman Vijay Mallya said.
See related article: Heavy losses for Kingfisher Airlines, Jet Airways and SpiceJet in challenged Indian aviation sector
The previous week, Kingfisher Airlines VP corporate communications Prakash Mirpuri confirmed the carrier was "curtailing wide body overseas operations that are bleeding heavily". To this end, the carrier has already returned one A330-200 to the lessor in the UK. At present, Kingfisher's limited international network comprises eight destinations, according to Innovata, namely Bangkok, Colombo, Dhaka, Hong Kong, Kathmandu, Singapore Changi, London Heathrow and Dubai. On all but one of its 10 largest international sectors, a number of carriers will continue to remain in the market, with the exception of the Dubai-Bengaluru sector, which will see Emirates become the sole operator following Kingfisher's withdrawal.
Kingfisher capacity share (% of seats) on top 10 international routes: 19-Mar-2012 to 25-Mar-2012
Virgin Atlantic to resume service to Mumbai after nearly three year suspension
Meanwhile, Virgin Atlantic will resume service to Mumbai, with a daily London Heathrow-Mumbai operation from 28-Oct-2012, nearly three years after it withdrew from the sector in May-2009 amid intense competition from Air India, British Airways, Jet Airways and Kingfisher Airlines. The service will operate with A330-300 aircraft, configured in three classes: Upper Class with 33 seats, premium economy with 48 seats and economy with 185 seats.
Announcing the route resumption, Virgin Atlantic CEO Steve Ridgway said, "Virgin Atlantic is proud to be flying to Mumbai again, linking this wonderful city to our key destinations of London, New York, Boston, Washington and Chicago. India's phenomenal growth continues to drive travel to the UK and the USA and we know our passengers are going to love the connections the new flight offers.
UK-India traffic flows growing
Virgin Atlantic noted that since 2009, the number of people who have flown between Heathrow and Mumbai has grown by 9% to more than one million passengers, making it Heathrow's 12th busiest long-haul route. Virgin Atlantic stated its services from New Delhi to London and New York experienced 20% growth in passenger numbers in 2011. According to Innovata data for the week ended 25-Mar-2012, Delhi-London is the largest sector between Europe and India by weekly seats (22,865 seats), followed by Mumbai-Heathrow (22,091 seats), with Paris CDG-Delhi (9163 seats), Frankfurt-Delhi and Frankfurt-Bengaluru (each with 4760 weekly seats) each having substantially lower capacity deployed.
Overall passenger numbers between the UK and the Indian subcontinent have increased by 84% over the past decade with the largest year-on-year increase occurring between 2005 and 2006, with year-on-year growth of 30%, following the signature of a more liberal air services agreement between India and the UK on 13-Apr-2005.
UK-India Subcontinent annual passenger numbers (mill): 2001 to 2011
This agreement stipulated that designated airline(s) of the UK and India could operate up to 56 weekly services respectively on London Heathrow-Delhi and London Heathrow-Mumbai sectors. From winter 2005, designed airline(s) from the UK could also operate seven services per week from other India points, and with the exception of from Bangalore and Chennai, 14 weekly services from the beginning of the summer 2006 season. Designated airlines from the India could operate without capacity limits on these sectors.
As a result, between Oct-2004 and Oct-2006, the number of direct services between India and the UK rose from 34 to 112 services per week. Of the new services, the majority were operated between the main airports of London Heathrow (+77 services per week), Delhi (+23) and Mumbai (+38). However, one new destination in the UK (Birmingham) and two in India (Amritsar and Bangalore) increased the number of city pairs from five to eight. The increase in services was provided by a combination of carriers already serving the market (British Airways, Virgin Atlantic and Air India) and new entrants (Jet Airways, bmi and erstwhile Air Sahara). Despite the subsequent withdrawal of Air Sahara in spring 2006 and bmi in late Oct-2006, competition in the UK-India market was "amongst the most intense of any long-haul market," according to a UK Civil Aviation Authority report on UK-India operations at the time.
Non-stop scheduled services between UK and India are currently focused on London Heathrow, operated by Air India, British Airways, Jet Airways, Kingfisher (for a little longer at least) and Virgin Atlantic, with Thomson Airways also deploying a small amount of capacity between the two countries between Nov-2001 and Mar-2012. bmi also operates to India, but via Almaty, from London Heathrow to Amritsar.
United Kingdom to India (seats per week, one way, 19-Sep-11 to 9-Sep-12)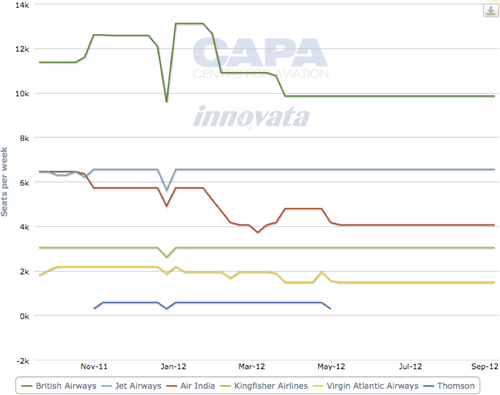 British Airways is the dominant carrier on UK-India services, with over a 40% capacity share, and has a monopoly position on London Heathrow-Chennai, London Heathrow-Bengaluru an London Heathrow-Hyderabad sectors. BA, which has been operating in India for over 80 years, suspended its codeshare with Kingfisher Airlines earlier this month. The agreement saw BA's code being placed on 11 domestic Indian routes and one route to Sri Lanka operated by Kingfisher Airlines.
Airlines operating from London Heathrow to India's 10 largest airports: 19-Mar-2012 to 25-Mar-2012
Kingfisher Airlines' UK services have struggled since their launch in Sep-2008. Its first UK route (also its first international service) on the Bangalore-London Heathrow sector was cancelled a year later in Sep-2009. The carrier launched Mumbai-London Heathrow service in Jan-2009, with London Heathrow-Delhi following two years ago in Mar-2010.
While Kingfisher Airlines operates only a limited international network, its withdrawal from the international arena will further reduce the local Indian carriers' presence in international market. Nearly one-third of the 32 million international passengers travelling to/from India in 2009/10 travelled on foreign carriers, including many Gulf region carriers leveraging sixth freedom rights. Only a third of current weekly seats and ASKs deployed international from India are provided by Indian carriers. In the Comptroller and Auditor General of India's (CAC) report on Air India released in Sep-2011, it was noted the percentage of sixth freedom carriage in 2009/10 of total passengers carried was as high as 61% for British Airways, 59% for Emirates, 78% for Qatar Airlines, 87% for Lufthansa, 49% for Singapore Airlines. While Jet Airways will likely seek to expand into Paris CDG and Hong Kong, with IndiGo also increasing its focus on expansion in short-haul markets, the international market into India will likely remain dominated by foreign operators for some time to come.
See related article: Foreign airline competition impacts Air India; Indian LCCs expand internationally