Gravitas of John Borghetti, CEO of the year, leads Virgin Australia and its content employees
They call it NBO – the New Borghetti Order. The acronym passes the lips of staff at Virgin Village, the Brisbane operational headquarters of Virgin Australia, to comment on how their company has positively changed under the past one and a half years of CEO John Borghetti's tenure. CAPA last night in Singapore recognised Mr Borghetti's leadership by awarding him the honour of Airline CEO of the Year 2011, a distinction typically bestowed on a chief executive after years of service, but such are the achievements of Mr Borghetti.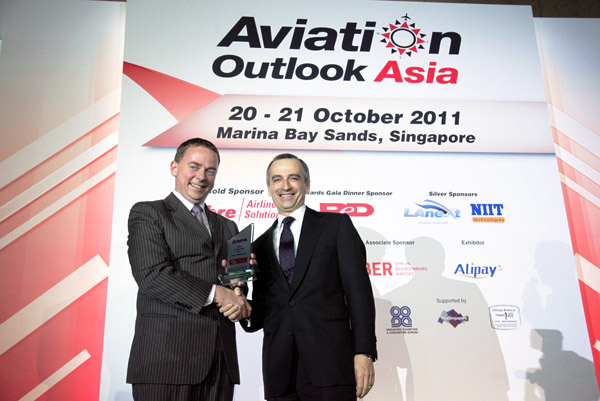 Mr Borghetti receives his award at the CAPA Aviation Awards for Excellence,
held in conjunction with Aviation Outlook Asia conference (see all award winners)
Within Virgin he possesses a status like that of late Apple co-founder and CEO Steve Jobs. The two share meticulous attention to detail, posses stamina and drive their organisations at fast clips. One story making the rounds is an employee who one morning discovered a previously empty space suddenly full of people and computers. Upon inquiring, it turned out a weekend ago the call centre wait time was seven minutes – too long for a carrier Mr Borghetti wants to be the best, not necessarily largest, in Australia. He and his deputies had human resources deploy more staff with only a week's notice.
Mr Borghetti is known to work 6.5 day weeks, taking only Sunday mornings off. Sunday evening conference calls with senior management are de rigueur. By his own account, Mr Borghetti only needs four hours of sleep a night.
He has introduced a change of pace with managers. Problems that arise on a Monday are expected to be fully solved by Friday. Managers, which some claim Virgin was overrun by during its Virgin Blue days, are expected to manage and lead the company. As with Mr Jobs, not all have taken to Mr Borghetti's liking and have left the company. But most at the company – and there are 7,000 odd of them – describe a new energy, huge morale boost, and sense of purpose.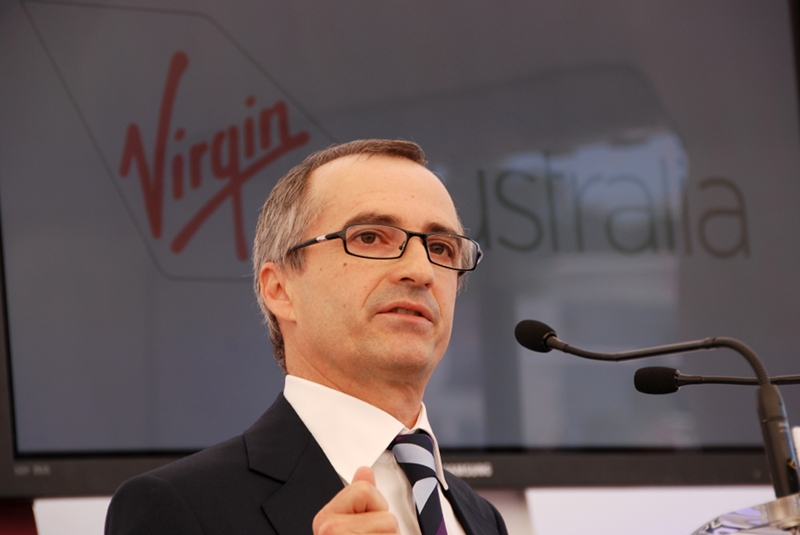 Mr Borghetti at Virgin Australia's May-2011 re-branding
Company satisfaction apparently is sufficient enough for Virgin's long-haul pilots to agree to be paid half that of their Qantas counterparts, even after a raise Mr Borghetti personally supported, much to Qantas CEO Alan Joyce's aggravation. Mr Borghetti has a simple response. "The truth is we're both happy. The workforce is happy. The management is happy," Mr Borghetti said at the carrier's FY2011 results. "It is also about the work environment, not just about dollars."
That is where Mr Borghetti and Mr Jobs differ – and extremely so. Unlike the reticent late Mr Jobs, Mr Borghetti is known as a people person. Not a public speech goes by where he does not acknowledge and thank, earnestly, his employees, be they the executive team or the cabin crew on hand at corporate events to welcome guests.
Prior to his official start Mr Borghetti is reported to have spent a number of days flying across Virgin's network and talking to employees and passengers. Even after he started in the Brisbane office (and progressively more time in Virgin's corporate Sydney office), employees say Mr Borghetti continues to have long talks with them, and makes changes based on their feedback and does not simply "consider" feedback, as management argot goes.
Of course, being the boss means making occasional executive decisions, and under Mr Borghetti's quick-response management style, staff have responded with another acronym: JWI – John Wants It. "It's a JWI," the other end of the telephone will say, and with that you make the change. Not tomorrow or not after reviewing with consultants in a month but now. And in 1.5 years Virgin has changed its name, branding, uniforms, lounges, frequent flyer programme, price structure and introduced two new aircraft types: A330s to target trans-continental routes and their premium traffic, and ATR72s for the regional market crying for competition.
Quantifying Virgin's changes is difficult. The cost is relatively clear: the price of a Boeing B737 (list price or discount? Whichever is better, chief commercial officer Liz Savage quips). The benefit is harder to measure precisely, but in the last year Virgin signed 39 new corporate contracts – 21 of them in the last quarter when the majority of the changes took effect. Its corporate revenue increased from 10% in FY2010 to 13% in FY2011, making Mr Borghetti's 20% soft target seem conservative.
Another benefit hard to quantify has been that of employee engagement. Front-line staff describe how since Mr Borghetti came onboard there has been greater collaboration between pilots and cabin crew with ground staff to ensure flights depart on time, if not early. Some crew even board their aircraft earlier than they are scheduled – and paid – to, just to make sure the operation runs smoothly.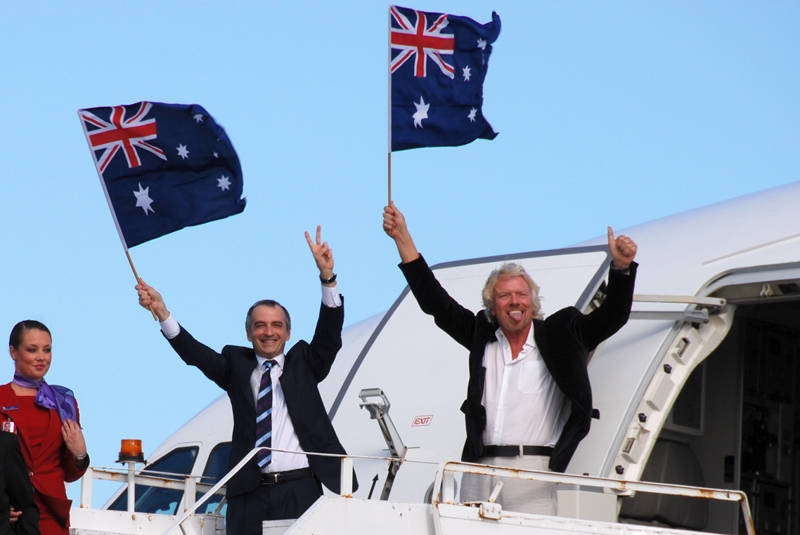 Mr Borghetti and Sir Richard: different styles but united by focus on employees
Amidst the good vibes at Virgin are quiet chatters of the competitor and Mr Borghetti's former long-time employer: Qantas, where Mr Borghetti was ultimately Executive General Manager before leaving in 2009 after 36 years (he started as a mail room attendant at Melbourne Airport). At Qantas, Mr Borghetti's one-time boss Geoff Dixon described Virgin Blue's management as "a funny bunch of people".
Much of that was attributed to the cavalier style of the Virgin Group and founder Sir Richard Branson, who Mr Borghetti gets along with but prefers to distance himself from, seeing Sir Richard too eccentric for Mr Borghetti's professional and sophisticated airline.