Virgin Blue's ownership woes continue, Ryanair gains, AirTran to profit - LCC share wrap
Analysis
Worldwide LCC share prices generally gained on Monday (21-Jul-09), reflecting a stronger day on global equity markets.
Selected LCCs daily share price movements (% change): 20-Jul-09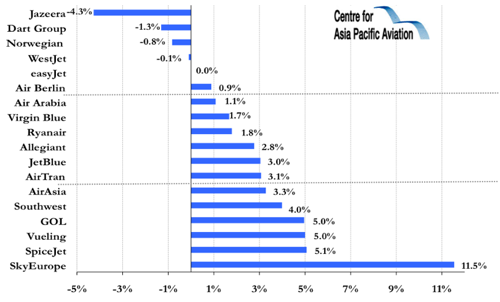 Among the other major European LCCs, Ryanair gained 1.8%, Air Berlin rose 0.9% and easyJet remained stable. SkyEurope's share turbulence continued on Monday, gaining 11.5%, following a reduction of 18.8% on Friday (which was, in turn, preceded by a massive 60% gain last Thursday).

In the Asia Pacific, shares in AirAsia and Virgin Blue both gained on Monday, up 3.3% and 1.7%, respectively. However, Virgin Blue shares have slipped slightly in morning trading today, on news that the Singapore investors behind Regional Express (REX) have "completely exited" their investment in Virgin Blue Group. Meanwhile, Emirates stated it is not looking at investing in Virgin Blue, denying media speculation on the matter.

In the Americas, Southwest's shares gained 4.0%, while AirTran was up 3.1%. The Orlando-based LCC is expected to post a 2Q2009 profit, as it benefits from its low cost structure and lower fuel costs (the carrier is scheduled to release financial details tomorrow). CFO, Arne Haak, has continued to maintain that it expects to report a FY2009 profit, going as far to say that AirTran should have "one of the best years in the company's history."

AirTran shares have increased by more than 28% in 2Q2009, closing at USD4.82/share on 01-Apr-09 and USD6.19/share on 30-Jun-09.
Airtran Airways share price growth: Jan-2009 to Jul-2009