Thailand aviation growth slows in 2014 as international traffic drops and domestic numbers surge
Analysis
Thailand passenger growth moderated significantly in 2014 as civil unrest drove a drop in international traffic. Total passenger traffic growth was in the low single digits, marking the first time since 2010 that double digit growth was not achieved.
Market conditions should improve in 2015, leading to the resumption of international growth, as the political situation stabilises. But overcapacity remains a concern as competition intensifies further.
Thailand's dynamic LCC sector continues to gain market share and pursue rapid expansion. Thai Airways, which saw passenger numbers drop by an alarming 17% in 2014, is now in restructuring mode but any further reductions in capacity by the flag carrier will be more than offset by competitors.
Total passenger traffic across the six airports operated by publicly-listed Airports of Thailand (AOT) increased by only 2.5% in calendar 2014 to 90.5 million. Domestic traffic surged by 16.1% to 38.4 million while international traffic decreased by 5.6% to 52.1 million.
The 2.5% overall increase is by far the lowest growth figure for AOT since 2009, when traffic was down slightly due to an earlier period of civil unrest. AOT passenger figures recovered with 8% growth in 2010 and continued on upward trajectory with three consecutive years of double digit growth, including 14% in 2011, 15% in 2012 and 16% in 2013.
While there was a huge disparity in the domestic and international growth figures in 2014, the growth numbers the three prior years were very similar across the two sectors. Domestic growth was 15% to 16% in all three years while international growth was between 13% and 16%.
Airports of Thailand annual passenger traffic: 2008 to 2014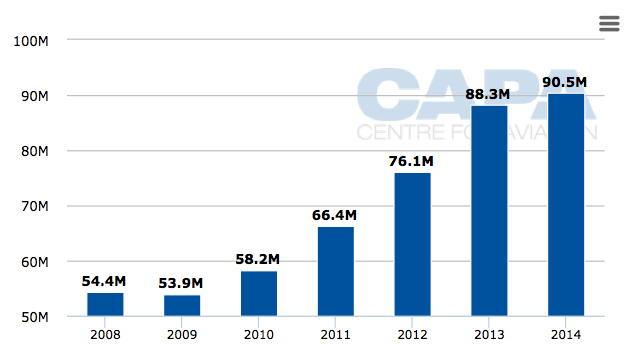 The AOT figures include Bangkok Suvarnabhumi, Bangkok Don Mueang, Phuket, Chiang Mai, Hat Yai and Chiang Rai. While there are nearly 40 airports in Thailand with commercial services, the six AOT airports account for over 85% of total airport seat capacity in Thailand.
The AOT portfolio includes the four largest airports in Thailand and six of the top 10. The four top 10 airports outside AOT include three airports that are operated by Thailand's Department of Civil Aviation (DCA) – Krabi, Udon Thani and Surat Thani – and Koh Samui, which is owned by Bangkok Airways.
Thailand's airports
LCCs accounted for all of the growth in Thailand in 2014
As CAPA has previously outlined, domestic growth in 2014 was driven by rapid capacity expansion at Thailand's three main LCCs – Thai Airways affiliate Nok Air, Lion Group affiliate Thai Lion Air and AirAsia Group affiliate Thai AirAsia. All three carriers continued to expand despite the political instability and focused on domestic growth due to the drop in demand in the regional international market.
Thailand's Ministry of Tourism reported a 7% drop in visitor arrivals in 2014 to 24.8 million. This includes an 8% drop in visitors from other Asian countries to 17.3 million. Thailand's LCCs only operate international services within Asia, including new medium/long-haul LCC Thai AirAsia X.
There are also 23 foreign LCCs that operate into Thailand, according to OAG data for the week commencing 19-Jan-2015. Only two of these carriers, Norwegian Air (six weekly flights to three Scandinavian destinations) and Australia's Jetstar Airways (eight weekly flights to two Australian destinations), connects Thailand with destinations outside Asia. Visitor numbers from Europe were down by only 2% in 2014 while visitor numbers from the Americas was down by 5%, from the Middle East by 6% and from Oceania (including Australia) by 7%.
Across the six AOT airports total LCC traffic increased by 23.4% to 35 million passengers. Domestic LCC traffic was up a staggering 31.8% to 23.8 million passengers while LCC international traffic was up 8.8% to 11.2 million. The international growth, while relatively modest compared to prior years, shows LCCs were able to buck the overall trend as total visitor numbers declined.
LCCs accounted for 62% of AOT domestic passenger traffic in 2014, up from 55% in 2013. The international LCC penetration rate across the AOT portfolio increased from 19% in 2013 to 21% in 2014. The overall LCC penetration rates in Thailand is slightly lower as the AOT figures exclude Koh Samui, which is the seventh largest airport in Thailand based on current seat capacity but does not have any LCC services.
FSC traffic dropped in 2014 in both the domestic and international markets, driven primarily by a decline at Thai Airways. Thai Airways recently reported a 17% drop in passenger traffic for 2014 to 17.8 million. These figures include Thai Airways mainline and its full-service regional subsidiary Thai Smile.
Bangkok Airways, the other main full-service carrier in Thailand's market, recorded a 7% increase in passenger traffic for the first nine months of 2014 to 3.3 million. Unlike Thai Airways, Bangkok Airways continued to add capacity in 2014 but saw load factors drop as demand waned and competition intensified. (Bangkok Airways, Nok Air and Thai AirAsia do not provide monthly traffic figures, as is the case with Thai, and will release fourth quarter and full year traffic figures as part of their annual financial filings in Feb-2015 or Mar-2015.)
See related report: Thai Airways, Bangkok Airways, Nok Air & Thai AirAsia incur 3Q losses as Thailand slowly recovers
Thai Airways ASKs declined by 5% in 2014 and the group is now planning further capacity cuts as part of a restructuring effort. Thai's outlook for 2015 will be looked at as part of a separate analysis report to be published within the next week.
Bangkok Airways, which was the only Thai carrier that was profitable through the first three quarters of 2014, plans to again add capacity in 2015. Bangkok Airways relies heavily on partnerships with full-service carriers serving Thailand and sees an opportunity to grow as the Thai market recovers.
See related report: Bangkok Airways plans further expansion in 2015 with focus on Samui and international market
Passenger traffic dropped by nearly 10% at Bangkok Suvarnabhumi
Given the large drop at Thai Airways it comes as no surprise that Thailand's largest airport, Bangkok Suvarnabhumi, saw passenger numbers plummet in 2014. Thai Airways including Thai Smile accounted for 39.5% of total passenger traffic at Suvarnabhumi for AOT's fiscal year ending 30-Sep-2014. Bangkok Airways accounted for 8.7% while Emirates, the largest foreign carrier serving Suvarnabhumi, accounted for 3.7%. (A traffic breakdown by airline is not available for the calendar year.)
AOT reported a 9.6% drop in total passenger numbers for Suvarnabhumi in calendar year 2014 to 46.4 million. This includes a 6.8% drop in domestic traffic to 8.3 million and a 10.2% drop in international traffic to 38.1 million.
Suvarnabhumi was the ninth largest airport in Asia in 2014, remaining slightly ahead of Seoul Incheon which recorded 10% passenger growth to 45.5 million. Back in 2012, when Suvarnabhumi handled a record 53 million passengers, it was the fifth largest airport in Asia. Guangzhou, Kuala Lumpur International, Singapore Changi and Shanghai Pudong have all since surpassed Suvarnabhumi.
Bangkok Suvarnabhumi annual passenger traffic: 2008 to 2014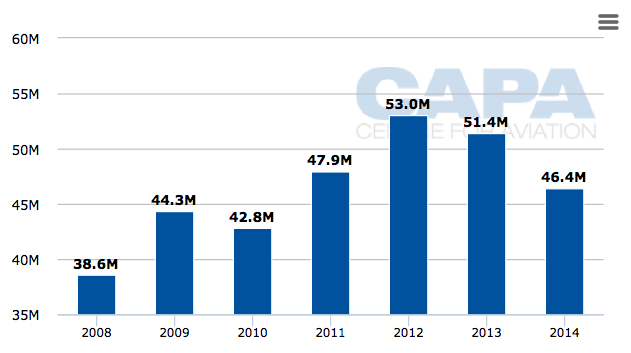 But Suvarnabhumi's fall in the ranking is somewhat intentional as Thailand decided in 2012 to incentivise LCCs to move to Don Mueang to relieve constraints at Suvarnabhumi, which has capacity to handle only 45 million annual passengers. Thai AirAsia moved from Suvarnabhumi to Don Mueang in Oct-2012, driving a 3% decrease in total passenger traffic at Suvarnabhumi in 2013.
Nok also moved back to Don Mueang in Mar-2012 after temporarily operating at Suvarnabhumi for several months due to the late 2011 Bangkok floods, which forced Don Mueang to close as part of the airport was under water. Nok initially was forced to move with all airlines to Suvarnabhumi in 2006 as the new airport opened. But Nok was able to move back to Don Mueang in 2007 and for four years was virtually the airport's only tenant as most other LCCs, including Thai AirAsia, remained at Suvarnabhumi.
Don Mueang passenger traffic was up 75% in 2013, driven mainly by the shift to Suvarnabhumi by Thai AirAsia and other AirAsia affiliates. In 2014 Don Mueang passenger traffic was up another 31% to 21.5 million, including a 39% increase in domestic traffic to 15.6 million and a 13% increase in international traffic to 6 million.
The 2014 increase at Don Mueang was mainly driven by expansion at Nok and Thai AirAsia and the Dec-2013 launch of Thai Lion. Thai Smile also began operating at Don Mueang in Aug-2014 but this impacted the airport's traffic only marginally as it has only been operating three routes from Don Mueang. Thai Airways it seems has decided against implementing an initial plan to move entirely to Don Mueang and will continue to primarily operate at Suvarnabhumi, where it is able to provide connections with its parent.
Only one other carrier moved from Suvarnabhumi to Don Mueang in 2014, Scoot, which operates one daily flight from Singapore. Don Mueang is also served by several other foreign LCCs and several Thai charter or leisure carriers.
Bangkok Don Mueang annual passenger traffic: 2008 to 2014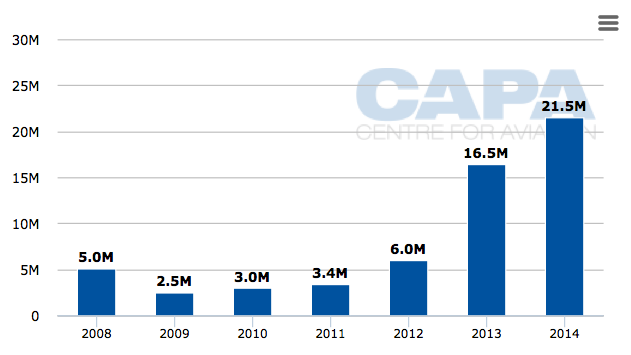 Don Mueang will continue to be able to handle a rapid growth in passenger traffic as AOT expects to complete a terminal renovation project in 2015, which will increase Don Mueang's capacity from 18.5 million to 30 million passengers per year. After two years of traffic declines Suvarnabhumi is again now operating close to its designed capacity of 45 million passengers. But Thailand should not use the recent drop in traffic as an excuse to further delay plans for expanding its largest international gateway.
Phuket passenger traffic was flat due to capacity constraints
Thailand's third largest airport, Phuket, also faces capacity constraints which impacted passenger growth in 2014. Total passenger traffic at Phuket increased by less than 1% to 11.4 million, including a 1% increase in international traffic to 6.4 million passengers and flat domestic traffic at 5 million.
Phuket had chalked up high digit passenger growth for four consecutive years, including 25% in 2010 and 2011, 13% in 2012 and 19% in 2013. If it was not for capacity constraints, growth would have likely again been in the double digits in 2014 because the civil unrest was confined to Bangkok, making direct flights to Phuket more attractive.
Phuket annual passenger traffic: 2008 to 2014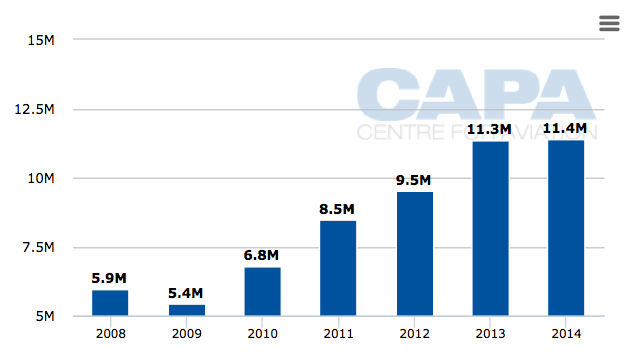 LCC traffic at Phuket was up 7% in 2014 to 4 million, including a 5% increase in domestic traffic to 2.3 million and a 9% increase in international traffic to 1.7 million. LCCs have been able to continue pursuing some international expansion at Phuket using middle of the night slots. But such slots are generally only suitable for flights to North Asia as flights to regional destinations within Southeast Asia are too short to be operated at back of the clock hours.
Daytime slots have become scarce because of congestion, including a lack of available gates or parking spots. A lack of parking space also has precluded Thai LCCs from basing additional aircraft at Phuket.
At the end of 2015 AOT plans to complete an upgrade project at Phuket which will expand the airport's capacity from 6.5 million to 12.5 million annual passengers. By providing additional gates and a new international terminal the project will significantly improve the passenger experience. But Phuket will again be operating at its designed capacity as soon as the expansion is completed.
Krabi and Samui, outside AOT, are poised for growth
Unfortunately Phuket lacks the space for further major expansion or a second runway. Nearby Krabi, which has quickly grown to become Thailand's fifth largest airport based on current seat capacity, will continue to benefit from the constraints at Phuket. Thailand's DCA has been working on upgrading and expanding the Krabi airport to accommodate additional growth.
Samui is also now poised to see growth over the next couple of years as Thailand approved in late Nov-2014 an increase in the cap on flights at Samui from 36 to 50 daily frequencies. The increase in the cap, which is based on environmental concerns, will enable Bangkok Airways to accelerate expansion and pursue airport capacity upgrades.
Bangkok Airways has had to rely in recent years on up-gauging flights at Samui from ATR 72 turboprops to A319s to drive growth. But as the airport cannot handle A320s an increase in the cap was needed to unlock further growth.
Domestic growth is likely to slow in 2015
AOT's Hat Yai and Chiang Rai are the sixth and ninth largest airports in Thailand based on current seat capacity. Hat Yai recorded 23% passenger growth in 2015 to 3.1 million passengers while Chiang Rai reported 27% growth to 1.4 million passengers. Both airports are primarily domestic – Hat Yai had 220,000 international passengers in 2014 while Chiang Rai had only 29,000.
2014 passenger traffic data for airports in the DCA or Bangkok Airways portfolio are not yet available. The 28 regional airports operated by DCA handled about 10 million domestic passengers in 2013 compared to the 33 million for AOT's eight airports. Total domestic passenger numbers across both DCA and AOT airports (but excluding Bangkok Airways' airports) grew by about 20% in 2013. Based on AOT's 16% figure domestic growth in Thailand continued at a very rapid clip in 2014.
A continuation of such rapid domestic growth is likely. The growth in 2014 came at a hefty price as yields plummeted due to the intense competition, driving losses at all the main domestic operators. Domestic passenger growth should slow in 2015 although will likely remain in the double digits, further pressuring yields as the capacity added over the last two years has not yet been fully absorbed.
International market outlook remains challenging as growth resumes
Thailand's international market meanwhile is likely to see a return of double digit growth in 2015 as the tourism sector gradually recovers. The drop recorded in 2014 is likely an aberration.
But competition in the international market is also intensifying significantly. Overcapacity is likely, particularly in some markets.
While Thai Airways will cut capacity further, any reductions will be more than offset by other airlines. VietJet Air and NokScoot are both planning to launch scheduled services around Mar-2015, giving Thailand six LCCs. VietJet is planning to focus on the international market while NokScoot will at least initially only serve North Asia. Thai AirAsia X, which currently serves two destinations in Japan, is also planning rapid expansion for 2015 with a focus on North Asia. The three new LCCs combined are expected to add about 10 aircraft in 2015.
See related reports:
Meanwhile Thai AirAsia plans to add four A320s in 2015 and will also likely focus on international expansion after focusing mainly on the domestic market in 2014. Much smaller Thai Lion Air is expected to add about 10 aircraft and similarly pursue mainly international expansion. Thai Lion initially planned to allocate about half of its capacity to the international market but ended up focusing almost entirely on domestic expansion in 2014 due to the challenges in the international market.
See related report: Thai Lion Air expands domestic network, intensifying competition with Nok, Thai AirAsia & Thai Smile
Nok currently only operates one international route but is looking to expand its regional international network in 2015 as it adds about five aircraft. Bangkok Airways is also planning to grow its international network in 2015 while taking a hiatus from further domestic expansion as its fleet expands by three aircraft. Foreign carriers – both LCC and full service – meanwhile are likely to resume expansion in Thailand.
Thailand had an extremely challenging 2014 with falling visitor numbers driving a decline in international passenger numbers while domestic growth came at the expense of overcapacity and yields.
Almost certainly market conditions will be more favourable in 2015 and the drop in oil prices should improve profitability. But competition will become even fiercer as capacity is added at a faster pace than the rate of recovery in the demand curve.