Air Canada yields declines as capacity grows, with a focus on strategy instead of short term profits
Analysis
Similar to other North American airlines, Air Canada finds itself in a position of defending its business strategy as capacity increases and unit revenues and yields fall. The company is stressing that it has evolved to a point where it can focus on profits, margin expansion and ROIC. At the same time it is trumpeting progress it has made in meeting or exceeding certain financial targets, and reiterating a recent decision to raise its performance goals in some of those metrics.
Air Canada's yields and unit revenue began their downward trajectory earlier than other North American airlines that have endured a sagging performance in those metrics throughout 2015 due to currency appreciation and lower fuel surcharges in many international geographies. Air Canada's slide started in 2014 as the airline increased its mix of leisure passengers and grew its stage length, pillars of its plan to achieve sustainable profits.
Those same factors along with surcharge pressure have driven Air Canada's unit revenues and yields down for 1H2015. Even as the airline states that its margin expansion will continue, it is not clear if the markets have totally shaken off being spooked by the declines in certain metrics. However, Air Canada does have the benefit of having an increasing stock price during the last year when its yields and unit revenues have trended down.
Same story, different quarter, for Air Canada's unit revenue and yield decreases
Air Canada grew 2Q2015 profits from CAD139 million to CAD250 million year-on-year and increased 1H2015 net income from CAD365 million to CAD372 million. Operating margins in 2Q2015 improved 2.1ppt to 9.5%. Both unit revenue and yields continued their downward trend. During 2Q2015 PRASM dropped 5.5% and yields declined 5%. For 1H2015 Air Canada's PRASM fell 4.2% and yields dropped 4.6%.
The airline noted the yield decline in 2Q2015 was anticipated, which is a message Air Canada has been consistently delivering for roughly a year. Changes to its business strategy are the main drivers of the fall-off in unit revenues and yields including an increase in average stage length of 3.4%, which drove 1.9ppt of the yield decline.
Other drivers of decreasing yields included a higher proportion of lower yielding international-to-international (sixth freedom) passenger flows, a higher proportion of seats into long-haul leisure markets and fuel surcharge reductions in Japan, Hong Kong, Korea and Brazil.
See related report: Air Canada's declining yields could continue as it prepares for a capacity push in CY2015
Air Canada's continuing increase in average stage length is reflected in the split between international and domestic ASMs and seats for the week of 10-Aug-2015 to 16-Aug-2015. Nearly 71% of its ASMs are deployed into international markets, while only 44% of its seats are pegged for international routes.
Air Canada international vs domestic capacity (% of ASMs): 10-Aug-2015 to 16-Aug-2015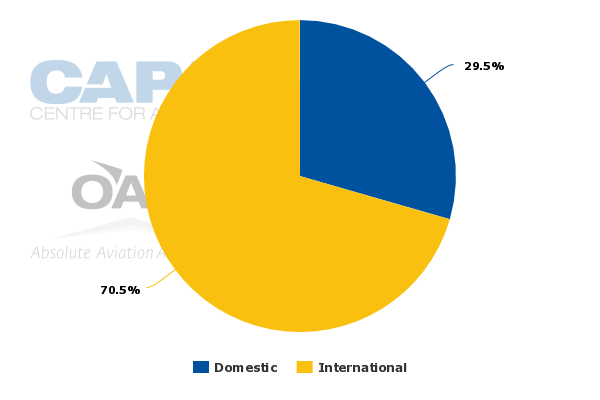 Air Canada international vs domestic capacity (% of seats): 10-Aug-2015 to 16-Aug-2015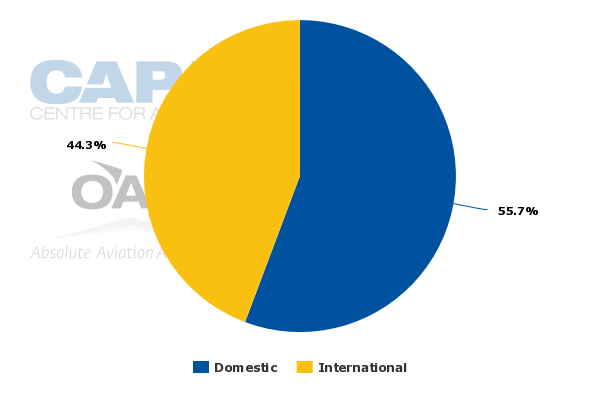 Competitive capacity looms large for Air Canada in its geographies in 2Q2015....
Air Canada posted PRASM and yield declines in every geographical region during 2Q2015, with the Pacific and Other regions posting the highest declines. System capacity increased 9.3% and traffic grew 8.7%.
Air Canada unit revenue, yield and load factor performance by region: 2Q2015

The 8% yield decline on Air Canada's Pacific routes was driven by lower fuel surcharges and competitive capacity pressure and pricing from Canada and the US.
Air Canada's yields on other routes that include service to the Caribbean, Mexico, Central and South America fell 9% driven by a 4.3% increase in stage that represented 2.4ppt of the fall in yields. Competitive capacity also created challenges for yields on those routes. WestJet has also singled out sun destinations as a pressure point for its decline in unit revenues and yields.
See related report: WestJet's strong financial performance is ignored as capacity trends up and unit revenue declines
Industry capacity growth and a higher proportion of leisure seats in long-haul markets were the drivers of Air Canada's 4% yield decline in the Atlantic. In the US transborder, the 1.9% drop in yields was driven by a 2.2% rise in stage length, which reduced yields by 1.2ppt. An increase in transborder service by rouge, which is mainly a leisure airline, also drove lower yields in the US transborder market.
An increase in industry capacity also drove a 4.1% decrease in domestic 2Q2015 yields for Air Canada. Other factors were competitive pricing pressure and lower yielding international and US transborder passenger flows to support international expansion and a decline in corporate oil related traffic. The Canadian province of Alberta is economically dependent on that sector, and WestJet, which has two bases within the province, also cited a decline in oil sector traffic as a contributor to its declining 2Q2015 yields.
Air Canada is likely feeling some pressure from WestJet's pricing strategy in the Canadian domestic market. WestJet claims it has fares 20% to 30% lower in the markets where its regional subsidiary Encore is operating, which include some competitive routes with Air Canada.
WestJet executives also explained that tailwinds created by lower fuel prices have given the airline some liberty to act more aggressively on fares, stressing, however, that the airline was making a larger portion of its lowest fares available rather than dropping fare prices.
...but keeps its 2015 capacity projections mostly intact....
Air Canada's 3Q2015 capacity is growing 9% to 10% year-on-year, with a 6.5% to 7.5% increase in seats and a rise in average system stage length of 3%. Its full year 2015 capacity is also increasing 9% to 10%, with seats dispatched growing 6% to 7% and growth in average stage length of 3%. The airline has trimmed domestic capacity growth for 2015 to 3% to 4% from 3.5% to 4.5%.
The airline finds itself in a position of defending its capacity growth as unit revenue and yields continue to decline. During a recent discussion with analysts company CEO Calin Rovinescu dubbed capacity as "the elephant in the room", and stated Air Canada's capacity growth is geared toward international markets.
Mr Rovinescu estimated that Air Canada's international footprint has grown by nearly one-third since 2009, and the international network has been a main driver of Air Canada's profitability.
Echoing comments made by other North American airline CEOs, Mr Rovinescu stressed that international growth, expanded margins, increased profits and improved ROIC are key focus points rather than unit revenues. "We fully anticipate and have planned for decreases in yield, RASM and load factor...as natural consequences of our long term plan".
Air Canada has been expressing those sentiments throughout the past year. Paradoxically, during the time yields and unit revenues have steadily declined the airline has raised its ROIC targets to 15% to 18% for 2015 to 2018 from previous benchmarks of 10% to 13%. For the 12M ending 30-Jun-2015 Air Canada's ROIC was 16.2% versus 11% the year prior.
It has exceeded a Jun-2013 target of a leverage ratio of 3.5x by recording a 2.6x ratio in 1Q2015. It is aiming for a 2.2x ratio by 2018.
The markets have had more time to adjust to Air Canada's performance in yield and unit revenue metrics. During the last year as it has recorded a negative performance in those two measurements its stock price climbed from roughly CAD8.25 to CAD12.00 on 13-Aug-2015. But the price is down from a high of CAD14.50 in Jun-2015.
Air Canada's stock price: 13-Aug-2014 to 13-Aug-2015

It is taking time for investors to change their mindset about North American airlines
Air Canada is stressing that it is delivering on numerous financial targets it has set for itself, and has impressively raised the bar in some of those metrics.
But both Air Canada and WestJet are increasing domestic capacity during a time when Canada's economic outlook seems choppy at best. Although each airline highlights the strength of underlying demand, sticking to capacity targets while logging sagging yields and unit revenues may still make some investors uncomfortable.
Given the history of the industry, it could take some time for markets to shift their focus to margin expansion, ROIC and top-line profits as those are areas where North American airlines have not historically delivered consistent performance.
Air Canada meanwhile plans to stay the course until a new mindset appears.